Linda McLaughlin, owner of Aberdeen's Impress with Dress INC, was born in the year 1955 which, she adds with an excited, happy tone, is "the same year as Disneyland." Living in Ashland Oregon, Linda learned how to sew at an early age from her maternal grandmother and started making and designing clothes at the age of four. Her Tiny Tears doll and Chatty Kathy were dressed to the nines in leftover fabric and handkerchiefs.  She added accessories including hats, scarves and coats to her beautiful doll wardrobe when learning how to knit at the age of six.
"I have always been a girlie girl," Linda says and wanted to create clothing that had the Shirley Temple frills of style.
At the age of 14, Linda's family moved to California. Her mother started a family business as a swimwear pro-shop owner and taught swimming lessons in their private pool. Still sewing, Linda made the bathing suits for their shop and for their annual water shows.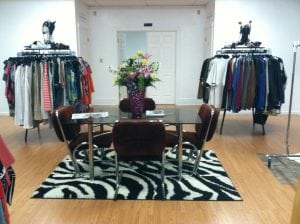 She recalls going to Baron's Fabric Store, located in the downtown area of Camarillo, CA with her high school girlfriends and purchasing unique fabric for stylish clothes they wore to school. Bellbottom pants with a wide waist band and crop tops to match were sewn by this savvy seamstress to outfit her for her teen years.
After graduating in 1973, Linda dabbled in some prerequisite college classes but longed to follow in her dad's footsteps and eventually joined the Navy. Her mother, according to Linda, marched down to the recruiting office after the fact and told the recruiter he had no business signing her daughter up. However, it was a done deal and Linda was off to training.
Orlando Florida was Linda's home-away-from-home during boot camp training. She finished boot camp and entered into the Sea Fair program as an E3 and spent three years in Honolulu as a fireman, pipe lagging on submarines and then as a yeoman. Through it all, however, the sailor Linda never gave up her dream of becoming a fashion designer.
After she finished her years of service, Linda used the GI Bill and entered Ventura College for fashion design and merchandising. Linda worked towards her journalism degree at the same time.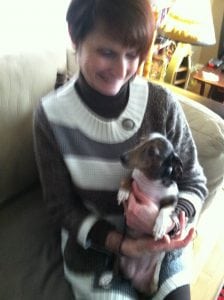 At 25, Linda opened her own fashion design shop in Ventura with five employees. Clients would bring in a picture of what they wanted Linda to design and she would draw and create custom fit apparel. Working 13 to 14 hours a day, Linda reminisces about making a mother of the bride dress out of Italian silk. The cost of the fabric alone was four hundred dollars.
On one of her buying trips to the LA garment district for fabric, she was approached by a JC Penny's representative to become a buyer for the longstanding retailer. She turned it down saying that she had her own fashion design business. "I wanted to be a fashion designer – what was I thinking!" Linda laughs.  She did eventually close her shop and head back to school, earning her business degree in liberal studies and a teaching certificate.
Although Linda had taught classes in California, she desired the beauty of the Northwest and made the move to Elma in 1991 where she became a teacher. She laughs saying all the classroom bulletin boards she created won first prize for creative design.
Linda left the public-school system for a job in the Washington state juvenile Maple Lane School, becoming a licensed social worker. Loving her fashion and style, her co-workers could not wait to see what she would be wearing to work or in the courtroom each day.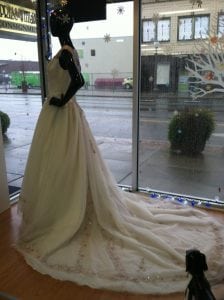 In 2005, Linda found her soulmate Gary and married. They purchased a home in Aberdeen where they live with their dappled dachshund, Lucy. As Linda moved into retirement in 2014, her newest venture, Impress with Dress INC was born. From her storefront windows of glamor and fashion to walking through her charming boutique, she makes it a fun and happy and experience. With retail and consignment clothing, there is an option for all price points.
When you visit, Linda can help you with wardrobe planning for any occasion. From casual to interview worthy, from work to prom, or evening and weddings, Linda not only has options in the store, but has the knowledge to find the right style for you. Linda even carries wedding gowns, outfitting Grays Harbor brides from her six racks of dresses from size 2 to 26.
In addition to Linda's retail clothing options, she has added the service of personal closet cleaning and reorganization. She has personally visited my own closet, helping me with personal style, color and making room in my closet for the clothing I really wear and getting rid of things I no longer need. Come in to the boutique and make reservations to give your clothes, accessories and shoes a beautiful place to reside and rid yourself of the clutter that may be weighing you down.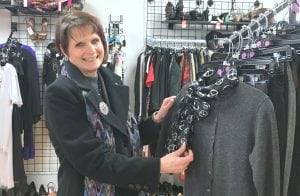 Soon, Linda will be hosting private after hour shopping parties for small groups. Plus, she has a mini-class in the works on how to accessorize your wardrobe with scarves.
Visit Linda at Impress with Dress at 116 E. Heron St. in downtown Aberdeen. Her genuine smile and flawless style are on display every day.
Tuesday thru Friday 10:00 a.m. – 6:00 p.m.
Saturday 11:00 a.m. – 4:00 p.m.
Closed Sundays, Mondays and major holidays