Richard E.(Dick) Skewis of Ocean Shores is officially retired but he is definitely not resting. For Skewis, retirement just means a new career. His business card identifies him as "AARP Foundation Tax Aide and Partnership and Communications Specialist." Looking back at a lifetime of professional experience, he is now donating his time and his knowledge to aid fellow seniors through help with their annual income tax returns.
Skewis is originally from Tacoma. He retired at age 62 from a high profile corporate position with the Rexnord Corporation, manufacturers of bearings and power transmission equipment. After 38 years in industrial marketing, he retired as the regional manager for fifteen Western states.
While still working for Rexnord, Skewis attended City University of Seattle on weekends, earning a Master's Degree in Management and Organizational Leadership. A fellow student, who became Dean of City University's School of  Business, helped the adventurous Skewis obtain a teaching position at the school in Seattle as an adjunct professor. In addition, he taught marketing and management in Beijing, China, in Mexicali and Ensenada, Mexico and even onboard a cruise ship. "Just for kicks," he smiles.
Skewis believes in giving back. "I have always volunteered," he says. "As an eagle scout, I had to commit to community service and that's what I have been doing all my life." He retired to Ocean Shores in 2002 where he served on the City Council from 2007 to 2011.
The Tax Aide Program of the AARP Foundation is a perfect match for Skewis' abilities and volunteering interests. He helped his first client with his income tax return 20 years ago. Since then he has dedicated his time, talent and experience to the organization's mission: working with struggling Americans 50+ to win back opportunity.
Today Skewis is on the nine member state management team. He explains his title, Partnership and Communications Specialist. "I'm the advertising guy. I work with the Washington State Department of Commerce, the newspapers and other publications." Within AARP, he works with the AARP State Office  and posts information on the AARP Washington State Facebook page. In short, he ensures that all parts of the Tax Aide Program communicate with each other and that the public is informed.
The free AARP Tax Aide program has come a long way since its inception 50 years ago. The program started in Grays Harbor at the former South Shore Mall (now Shoppes at Riverside) and the Ocean Shores Library in the mid 1990s.  Skewis started in 2002. "We worked by hand. It was cold in the hallway. In 2004, we started doing returns on laptops and were electronically filing returns from the old Walden bookstore in the mall."
Today ,Grays Harbor and Pacific County are served at five well-heated library locations. The eight-to-ten volunteer crew members at the Aberdeen Timberland  Library come from all walks of life. They are proud to have completed 200 returns this February alone. Lee Thompson is a former biology teacher with no tax preparation experience. "I have been working here for two years now," he says. "I have learned a lot. I never realized how much money I lost on my own tax returns!"
Anyone can become an AARP Tax Aide volunteer. No experience is necessary. Preparers are trained at three winter weekend sessions. They retrain every year and all participants are tested and certified by the IRS. There is a skills test and a code of conduct test.
AARP Tax Aide is free and open to anyone. The primary focus is on lower and middle income elderly clients, however, and clients are served on a drop in basis.
Client facilitator, Jackie Bruya, a woman with excellent interpersonal skills, screens clients before they meet with the preparer. She has each client fill out an intake sheet, assesses the client's need and makes sure all necessary documents are available. She answers situational questions and then places the documents in an envelope in the order they will be entered into the tax software program. This screening makes the preparation process run smoothly.
The client then proceeds to the interview where the preparer fills out the tax return and submits it directly to the IRS. The software used is supplied by the IRS as well. It takes only two minutes to see if the return has been accepted. The preparer can then make corrections on the spot if needed.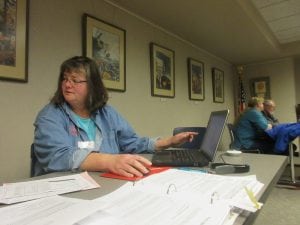 Most clients are very happy with the service they receive. 80% return the following year. While going over her intake sheet with Jackie, client Shelley Fairbairn recommends the Aberdeen crew with enthusiasm: "This is my second year. They were great!"
Locations, schedules and information about how you can connect with the AARP Tax Aide service are available at TRL.org.
If you are interested in volunteering, contact Randy Walls at rgwalls@msn.com.