Olympia Orthopaedics Associates welcomes Dr. Milan Moore to their team. Dr. Moore comes to OOA with over 16 years of experience as a joint replacement specialist at Cascade Orthopaedics in Auburn, Washington. OOA has continued to grow and evolve to serve its expanding patient population throughout the South Sound. The addition of Dr. Moore to the team will give patients even more options in quality care.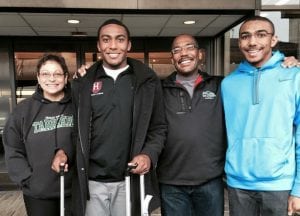 Dr. Moore began practicing medicine in the Pacific Northwest in 2001. He received his undergraduate degree from Yale University and attended Harvard Medical School. He did his residency at Walter Reed Army Medical Center in Washington DC and completed a total joint fellowship at the Anderson Clinic in Alexandria, VA in 2000-2001.
Dr. Moore is known for his holistic approach in treating the whole patient and not just the joint. Dr. Moore understands that there are many factors involved to achieve a healthy and mobile lifestyle. He wants to understand the whole patient when recommending a treatment therapy.
Modern advances in medicine mean that people can have a joint replacement and be in and out of the hospital in one day or even home the same day. "The baby boomer generation is aging and needing joint replacement but they are healthier than the previous generation," he says. Many of these patients have stayed fit doing pilates, marathons and cross-fit. They may be injured, but they are not sick and no longer require extended hospital stays. "We have seen incredible innovation in the area of orthopaedics," shares Dr. Moore.
Moore is thrilled to have the opportunity to treat patients at the Outpatient Surgery Center at Olympia Orthopaedic Associates. "With the new long-lasting anesthetics, I have patients that are in little to no pain the day after a partial knee or hip replacement," says Dr. Moore. These patients are actually safer and happier recovering in their home environment, something made possible by the trained staff at the Westside center. A 50-year-old triathlete with good muscle tone and no heart disease can be back on his bike in two weeks after a partial knee replacement.
Dr. Moore designs each patient's recovery and rehabilitation to the point that they are able to achieve their own goals. "I have patients that want to climb Mount Rainier and I have patients who want to walk pain-free to their mailbox," says Dr. Moore. "We now have the means to treat everyone safely and effectively at Olympia Orthopaedics."
In some ways, modern orthopaedic medicine can be almost miraculous. "People can come in with crutches or even a wheelchair and walk out on their own two feet," he shares. The ideal location of Olympia on the I-5 corridor has created tremendous growth in the area and as a result, the 40-year-old practice is seeing a growing need. Treating patients on an outpatient basis in the surgery center is appealing to Dr. Moore and patients alike. Everyone would choose to sleep in their own bed over a hospital bed.
"I love the Pacific Northwest," says Dr. Moore. "I don't think there is a more beautiful place to live in the U.S. I am excited to begin working in Olympia at a practice that is using the latest in medical technology." And that technology, coupled with a facility including a wide range of services including on-site MRI, physical therapy, x-ray and injection specialists, makes treatment easy for both patients and physicians.
Dr. Moore has been happily married to his wife, Sandra, for 21 years and the couple have two sons, Alexander, a junior at Harvard and sprinter on the track team, and Jack, a freshman at MIT. In his early years Moore was an avid runner and played rugby in college. Dr. Moore was an avid runner in his earlier years and played rugby in college.
These days you will find him in the hot yoga studio in his free time. "I did hot yoga the first time on a dare from my wife," explains Moore. "I didn't like it at first but now I am a huge yoga fan."  Yoga targets all the areas we can lose as we age – balance, strength and flexibility. "We all can be doing yoga at age 70, 80 or even 90," says Dr. Moore.
Dr. Milan Moore starts seeing patients at the Olympia Orthopaedic Associates Westside Clinic on April 3. To learn more about Dr. Moore or schedule an appointment, visit www.olyortho.com or call 360-709-6230.
Sponsored