You've been working hard and are ready for a break from the day to day. Time for fresh air, new sights and some quality time with your four-legged friend. Enjoy your weekend getaway in the Harbor exploring something new and enjoying a night at one of the area's pet-friendly lodging establishments. Here are few ideas to get you started planning your
next great Grays Harbor staycation.
Stretch your Legs on Local Walks
In the city of Hoquiam there are several fantastic walks to stretch your, and your pooches, legs. Whether strolling the shore or city, there are trails for you. Start on the Healthy Hoquiam River loop in downtown Hoquiam for a stroll along the river and a visit to the farmer's market. Switch to wide open spaces at Elton Bennet Park and adjacent Sunset Memorial Park for grassy areas perfect for a game of fetch. Finally, traverse the Prospect to Endersen Walking Trail, a short connecting trail ending at the boat launch on the Little Hoquiam River. No matter which trail you choose, you and your pup will feel invigorated and ready for more. Maps to all three trails (and more) are found here.
Nearby you'll find the Econolodge Inn & Suites, a pet-friendly establishment. There is a small fee for pets up to 50 pounds. They also serve a free continental breakfast and have on site laundry services (in case your pup has a little too much fun on the shore). This is also in close proximity to Al's Hum Dinger, a favorite for burgers and shakes. Their outdoor seating makes it easy to enjoy your meal with the whole family, furry or otherwise.
Fun Chasing Waterfalls
If your pet enjoys hiking and exploring mountain streams this Grays Harbor staycation might be perfect for you. Head up to the always pet-friendly Falls Creek Campground (Lake Quinault) and get ready for a weekend of adventure. For a modest fee, you can set up a tent or bring a camper (up to 16 ft). This campground is lush and gorgeous and on the edge of glacier fed Lake Quinault. There are 15 miles of hiking trails starting from this park area.
The Falls Creek Loop, 1.6 miles, crosses several creeks and encounters spectacular falls. If you want more waterfalls, head up into the upper Quinault River Valley. You won't be disappointed. This campground fills up quickly so book reservations well ahead. Alternately, reserve a spot in the Willaby Campground, or The Lake Quinault Lodge as both are in the same area and have pet-friendly options.
Hit the Water
Get out on the water with your furry friend at the Port of Grays Harbor. You can set from the public launch for a day adventure or inquire about daily to yearly moorage rates. Either way prices are reasonable to launch your vessel. While out on the water you and your dog will enjoy fishing, crabbing or exploring the many Harbor tributaries.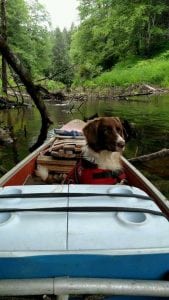 The Port's Masco Fuel docks are open during the winter, adding a Saturday opening in the summer. The Port of Grays Harbor public marina is located at the foot of Wilson Street in Westport's Marina District next to the USCG Station. For a map, marina moorage information, or fishing information visit Port of Grays Harbor Marina webpage.
Let your dog recover his land legs at Westhaven state park. The park has over 17 miles of uninterrupted beach and no leash requirements. The marina district has a few options when it comes to pet-friendly lodging. Take your pick from  Westport Marina Cottages, Ocean Avenue Inn, and Chateau Westport. Others too may allow pets upon request. While you're out that direction don't forget to stop by Bay City Sausage Co for treats. Their cranberry sausage and smoked turkey legs will leave you licking your chops. Be sure to check Washington Department of Fish & Wildlife for current regulations and other useful information about boating in Grays Harbor.
Fishing for Rainbows
At the Stay Beyond Inn & Suites in Elma, most of the rooms are pet friendly. They have an enclosed and well lit dog run, continental breakfast and free Wi-Fi – everything you need to have a great weekend. The Inn is just down from the Grays Harbor County Fairgrounds and the Grays Harbor Raceway, however both event venues do not allow pets. But, the proximity and easy access make it easy to check on Fido throughout the day. Or, take your furry friend on a fishing adventure at one of the three stocked ponds in the area: Sylvia Lake,  Bowers Lake (Vance Creek Pond 1), or  Inez Lake (Vance Creek Pond 2).
Fishing is best just after the lakes are stocked with rainbow trout in April. But in the warmer months you can get lucky with largemouth cass and yellow perch. Fishing at Bowers Lake is limited so be sure to check regulations before heading out. There are often berries, cherries and other edibles along the path and plenty to keep your dog entertained.
Time Out for Training
Rather than extra time together, you may need some time to yourselves. Country Inn Pet Resort is prepared to show your pet the time of their life and sneak in a little training too. Country Inn provides a clean, safe boarding experience, grooming and personal training packages for your pooch. Your sweetheart will come back feeling like a new dog. Their Facebook page has up to date information and news, like their recently announced agility training classes. The Country Inn's webpage includes packages and pricing. A new owner has managed the Inn since 2014 and has made great efforts to expand their offerings and provide your pet with the experience of a lifetime.
These are just a few options throughout Grays Harbor County and there are many more pet-friendly lodging and activity options to explore. For additional hikes, read Douglas Scott's article, Take Your Dog on 5 Hikes in Grays Harbor. Visit the Grays Harbor Tourism site for lodging options, events and activities throughout the area.