Dr. Patrick Halpin has filled the past 26 years with dedication to the community's health through his orthopaedic practice in Thurston County. Now, the time has finally come for him to hang up his surgical mask and enjoy more of what our region has to offer. Starting this summer, you may see Dr. Patrick Halpin cruising the Chehalis Western trail on his bicycle with four of his five brothers. All living in our area, they enjoy getting out on their bikes together when time permits.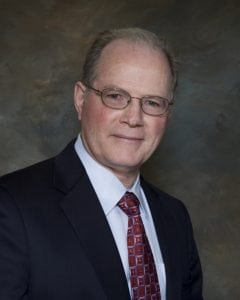 Before moving to Olympia in 1991, Dr. Halpin worked east of the mountains in Moses Lake. He worked at his solo orthopedic practice for ten years. Shortly after arriving in Olympia, Dr. Halpin helped bring together orthopaedic surgeons from several local practices and consolidated them into the Olympia Multi-Specialty Clinic.
General orthopedic surgeons were performing a wide variety of orthopaedic surgeries. Recognizing in 1997 that consolidating orthopedic services would be a great benefit to the community, Dr. Halpin and Dr. Snow merged with Dr. Partlow and partners to what is now Olympia Orthopaedic Associates, providing comprehensive orthopedic and specialty care to the greater community.
"Allowing each surgeon to specialize raised the quality of care in the community," explains Dr. Halpin. "There is great diversification without the need to dramatically increase the number of providers," he adds. What this means to the patient, then and now, is that a visit to Olympia Orthopaedic Associates offers the deep knowledge of multiple specialists. Providers work together and often consult on cases together. "Every patient has easy access to the appropriate and most skilled physician in their area of expertise," Dr. Halpin shares.
Dr. Halpin forged the way for what are considered best practices in the field of orthopedics today. He was one of the first physicians in the area to utilize a scribe to dictate his notes, allowing him to focus solely on patient care. On-site ancillary services including physical therapy and on-site diagnostics makes a visit to Olympia Orthopaedic Associates efficient and convenient for patients.
As a total joint surgeon, Dr. Halpin has grown older with many of his patients. Patients with sports medicine issues a decade ago have now moved to getting total joint replacements. Many of Dr. Halpin's patients are healthy people with no significant health issues other than their skier's knee or bad hip from a bicycle crash. He jokes that many of his patients seek out general medical advice as part of their orthopedic visit. Dr. Halpin needs to remind them that they still need a general practitioner to check their cholesterol.
After 37 years of practice it is time for Dr. Halpin to start taking care of himself as well. Many of his patients are reluctant to see him retire, reluctant to lose a life-long doctor-patient relationship. As a result, there has been an increase in scheduled joint replacements that his patients have been putting off. These patients will keep Dr. Halpin working up until this summer, but he is no longer accepting new patients.
Fortunately, new total joint replacement patients will be referred to Dr. Milan Moore, the newest member of Olympia Orthopaedic Associates. Dr. Moore will be taking over Dr. Halpin's practice. Drs. Helpenstell, Snow, and Zechmann will all be available to see patients at the Westside OOA location. Dr. Moore began seeing patients at the Westside Clinic in early April and will continue to operate with Dr. Halpin until the end of June. Read more about Dr. Moore here.
In addition to being a vital catalyst for the growth of Olympia Orthopaedic Associates, Dr. Halpin has contributed greatly to the medical community. He was one of the first surgeons in the area to provide direct anterior hip replacements. He has trained many surgeons on this technique as an expert in his field. Dr. Halpin has served as President of the Washington State Orthopaedic Association and been a member of the American Academy of Orthopaedic Surgeons. Dr. Halpin has participated in the Washington State Medical Association Intra-state Advocacy Council as well. In 2015, he was named a Thurston County Health Care Champion.
Over the years Dr. Halpin's big family has grown bigger and he is looking forward to devoting time to his twelve grandchildren. He is currently working to establish some of his own territory in his house after working for almost 40 years, being away much of the time. He and his wife are negotiating (I'm sure many of you can relate).
The staff at OOA and the medical community as a whole will miss Dr. Halpin professionally. Fortunately, he is staying in the area and will still be engaged in the community – a community he was so integral in building. If you see him on the golf course or the Chehalis Western Trail, say hello. Congratulations on your retirement Dr. Halpin, you deserve it.