When you think of the Grays Harbor County Fairgrounds you may simply think of the annual county fair, but the event center is bustling with all kinds of activities from personal to public. There's always something going on at the fairgrounds, and that means a great boost to the local economy.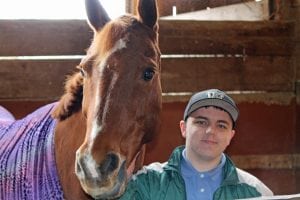 Many family-friendly events crowd the months on either side of the popular August fair. Dog, horse and car shows; antiques, quilts and Christmas crafts; rodeos, swap meets, a home/garden show and tractor pull are just some of the events packing the calendar. And, when events aren't vying for the weekends, the weekdays are sought after by local horseback riding groups such as the local Twin Valley co-op of the Washington State High School Equestrian Teams, the Grays Harbor Mounted Posse, and the non-profit Hope from Horses—all keeping the arenas and horse barns really busy.
Twin Valley Equestrian Team Horses Around
The Twin Valley Equestrian Team, who recently had a district meet at the indoor arena, practices on the grounds once per week, with two other local high school equestrian teams also practicing in the arena once per week. Sometimes, because of heavy demand, the arena is unavailable, so the equestrian teams utilize the covered livestock arena.
All these groups keep the horse barns and arenas well used and there's even more demand, that cannot be accommodated. "We don't have enough stalls and we need a covered warm-up area to be able to host the size of events we would like," says Rod Easton, Fair and Events Coordinator. "It's difficult for us to book everything we'd like. There's just not enough space or nights in the week."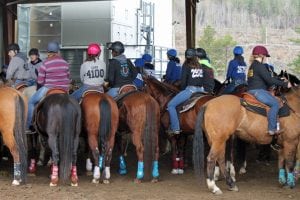 However, teams use the space to its fullest. The Twin Valley team currently consists of Taylor Gentry, Jesse Thompson, Abbigail Van Blaricom and Aaron Williamson and the riders have been making good use of the space this spring. Teams compete in events such as team sorting, roping, steer daubing, dressage, figure eight, showmanship, trail techniques and fences and barrels to name a few.
"It's pretty much everything you can do with horses," says Twin Valley coach Kathi Dahlstrom who's also serving her eighth year as the WAHSET District Chair. Local groups in District (#2) include Aberdeen, Hoquiam, Wishkah Valley and Montesano.
"They didn't have this when I was in high school," says Dahlstrom. It's all about, "teaching responsibility—to care for the animal—and dedication, and you see them grow, you know, improve."
Montesano freshman Taylor Gentry, a first-year rider, appreciates being able to use the fairgrounds. "It's really great because we don't have property," she says. "I haven't really ridden horses [before], but I love them."
Aaron Williamson, a freshman at Wishkah Valley, is also in his first year. The 4H member says, "I'm trying it out to see if I want to continue doing this, and I think I do."
Abbigail Van Blaricom, a sophomore at Wishkah Valley, shares, "You meet so many people, you camp out with your teammates and coaches…this is one of the best experiences I've ever had."
The veteran of the bunch, Jesse Thompson, a junior at Wishkah Valley, is in her third year of team competition. Horsemanship, she says, is one of her favorite sports.
From Bridles to Bridals – The Fairgrounds Does it All
The WAHSET events, as well as team practices wouldn't be possible if it were not for the Grays Harbor Fairgrounds facilities. The busy event center is an important resource and tourist draw for the county, bringing many activities to the county throughout the year.
There are other groups such as 4H archers, swap meets and many public events, weddings, funerals and more that pepper the schedule, too. Rod notes that they do everything they can to accommodate as many requests as possible. Keeping long term users happy is, of course, a priority, too.
"If you're a returning event you get the first option," says Mike Bruner, Manager of the Grays Harbor Fairgrounds and Tourism, "we try to honor that relationship." Rod adds they also endeavor "to help our local youth non-profit organizations by offering discounts," so it's not all about the bottom line; it's about service to local needs.
"We're a public use facility and we'd like to see the grounds used as much as possible," says Mike. "The more people we draw from outside the area helps add to the local economy and tourism dollars." All these events mean that local hotel rooms are booked and restaurants are patronized.
The 68 acre grounds include indoor and outdoor arenas, fifteen major buildings, an outdoor stage, open grassy areas, campsites and several barns. All can be available for rent for events large and small as the calendar allows.
The grounds operate from a special revenue fund outside the County General Fund and income comes directly from rentals, event admission, sponsorship from local businesses, the State Department of Agrculture and, because they are a tourism generating facility, they receive some assistance from the hotel/motel tax.
Revenue goes to upkeep and improvement to the grounds. Three years ago, they built a new Agriculture Barn. This year, more than a million dollars was needed for a critical roof and HVAC system replacement project, alone. Performing necessary maintenance and improvements, in turn, keeps existing clients happy, brings new business and new business drives the local tourist economy. Weekend events, especially, have a dynamic effect on dollars spent in local businesses. And, during the springtime, district equestrian events are featured on many weekends at the fairgrounds.
Mike reiterates that to accommodate a WAHSET State meet, the grounds would need to add a warm-up area and another horse barn, but that the revenue generated from such a meet would be four times that of the average district meet. That, in turn, would have a dramatic impact on the local economy. In the meantime, they work with what they've got, hoping for expansion in the future.
"I think for us," says Mike, "we really try hard. We do our very best to accommodate [everyone we can]," and that often means turning a facility around as if by magic. "Our grounds and maintenance crew—Dennis Prante, Kerry Sample, Shannon Johnson, and Mark Terhnor—deserve a lot of credit," he says, for making things work as miraculously as they do.
Pick up a Calendar of Events brochure at the fairgrounds office in Elma or check out the website to find out more about events and facility use. And, stop by during a WAHSET District Meet and watch these local equestrians in action.
Sponsored