The days are getting longer and the school year is getting shorter. I can't wait for summer and the opportunity to spend some extra time with my family relaxing and playing at the beach. The clam tides have been steady this spring and what was just a sleepy little town all winter is waking up now as tourists arrive for their weekend fix. My friends have started calling and asking for suggestions. "What should we do? Where should we stay? Can we borrow your clam guns?" is the common refrain.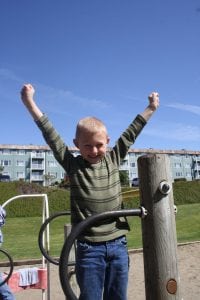 As with most vacations, I suggest starting with securing lodging. And, for families that want to be close to the action, but also have some space to roam and some peace and quiet, too, I suggest Chateau Westport. Just outside the main bustle of town, Chateau Westport offers what most people seek – clean, comfortable rooms with kitchenttes or full suites, pet-friendly lodging options, a pool, a beach-front location, a fire pit for s'mores and space to run on grassy lawns and through wooded nooks. And – affordable rates.
Chateau Westport is a great launching pad for all the fun of a beach vacation in Westport.  A quick check of the Chamber of Commerce website shows an updated events list. My kids are looking forward to Pirate Daze in June. My dad is coming out for the Kite Festival that month as well. There's both a street rod show and a jet ski competition my older sons are looking forward to.
Even without an event going on, Westport is a great place to hang out. Most of my friends have dogs so I remind them that our beach is the "biggest off-leash dog park in the world!" (maybe…). The boardwalk and marina provide hours of browsing shops or browsing boats, whatever your fancy may be. And for those looking to set sail, charter excursions abound.
And then, there's the surfing.
Westport has some of the best surfing in Washington. The three most well-known breaks are Half Moon Bay, also known as "The Cove" is centrally located and bordered by family-friendly sandy beach. To the right is "The Groins" or finger jetties where waves break against the five small jetties creating good breaks for beginners and advances. To the left of The Cove is Westhaven State Park, "The Jetty". This area provides hot showers, plenty of parking and a stretch of beach 18 miles long that has ridable waves on even calm days. Most of my friends are afraid to join me in the lineup and usually end up building sandcastles, going to the aquarium, buying fresh crab off the boardwalk and eating taffy and ice cream at the docks.
After a day of adventures in town, returning to Chateau Westport offers a moment of quiet and relaxation for parents, and more fun for the kids in pool or ocean, lawn or woods. Because it's family-friendly, quiet and offers all the amenities most people are looking for, plus just a few minutes to all the action at the docks, it's the ideal getaway for those seeking a bit of peace and quiet to go with their beach fun.
The grounds are nicely maintained and extend through the dunes to the beach. Amenities include a free breakfast, onsite laundry and a fitness center. The resort is a great one for families who'd like to have a playfield, an indoor pool and other activities on site, allowing for fun just outside their door. And, don't forget to bring your marshmallows (or grab one of the s'mores kits offered by the resort). Fire pits are available for roasting marshmallows and enjoying the evening as it settles over the dunes.
Chateau Westport's rooms include several pet friendly rooms among all classes.  Standard king and queen rooms are perfect for couples or quick overnight trips. Larger studios with kitchenettes as well as full suites with two separate bedrooms and bathrooms are perfect for an extended family trip to the beach.
While you're here don't forget to visit the famous Westport Lighthouse, the tallest lighthouse in the State of Washington. It is an easy half mile stroll North of Chateau Westport on Surf Street. On the way, you'll pass a great little Greek restaurant called Odysseus which is delicious and perfect for a bite to eat. A little-known fact about the lighthouse is it used to be just 300 feet from the ocean's edge but is now 3000 feet from the high tide line. That's how much Westport has grown in the past 100 years.
A visit to Westport won't disappoint. When the sun is shining and the surf is pounding, there is not better play to play, rest and rejuvenate. Sandy feet and salt spray in your hair await you and 0-your family at Westport this season. I'm excited for summer and hope to see you at the beach.
To learn more about a vacation at Chateau Westport visit them online or call 360-268-9101.
Sponsored