Submitted by Port of Grays Harbor
The principle "energy attracts energy" seems to be at work at Satsop Business Park.
Built as a nuclear power plant that was never finished, fueled or fired, the Satsop Business Park must have a special energy of its own. It keeps attracting various power-related industries.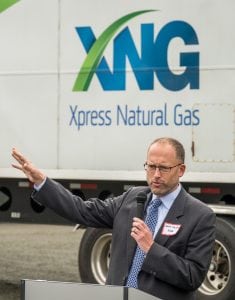 The latest, Xpress Natural Gas, (XNG), was up and running last fall serving its anchor customer – Port Townsend Paper Corporation – and is already looking to expand.
"We're taking calls on a regular basis and I think that will increase as people become aware of what we're doing and the money we can save them," said Matt Smith, XNG's Executive Vice President of Sales and Marketing.  "We're in discussions with more than a dozen companies or institutions about setting up for our gas services in the next 12 months."
XNG, a six-year-old Boston-based firm, delivers compressed natural gas to large customers who don't have access to a natural gas pipeline. Until recently, those customers have been on the East Coast.
However, when the Port Townsend Paper Corporation converted its plant from oil to natural gas – the first large manufacturer in Washington State to do so – it signed on as an anchor customer.  XNG was shopping for a place to establish a compressed natural gas supply facility to serve the Port Townsend mill when it discovered the Satsop Business Park.
"As we looked where to locate, several things stood out. The site is ideally located for our purposes with high capacity gas lines, uncongested highway access, and located on the Olympic Peninsula, where our customers are likely to be," Smith said.
"The other big thing was that the Port of Grays Harbor was willing to move so quickly. They were an enormous help with getting the leases on the land and helping us through the permitting process," he said.
"We're in the business of bringing natural gas to businesses that either don't have access to gas or can't get enough for what they do," Smith explained. "When you are in the transportation business, you look for people who are having trouble getting a gas line because of remoteness or terrain and the Olympic Peninsula is that kind of market," he said.
XNG invested some $6 million to build the first compressed natural gas plant in the state and to purchase eight trucks to serve its customers. At the distribution terminal, large, portable tubes are filled with compressed natural gas and four or five tubes are loaded into each large truck. For the Port Townsend mill alone, five to 10 deliveries are made each day.
Typically the company, which also has terminals in New York and Virginia, serves large commodity industries such as pulp, paper and timber mills, mining and agricultural operations, as well as large institutions such as hospitals, colleges and prisons.
In addition to being price competitive, natural gas is attractive to many clients because it reduces the carbon footprint by up to 30 percent, Smith said.
"We love it that with our space, location and natural gas line we turned out to be the perfect spot for XNG," said Alissa Shay, manager of Business Development at the Satsop Business Park. "Not only does that give the Park a great tenant, it brings a needed service to Grays Harbor and the entire Olympic Peninsula."
For more information about Xpress Natural Gas (XNG), call 857-233-5329, or visit the Xpress Natural Gas website.