Warm pine breezes, giggles and splashes, roasting marshmallows, and the songs of hidden birds: the sounds and smells of summer abound at the YMCA's Camp Bishop. Built in 1954, the camp has been a place to play, learn and make new friends for hundreds of Grays Harbor youth each summer. Some things never change.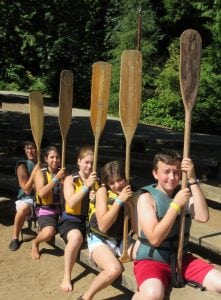 This year, however, Camp Bishop has a few new tricks up its sleeve. YMCA of Grays Harbor CEO, Franzine Potts says the camp is "better than ever" this summer. Facilities have been upgraded, improvements have been made to the programming and the camp welcomes a new director.
Camp Bishop is home to ten cabins, a lodge and multiple playfields, trails and skill elements. This year Potts says it also boasts upgrades to the dock, kitchen, first-aid facility and a soon to be completed canoe house.
A plastic dock has replaced the old wooded dock. "It is ADA compliant and environmentally friendly", explains Potts. The new kitchen, currently under construction, will be completed in time for the first session of summer camp. Kitchen upgrades will improve safety and sanitation for all camp meals. The new first-aid facility will be in the lodge. This dedicated site will provide high-quality care for both campers and staff.
The camp will soon welcome a new canoe house. This new structure is a cooperative community effort between the YMCA of Grays Harbor, Grays Harbor College, Aberdeen Museum, Grays Harbor Community Foundation, the Quinault Indian Nation and private donors. It will house equipment and showcase one of the camp's original and fully restored Old Town canoes as well as a beautiful, hand-dug canoe crafted by Quinault Indian Nation artisans.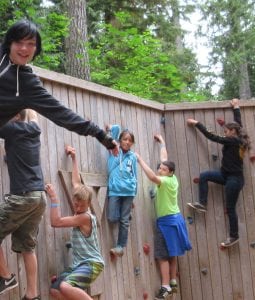 The summer camp program has always provided campers with a safe and fun experience that builds confidence, cooperation and personal growth. This past year, programs have been evaluated for enhancements to quality, safety and intentional impact. Safety policies have been improved for aquatics, challenge course, the rock wall and more. All staff, not just the counselors, have received new training on sanitation, bullying prevention, injury prevention and emergency response. "The focus of our improvements and changes," says Potts, "has been on safety this year."
The newest face at Camp Bishop this year is camp director Chris Hawkins. Hawkins has been a YMCA employee for 15 years, recently working as a coordinator in the after-school program. She is excited about her new role at summer camp. Tanya Bowers-Anderson, a long-time youth advocate in the Harbor, will be supporting the work at Camp Bishop. Potts says, "It is exciting to have so many returning faces that have been trusted on the Harbor for years."
There are six individual sessions being offered at Camp Bishop this summer. Programs are offered for youth from Kindergarten to ninth grade. Campers entering grades two through nine enjoy a full week of Camp Bishop fun. Sessions begin July 23 and campers are grouped into same gender cabins with two counselors for the week-long stay. This is classic summer camp. Archery, swimming, boating, campfires, singing, Capture the Flag, crafts, games, hiking, drama and more are all part of the experience. Close bonding with friends, new and old, comes at no extra cost.
The youngest campers entering grades K-1 will enjoy Pioneer Mini Camp, a three-day, two-night introduction to overnight camp. These campers will enjoy all the activities Camp Bishop offers, but in a shortened version. Three sessions of mini-camp begin on July 23.
If you long for your child to have a screen-free week in the wilderness making friends and enjoying the best of summer, Camp Bishop is a perfect fit. You'll be swapping camp stories from your youth, comparing experiences and sharing memories when they return.
Registration is available online. Older youth may participate in camp as counselors or volunteers as well, extending their experience and fostering leadership skills. Call the front desk of the YMCA of Grays Harbor at 360-537-9622 for more information. Pricing is reasonable and financial assistance is available.
Camp Bishop is open year-round for outdoor education programs, community and member programs and rental groups. For more information about renting Camp Bishop, contact Melissa Dahlstrom at 360-537-9622 x101.
Sponsored