Submitted by Summit Pacific Medical Center
For the second time, Summit Pacific Medical Foundation has held an Employee Giving Campaign asking Summit Pacific Medical Center (SPMC) employees to donate a portion of their paycheck to the foundation. This year's theme was "I CARE. I SHARE." Sharing is exactly what they did; the goal was to raise $30,000 and was well surpassed with over 85 employee donors giving $34,400.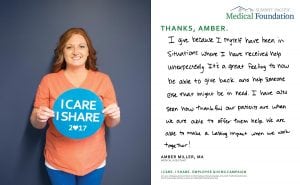 For five weeks, the halls at Summit Pacific Medical Center, Elma Family Medicine and McCleary Healthcare Clinic were plastered in posters featuring donors with hand-written letters detailing the reasons why they choose to give to the Foundation. "The posters are a really exciting part of the foundation campaign because they allow the community to get to know some of our employees that they might not normally come into contact with," Jori Stott, Senior Executive Assistant shared. The posters encourage other employees to donate and really shows the diversity of donors among SPMC employees.
Summit Pacific Medical Foundation is a separate 501(c)(3) organization with a mission "To provide financial support that enhances the quality and availability of healthcare services and programs enjoyed by the residents of the district served by Summit Pacific Medical Center."
The foundation has four giving funds, which include the Greatest Need Fund, Patient Assistance Fund, New Equipment & Construction Fund and the Employee Scholarship Fund. This year, all funds donated toward the New Equipment & Construction Fund will be earmarked toward the enhancement of the new Wellness Center project SPMC will be breaking ground on this fall.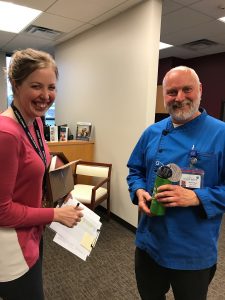 Employees decided which fund, or funds, they wish to support depending on what their passions are. Some people chose to donate to the Patient Assistance Fund simply because it is the fund responsible for purchasing stuffed animals for sick children who are admitted to the Emergency Department or Urgent Care Clinic.
"It is so exciting to see the outpouring of support from employees. They are so invested in this organization and are willing to give their own money to see it continue to grow and support our community in new ways," shared Lauren Day, Foundation Executive Director.
Similarly, in 2011, employees rallied together to donate more than $150,000, payable over three years, which acted as seed money to help the hospital district secure other large grants and community support to assist in building the new medical center.
Since its establishment in 1982, the foundation has supported the hospital district in helping purchase many pieces of important and expensive equipment. This year, the foundation granted the hospital $100,000 to assist in the purchase of a new 3D mammography machine and new reader board sign that will be installed by the end of summer.
The foundation is overseen by Executive Director, Lauren Day and is governed by a volunteer board of directors. Brian Smith of Timberland Bank is the foundation's current President. Many other organizations are represented on the foundation board including Murphy Company, Umpqua Bank, Foothills Massage and Coastal Transport of Washington.
If you would like to be involved with Summit Pacific Medical Foundation, please contact Lauren Day, Executive Director by calling 360-246-2250 or by emailing LaurenD@sp-mc.org.