Dr. Adam Graver is a technical-minded person who enjoys working with his hands. As a problem solver, he enjoys fixing things and thought pursuing engineering while an undergraduate at Columbia University would be an ideal fit. He soon learned that he enjoyed helping people and did not relish the idea of sitting in front of a computer all day. His father was a cardiac surgeon which inspired him to attend medical school at Albany Medical College in Albany, New York where specializing in hand surgery, satisfied his interested in detail-oriented work. The complex anatomy of the hand and the intricate bone structure fascinated him and his career choice was confirmed.
"I love the diversity of being a hand surgeon," shares Dr. Graver. "It has aspects of plastic surgery, neurosurgery and orthopaedics, which keeps me challenged." Dr. Graver is the latest addition to the hand and upper extremity specialty group at Olympia Orthopaedic Associates.
Adding an additional hand surgeon to the team assures patients have access to the best care for hand, wrist and elbow issues. Dr. Graver has extensive training, completing his general surgery internship and orthopaedic surgery residency at Northwell Health-Long Island Jewish Medical Center. He completed an additional fellowship to receive specialty training in hand and upper extremity surgery through the Tufts Combined Hand Surgery Fellowship at Tufts Medical Center and New England Baptist Hospital in Boston, Massachusetts. This advanced training helps OOA to meet the orthopaedic needs of the community with the high quality care that their patients have come to expect.
Dr. Graver met his future wife, Puneet Bhullar, M.D, while in medical school in Albany. She completed her training in obstetrics and both Drs. Graver and Bhullar will be their professional careers on Lilly Road, just a floor apart from each other. Dr. Bhullar recently joined Olympia Obstetrics and Gynecology, located in the same building at 615 Lilly Road as the Olympia Orthopaedic Associates Eastside Clinic.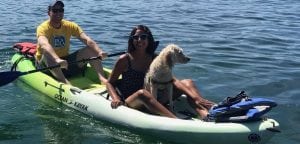 The two physicians chose the Pacific Northwest for its proximity to Puneet's family in Vancouver, B.C. Dr. Graver chose Olympia Orthopaedic Associates because of the high caliber of the physicians and staff. "This is a highly competent group of doctors," shares Dr. Graver. "Looking at their credentials, it is easy to see that they are at the top of their field and the way they have set up the practice will allow me to be focused on patient care."  He has been impressed by the dedication of the staff and their "team approach." Dr. Graver enjoys seeing a wide "breadth of pathology," or in layman's terms, many different types of patients. He has experience and training in everything from simple to complex trauma as well as chronic nerve issues.
Dr. Graver joins Dr. Gregory Byrd in the Hand, Wrist and Elbow Center, just one of several Centers of Excellence within the umbrella of care provided by Olympia Orthopaedic Associates. "Dr. Byrd has been a wonderful mentor to me and has made the transition very smooth," explains Dr. Graver. "I look forward to the collaborative nature of the physicians here." OOA is committed to providing an exceptional patient experience and with six individual Centers of Excellence, they are able to offer some of the most comprehensive care in multiple specialty areas in our region.
"We were tired of living in the big city and Olympia is the perfect place to raise a family while still be close to our family and bigger cities like Seattle and Portland." Olympia Orthopaedic Associates was the best choice for Dr. Graver professionally and Olympia is the right town for him, personally. "This is the perfect vibe for us," explains Dr. Graver. The couple traveled to Olympia over the summer, spending three weeks to make the trip from the east coast. "We camped and visited all the national parks along the way," shares Dr. Graver.
Drs. Graver and Bhullar are looking forward to more camping and hiking in the area, if there is time, alongside Dr. Graver's other hobbies of woodworking and playing the guitar. Their dog Marty hopes to join them on some of their future adventures.
For more information or to schedule an appointment visit www.olyortho.com or call 360-709-6230.
Sponsored