It happens every now and then at practice. Elma High School senior Kenna Stoney will catch herself addressing head volleyball coach Kendra Henry by her first name.

"I had a really hard time with it when she first became our coach," Stoney said. "I'd call her Kendra and then I would immediately think, 'Oh shoot, its coach here.'"
The casualness comes from the fact that Henry was Stoney's club volleyball coach for a number of years before she took over Elma High School's program two seasons ago.
It was also through their club relationship that Henry first learned of the opening at Elma as it was Stoney, Elma's 5-foot-9 setter and team leader, who planted the seed about her applying for the position.
"There was a job opening here and she was going to be a teacher (at Elma Elementary), it just made so much sense," Stoney said about Henry transitioning from coaching club to high school. "I so was excited for her to coach us because I knew she was going to make the program the best it could be, and it actually immediately started improving when she arrived."
Now in their second season under Henry's guidance, the Eagles, despite their extremely young roster, find themselves in a foreign position – that of 1A Evergreen League favorite.
With Stoney leading the charge, Elma has opened the season 7-1 with six of its victories coming in dominating sweeps, including wins over 2A teams W.F. West and Aberdeen. Their only setback coming against Black Hills in a non-league clash.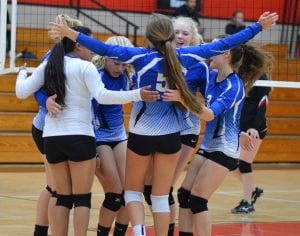 "We came in thinking we had a chance to be good this year," Stoney said, "but it wasn't until the [pre-season] jamboree that we started believing we had a chance to be great. We've improved so much since the start of the season. We just have good team chemistry. Our team is super young. Monica [Lopez] and I are the only seniors, but we only lost one senior starter from last year. So the entire team played together pretty much all last season. We just continued to build on what we started last year, and once we found our rhythm it just carried over to this season."
Whatever confidence the Eagles had during the early stages of the year was increased tenfold after knocking off defending league champion Montesano in straight sets in their league opener.
Stoney entered the contest 0-6 lifetime against the Bulldogs in her previous three seasons with five of those matches ending in 3-0 wins by Montesano. It marked the first win in the series by Elma since 1999.
"Last year we were just finding out who we are, understanding how we play together. It was kind of a learning year," Stoney said. "This year things finally are starting to click. It had been almost 20 years since we beat Monte. We've always got demolished by them, but we came out with a lot of energy and for the first time since I've been here thought this was something we could do."
Stoney was her usual consistent self against the Bulldogs, handing out 22 assists and adding 10 digs in Elma's 25-13, 25-16, 25-13 home victory.
"Kenna is a great player. She runs the offense and the team. It's just really awesome to have an experienced player like her take everyone under her wing and lead the team," Henry said. "She's persevered. She's excited about this year because she sees the potential of this team. There will be some big shoes to fill when she leaves, but it's nice to know we have her now."
Stoney and fellow senior Lopez are joined in the Eagles' lineup by juniors Maddi Clark and Ana Perez, sophomores Baylee Crisp, Eden Martin, Quin Mikel, Kali Rambo and Jalyn Sackrider, and freshmen Kayla Aho and Sarah Bridge.
"It's fun to have this group of girls," Henry said. "They're working hard. They're playing hard. It's fun to see, even from last to this year, just the improvement they've had. They put in the work and they're starting to see the results."
Results, Stoney believes will hopefully lead Elma to the state tournament for the first time in the program's history.
"My freshman year we didn't have many people showing up to our games and supporting us and now we're starting to make a name for ourselves and people are starting to come out to our matches," Stoney said. "It's really exciting to see the program is changing for the better."