Banks are an integral part of most people's lives. We need them for purchases, getting paid, sending money and saving for retirement, college or that dream vacation. And yet, most of us do not know much about the way they work and may not have put much thought into which bank we do business with other than their convenient location. If that's you, it may be time to reconsider where your money sits. Members of Great NorthWest Federal Credit Union (GNWFCU) know their money is working for them, every day, in more ways than one.
The first question many people ask is, "what is a credit union?" GNWFCU has been helping people in Grays Harbor and Pacific counties since 1953. While banks are for-profit businesses with shareholders and paid boards, credit unions are not-for-profit entities, owned by the members (customers) with a volunteer board. This also means you have a say in the way the credit union is run. If you have an idea or suggestion, you can approach the board to make a change.
Longevity of employee tenure is a mark of a good company. It shows they are able to keep people happy and wanting to come to work, year after year. It also shows stability. Doug Page, CEO of GNWFCU, started 23 years ago. After earning his degree in finance and economics from Eastern Washington University, Page worked for a finance company briefly, but it was not the right fit.
"At the finance company, it seemed like they were taking advantage of people and at the credit union we are here to help people," Page says. "The credit union was a really good fit – it went with my philosophies and I've been here ever since." He is not the only employee to feel this way. The team just celebrated one employee's 25th year of service and Karla Peterson, GNWFCU Marketing and Community Development Specialist, has worked there for 12 years. "I like the credit union philosophy and I believe in the work that we do," says Peterson. "It's easy to come to work every day because it's something I feel strongly about."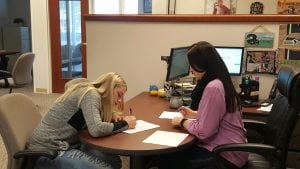 Members are not just numbers when it comes to saying yes or no to a loan. "We don't just pull the credit report and say 'this is bad' and then turn them down," she explains. "We will look at the whole picture and see what we can do to help them get their score up or whatever is needed to get them their loan. It's about building relationships." GNWFCU has their own in-house financing as well as third-party financing to give members more options when it comes to loans.
The entire philosophy of credit unions is "people first." When they make decisions, the CEO and board consider if it's good for the members first. "I often overhear Doug on the phone with someone who is trying to pitch an idea to him and I've heard him say 'it's not my money it's the members' money and I am trying to figure out if our members will benefit if I do this,'" says Peterson.
Your Money Helps the Community
Since GNWFCU is not-for-profit, any income made goes out in the form of lower rates on loans, higher savings interest rates and lower fees or the elimination of fees. And, that's just the start. GNWFCU is dedicated to the community and gives back in a variety of ways.
Donations are made to the annual American Cancer Society Relay For Life, Children's Miracle Network and local food banks. GNWFCU also supports school-related organizations.
An independent study done by ECONorthwest analyzed the gross economic impacts of Great NorthWest Federal Credit Union. The results were astounding. The credit union's 13,638 members accounted for over $1.5 million in economic impacts. GNWFCU employs 44 people with a gross total income of close to $2 million and an indirect and induced income of $4.1 million. Total economic contribution, including indirect and induced impacts, is over $12.6 million.
And, it's all staying in the local community.
GNWFCU invests resources into financial education, too. "We want to teach our members how to take care of their money and make educated choices," Page explains. This includes their high school outreach program called Mad City Money, where juniors are given a career and must work within a budget to carry out real-life tasks. GNWFCU works with Grays Harbor College for events and classes on budgeting and credit scores and include a member education portal online with blogs and articles to learn more.
Anyone who lives or works in Grays Harbor or Pacific County can open an account. Great NorthWest Federal Credit Union has four branches in Aberdeen, Raymond, Long Beach and Ocean Park to serve you. For more information, visit the Great NorthWest Federal Credit Union website or call 800-533-8396.
Sponsored