Like many other parts of the country, Grays Harbor County suffers from a lack of primary care providers. The shortage has meant that people across our community can experience difficulties establishing care with primary care providers, getting same day appointments with their primary care provider, enduring long wait times for urgent care or paying expensive co-pays to be seen in an emergency department for non-emergent issues.
Summit Pacific Medical Center is working to improve our community's access to healthcare. This past year, Summit Pacific expanded their Urgent Care hours to 8:00 a.m.-8:00 p.m. daily, they on-boarded five new primary care providers and continued to offer our community access to a virtual care clinic which provides anyone an appointment for a flat rate of $40. Their most recent addition is a same-day healthcare clinic located at their McCleary branch.
The same day clinic allows any established patient of Summit Pacific Medical Center's three primary care clinics the opportunity to schedule a same day appointment with the clinic's primary provider, Joe Kohn, ARNP. "There was really no access for someone who might have an illness or injury that didn't require going to the ED and whose lifestyle wouldn't allow for them to wait in line at Urgent Care," says Joe Kohn, ARNP "Because our provider's schedules are so full, established patients can have trouble getting in with their provider quickly."
The same day clinic is the newest way that Summit Pacific is addressing the problem. Since opening in September, the new facility has treated an increasing number of patients as word-of-mouth spreads. The "same day" aspect means exactly what it says: people can be seen and treated the day they come in. "In my role, I can do everything that their primary care provider can do," says Kohn. "That includes communicating with their regular doctor, making referrals and ordering tests. If someone needs immediate follow-up after their emergency department visit, they can come and see me. Everything we discuss will be tracked and documented into their medical record and shared with their primary care provider."
The service is available for all regular Summit Pacific patients who visit any one of their three clinics (Summit Pacific Healthcare Clinic, Elma Family Medicine and McCleary Healthcare Clinic). Due to its nature, the same day service offers several benefits to patients. They can get treatment when they need it instead of waiting days or weeks for their regular provider to be available, they can skip the lines sometimes experienced for urgent care and they can avoid using the emergency department for non-emergent conditions. Same day appointments can be scheduled that day, so patients' visits work with their schedule instead of changing their schedule to fit the physician's availability.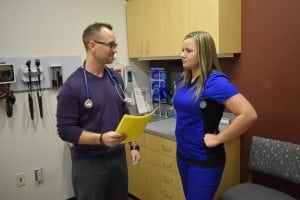 Response has been positive, says Kohn. "We've been fairly busy since it started. Every single patient has been excited and grateful to have access to this service."
Although this role is new, Kohn has been with Summit Pacific for nearly 10 years, first working in the emergency department and later as clinical educator. "I was the charge nurse in the ED at night," he says. "That was helpful in preparing for this new role because I saw so many acute and chronic patients and it taught me good coping skills. I learned how to manage people who are in crisis because I dealt with it on a regular basis. Knowing how to de-escalate situations is an invaluable skill."
He also learned how stay calm in an emergency. "It helps to know that I've dealt with these situations, and much worse, in the past," says Kohn.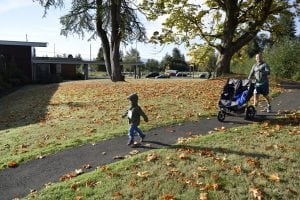 Once Kohn decided to return to school to become a healthcare practitioner, he transitioned into the role of clinical educator for Summit Pacific, a role that he had to create. "The role didn't exist before I filled it," he says. "The hospital had expanded exponentially in a short period of time, growing from around 60 employees to more than 260 and needed a dedicated, full-time educator. In this new position, I ensured that all staff in departments like the ED, acute care and clinics stayed up to date on their competencies. The continuous skills training was not as robust as it needed to be either."
Armed with a passion for education and a drive to make sure other nurses had the skills they needed, he took on the task of developing operating systems and protocols where none existed. "It was brand-new," he says. "Basically, they said to me, 'Here you go. Let's build it. We've done a great job and things are rolling pretty well."
That role has also helped him prepare for the same day clinic experience. "As an educator, I wanted to get better at speaking in public and it really helped prepare me to do that," he says. "In order to educate people, I needed to get good at meeting them where they are."
Research from the Association of American Medical Colleges predicts the shortage of primary care physicians will only increase with time. They anticipate more than 100,000 doctors will be needed by 2030, due to population growth, an increase in the number of aging Americans and the retirement of practicing doctors who are not getting replaced. Summit Pacific's approach is part of the solution, Kohn believes. "This is the wave of the future."
Summit Pacific expects to get a lot of usage out of this clinic during flu season, which typically peaks from December to March. Last year, the number of flu cases reached epidemic level and strained many healthcare systems.
Visit the Summit Pacific Medical Center website or call 360-346-2222 for more information about the clinic and how to utilize this new service.
Sponsored