Molly Johnston can fill up the stat book in a hurry. Scoring, rebounding, assists, blocked shots – Elma High School's versatile 6-foot junior can seemingly do it all on the court.

One aspect not showcased on the stat sheet, however, is her willingness to dive on the ground. No less than four times in the Eagles' season opening win against Adna, was Johnston found on the court, sacrificing her body, scrapping and fighting for a loose ball.
"I have a lot of bruises at the end of the day," said Johnston, who was a first-team All-1A Evergreen League pick last year, "but diving on the floor and getting loose balls, that's part of the game. It gets everyone hyped up."
Everyone including her head coach, right?
"Not really," Elma coach Lisa Saila said. "I love the hustle. I like the fact that being 6-foot tall she's really agile but I get nervous when she does it."
While Johnston dive bombs to the court with reckless abandonment, she always raises to her feet with the same beaming smile on her face.
But don't let that look fool you, according to Saila.
"I don't think that grin is really a grin," Saila stated. "It's more that she's mad. When she smiles she's mad."
When you see her smiling on the court this year, odds are she isn't masking some fiery emotions, but instead just elated by the exceptional play of her team because this talented Eagles squad should have much to beam about this year.
Following a 1-4 start, Elma finished last year with a 14-10 record, advancing to the regional round of the Class 1A state tournament. That team relied heavily on its three seniors.
This year the Eagles will not have that luxury as the team features no seniors. It may not matter.
Short on seniors, but definitely long on length, Elma features four players who are 6-foot or taller this season.
"I've never had a team like this," Saila said. "I've never had all these six-footers before, and they all have these wingspans that really make it hard on teams when we press."
Despite all that height, don't expect the Eagles to veer too far from Saila's traditional high-tempo style of play. In fact, you may even see more of it this year than in year's past.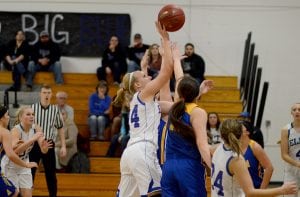 "Usually with that many six footers you would want to stay in a half court," Saila said, "but they want to get out and run because they are so athletic."
Joining Johnston will be fellow 6-foot junior Brooke Sutherby and sophomores Jalyn Sackrider (6-2), and Quin Mikel, a second-team all-league recipient last year.
"This is a brand new group. I've played with a lot of them in younger years, but we're still learning how to play together as a team," Johnston said. "Everyone has a new role this year."
That includes Johnston, whose been asked to slide into a leadership role on the senior-less team.
"We graduated three seniors last year. So I know I have to step out into a leadership role this year and take charge," Johnston said. "It's a little nerve-racking, but I'm excited for the challenge."
According to her coach, it's just another aspect of the game that Johnston has embraced and excelled at.
"She's really taken on that leadership role. She's captain this year and she's directing stuff out there. You can see it. She's just doing great things," Saila said. "She's really positive. That's just her nature. She's always supportive and uplifting of her teammates. I think that's what makes her great."
Johnston had her fingerprints all over the Eagles' opening-season victory, scoring 12 points, grabbing 10 rebounds, handing out four assists and blocking two shots. It's the kind of performance you should expect to see routinely out of her this year.
"She does so much for us on the court. Offensively, she can handle the ball if we get into trouble," Saila said. "It's not where we want her to be, but she can do that for us if we need it. She's great inside, she gets to the line. She reads the defense really well. She gets a lot of steals with our press. She really does all the things we need her do."
Joining Johnston, Sutherby, Mikel and Sackrider on this year's team is junior Kassedy Olson and sophomores Jillian Bieker, Alle Bol, Kaelyn Burgher, Kayli Johnson and Kali Rambo.