Josh Martin may be the CEO of Summit Pacific Medical Center, but that's not his only role. In a rural region like Grays Harbor County, executives like Martin don't have the luxury of merely administering. Instead, Martin also functions as healthcare reform advocate, economic development recruiter and even part-time real estate agent. "Healthcare and economic development have a symbiotic relationship," says Martin. "Access to healthcare creates better jobs, which means a place where families want to live and employers want to operate."
Although he only joined Summit Pacific in August 2016, Martin has been part of Grays Harbor and the medical community for longer, working at Grays Harbor Community Hospital for four years after spending a decade at a larger hospital in Boise, Idaho. "There's so much opportunity here to create access and improve the health delivery system," he says. "This is a chance to think about the county as a whole and how we can bring together partnerships and focus on collaboration."
The region faces challenges endemic to many rural communities, including a dramatic shortage of primary care providers and lack of access to care for more remote patients. "We have 50 percent less health care providers than any county in Washington State," says Martin. "That means we have to think creatively about how to recruit and retain the best and the brightest in the face of a growing demand."
One strategy has been creating partnerships with residency programs at regional medical schools. Summit Pacific's Chief Medical Officer and the primary care medical director are currently involved with a residency program in Olympia and encourage young doctors-in-training to come out to Grays Harbor for one of their rotations. "We're considering this project a way to get more providers on the rural track," says Martin.
In addition to bringing providers, nurses and other medical staff into the area, SPMC is hoping that in the future, more residents of Grays Harbor County will work at the medical center or within their primary care clinics. "This would help the community in more ways than you might think; it helps keep our healthcare facilities strong and also empowers families economically," shared Martin.
Collaboration on this front is taking place with Grays Harbor Community College, which offers nursing degrees and will begin providing a medical assistant training program. "They've done an exceptional job with their nursing program," says Martin. "Now they're moving full-speed ahead with the medical assistant program, which will take high school students and those who want to get back into the workforce. We continue to need more medical assistants as well as nurses." Martin was part of the primary task force that led the initiative to create the medical assistants program.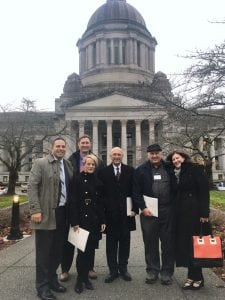 On a larger scale, he recently took Summit Pacific's executive team to both the state capitol and Washington D.C. to meet with lawmakers about issues affecting rural health care. "We looked at modeling payment reform," he says. "It's important to ensure there's advocacy at both the state and national levels. In D.C. we met with senators about creating access and preserving the Affordable Care Act."
Changes were already in progress when Martin came on board and they have continued under his leadership. "We're building on work that was already being done," he says. "We have an incredible team of providers that are here for the right reasons and can step in and help to guide this process."
Some of those changes include bringing in the region's first naturopathic services offered through a major healthcare institution; expanding hours of the Urgent Care Clinic; opening a same day clinic for established patients, expanding services through a virtual care clinic and providing more services through technology like a DXA scanner and 3D mammography scanner.
"When we struggle with the lack of providers, it's about creating access to care differently," says Martin. "We're being more creative with the providers that we have so that our patients have the right options available to them in a timely manner."
This fall, Summit Pacific broke ground on a three-story, 60,000 square foot Wellness Center that will include physical, occupational and speech therapy, diagnostic screening services, capacity for 20 primary care providers and spaces for community focused education efforts, as well as cafe services offering fresh, healthy and local options. Construction progress can be viewed on the SPMC website, the facility is scheduled to open in 2019.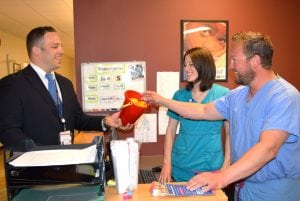 "This is about the move away from volume-based sick care to value-based health care," says Martin. "We are putting our focus on wellness and prevention. We want to find patients where they live and work and go to school and get upstream of the challenges they have." Virtual and telemedicine services will also allow providers to reach more underserved portions of the community in a way that is convenient for their individual needs.
The ultimate goal is ambitious, according to Martin. "Our vision is to build the healthiest community in the nation. Right now, we're one of the sickest counties in the state, so it's an uphill battle, but together we can go far. The concept requires collaboration with schools, other health institutions and our patients. We need our community partners to work with us to create something better than what currently exists. Summit is committed to leading the industry toward that model and demonstrating that it's working."
For more information on services offered by Summit Pacific Medical Center, visit the Summit Pacific website or call -360-346-2222.
Sponsored