Over a century ago, a man with a dream migrated to Grays Harbor from his native Sweden. He arrived in 1910 and like many others after him would do, he started working in the lumber mills. By 1926 he had worked his way up to the position of lumber inspector. He had married, built a home, and set a solid foundation in Aberdeen on which his four children would build. That man was Paul Julius Larson.
Paul's son Bob also worked in the lumber industry, most men did at the time. But in 1945 Bob got a hankering to try something new, just like his father had when he came to America. So, he and his buddy Russ Hindman quit the logging business and opened a tavern, Duffy's Tavern.
It was just a small little place but it was nice. It was clean and respectable, a place a man could take his wife to on a Saturday night. That was a big deal at the time. Aberdeen had more men than women and most taverns catered to loggers exclusively and didn't seem to care about creating an environment women would appreciate. At Duffy's they cared and because of that they prospered.
In 1957 the two men decided to shake things up a bit and purchased a deep fryer. They started cooking up chicken for their customers and it was an instant success. Business was booming and the tavern soon became a restaurant.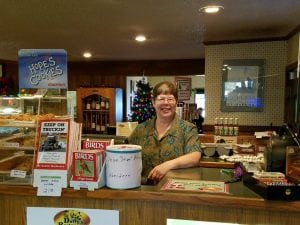 In the early 1960s, Bob and Russ convinced another buddy of theirs to quit logging. Jim Divine had been the cook at the Grisdale Logging Camp and came to work at Duffy's Restaurant. They built menus for breakfast, lunch, and dinner using a combination of logging camp recipes from Jim, and mom's old-world recipes from Sweden, many of which are still used in the restaurant today. Always receptive to suggestions from their customers, Duffy's Restaurant added a dining room, a piano bar, and even a barbershop for a time, to the original footprint of the tavern.
Bob and Russ were switching off weeks working at the restaurant so they could spend more time with family, but even this was getting to be more than they wanted. In 1978 Bob's son Ralph gave them the freedom they both wanted and took over the show.
Ralph and his wife Sue, by popular demand, further expanded the business. They remodeled the restaurant, doubling its size. They expanded and opened two new Duffy's restaurants, one in Hoquiam and one on Wishkah. Duffy's became the most popular family friendly restaurant in Aberdeen. Everyone knew your name at Duffy's.
Ralph's son, Paul Larson, is now heading up the family business. He has been the general manager since 1987. With a degree in Hotel and Restaurant Administration from Washington State University he has been able to navigate the Harbor's economic ups and downs of the last twenty plus years. For a while they had four locations—The Beehive, in Montesano was theirs too—but in recent years they have downsized.
"People aren't eating out as much," Paul explains. For this reason, he is relying more and more on tourism dollars, "locals can eat at home, but tourists on their way to the beach or the rainforest don't have that option." He wants to provide a comfortable, nostalgic environment that visitors will come back to.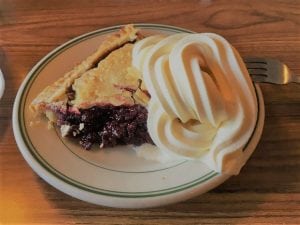 And visitors do come back, a lot. Crowd favorites include the chicken fried steak, razor clam sandwich, and Swedish pancakes. "A lot of people come in for our little wild blackberry pie," Paul says. It is served with a creamy swirl of soft serve and is highlighted on their billboard in Aberdeen. Also notable, Duffy's is one of the only places around that still serves a Monte Cristo sandwich, a personal favorite.
"Our salad dressings, and baked goods—like the pies and cinnamon rolls—are all made in house." Paul explains. "We also make our own sausages and brats and we hand bread the veal and chicken fried steak." The seafood, like razor clams, oysters, and Dungeness crab, is sourced locally as are the wild blackberries.
Paul does his best to support local fishermen, agriculture, and businesses. Some of them, like his source for blackberries, he doesn't share, "they're a trade secret" he says smiling. But others he shares freely. It's no secret that Harbor Pacific is the beverage distributor of choice in the Harbor. "We get all of our soft drinks from them, Pepsi products. They're great." Harbor Pacific, in Elma, also takes care of beverage and vending equipment and service.
The mood changes a bit when the question is asked who's next in the long line of Larsons running Duffy's. Paul just shrugs his shoulders. He doesn't look like he's anywhere near ready for retirement. In fact, his father, Ralph still works at the restaurant regularly too. There doesn't seem to be an end in sight for either of them and they are loving it.
Paul has three sons who all live in Aberdeen. Like their father, grandfather, and great grandfather before them, they are all graduates of Weatherwax High School. Though they grew up working at Duffy's, Paul knows the oldest two aren't interested in taking over the family business. "They have chosen other professions," he explains. His oldest, Erik Larson, made waves in 2015 when he became Aberdeen's mayor and the youngest mayor of a sizable city in Washington State's history. Paul does think he might be able to convince his youngest though. Paul says, "I tell him, 'It's easy! You just sit in a back room all day, answer a few questions, order a few things and you're good to go." It's obvious Paul's minimizing his role, and that he loves his job. He isn't looking to give it up, even to his son, any time soon.
Duffy's Restaurant serves breakfast, lunch and dinner seven days a week. It is located at 1605 Simpson Avenue in Aberdeen. Their hours are Monday – Thursday 6:00 a.m. – 10:00 p.m., Friday – Saturday 6:00 a.m. – 11:00 p.m., and Sunday 7:00 a.m. – 10:00 p.m.. They have a dining room and a separate cocktail lounge. The lounge has a large digital screen TV for watching the game and pull-tab machines. Besides the regular menu the restaurant has a child's menu, a light dining menu, and some gluten free options.
Sponsored