How do you measure the quality of a Mexican restaurant? For Francisco Arceo, owner and manager of Mazatlán restaurants in Aberdeen, the answer to that question is simple. "You can tell if a Mexican restaurant is good If the salsa is good," says Arceo. "If it is good you know the food will be good too." Arceo firmly believes that success is achieved in the details like a perfect salsa. And he is successful. For at least the last ten years his restaurants have been voted Best of Twin Harbors.
The details are important to him. He is meticulous in his appearance with his dark hair carefully combed back, moustache perfectly trimmed, and a fresh pressed green dress shirt embroidered with the company logo over the left breast. He is the picture of a Mexican gentleman. His employees too are picture perfect. It is green day and each is clean pressed and uniform.
Every morning Arceo arrives just before opening to test each item in the kitchen. The beans, the rice, the salsa, the chips – everything – is made fresh every morning for the lunch hour, and again every afternoon for dinner. "Fresh," he says. "Everything is fresh. We make it here every morning and I test it to make sure it is good." He wants to know that what he is serving is consistent.
Some restaurants have their food and produce delivered on a weekly basis, but not at Mazatlán. Instead, he has his ingredients delivered at least four times a week. He uses local when possible and gets his beverage service through Harbor Pacific Bottling just up the road in Elma. He is determined to use and serve only the best to his customers.
The Start of a Legacy
Francisco Arceo moved from Mexico in 1983 and ended up in Enumclaw. He worked at the Mazatlán restaurant there where he started at the bottom. He was a hard worker and his boss recognized that as he moved Arceo through the various positions at their restaurant. After six years the boss decided it was time for Arceo to open a place of his own. They became partners and opened Arceo's first Mazatlán restaurant in the old Becker Building in downtown Aberdeen.
Many people ask him why he chose Aberdeen. He candidly tells me it was because the rent was low and there wasn't much competition. There was one little Mexican food place at the time and it was run by some people from Arizona – good food but not like Mazatlán's food. "1989 was a tough time on the Harbor," he recalls. "Everyone was leaving, but not me." Arceo planted himself firmly on the banks of the Wishkah.
After living here for three years he got married and started a family. His children have all grown up here attending St. Mary's school, playing recreational sports, involving themselves in the community and graduating from Aberdeen High School. His youngest son is a senior this year at AHS and still works at the family restaurants. "I'm happy with my life here," says Arceo. Aberdeen has treated his family well.
The restaurant really took off and twenty-nine years later he is still here. In 1989 Mazatlán opened in the Becker building. In 1995 Arceo opened a second location in the Olympic Gateway Plaza. In 1997, because parking was getting difficult for his customers, he moved his original restaurant from the Becker building to the South Shore Mall (now Shoppes at Riverside). He moved again, to a bigger location, in 2007 when he opened on the corner of Wishkah and Alder. His other location remains at the Gateway Plaza.
The Recipe of Success
The atmosphere at Mazatlán is what every American expects of a good Mexican restaurant: clean, dim lights, deep colors, ornate furniture and Mexican music playing softly in the background. The artwork on the walls – Mexican countrysides and villages – also bears the name Arceo. His sister, who still lives in Mexico, painted them for him so he would have authentic pieces to remind him of home. Every detail has been seen to.
When I mention to him that he is very detail-oriented and ask if that is the key to his success he shakes his head no. These details must be attended to for success but the employees are the key, he responds. "They know how to do their job. It is a team. It is a family and it is a team."
Most of his employees have been with him for between 15 and 20 years. One of his cooks has been there since he opened in 1989. They have worked their way up through the business like he did, usually starting as a dishwasher. They all know what's expected at every step of the process and can step in to help each other when needed. Even his own children started at the bottom.
"I'm the boss, but I'm also part of the team," Arceo explains. "I worked my way up and I know every part of the business. When the busboy needs help, I help. When the cook needs help, I help. My other workers will do the same thing. We work together. It's not my restaurant, it is ours. It is a team effort."
Unlike many of the restaurants that line Wishkah, the majority of Mazatlán's customers are locals. "We have out of town customers come through in summer but it is really the local community that makes us successful." Mazatlán is a favorite location for hosting birthday parties and on Valentine's day the line is out the door.
Arceo says he doesn't do much advertising because he doesn't need to. Instead he relies on the consistency of his products and the service of his great staff to keep people coming back. "My team has great communication. They are all hard workers. We work hard to make our customers comfortable and happy. That is why we are successful." It's all in the details.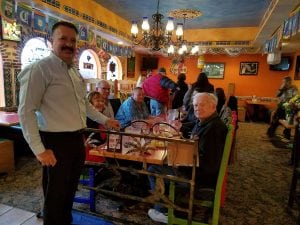 Wishkah & Alder location
720 West Wishkah St
Aberdeen
360-532-0940
Monday-Thursday: 11:00 a.m. – 9:30 p.m.
Friday-Saturday: 11:00 a.m. – 10:30 p.m.
Sunday: 11:00 a.m. – 9:00 p.m.
Gateway Plaza Location
1165 E Wishkah
Aberdeen
360-533-5808
Monday-Thursday: 11:00 a.m. – 10:00 p.m.
Friday-Saturday: 11:00 a.m. – 11:00 p.m.
Sunday: 11 a.m.- 9:00 p.m.
Happy Hour: Monday-Friday, 4:00 p.m. – 6:00 p.m.
Sponsored