The scenic tranquility of Montesano's wilderness is the perfect setting for Grays Harbor wine producer, Wynoochee River Winery and Gardens (WRW). Owners Jeff and Denise Schupbach specialize in creating premium fruit wines at their tasting room located 13 miles out the Wynoochee Valley and about halfway between Montesano and the Wynoochee Dam.
Before moving to Grays Harbor 26 years ago, the Schupbach family planned many visits to the beaches of Grayland and Ocean Shores. "We love Grays Harbor because you get the beaches, the mountains, the farmland and the small city culture all in one," expresses Denise.
Starting a business is no easy task, which is why Jeff and Denise had little to no idea if their new venture would succeed in Grays Harbor. "Being in a less economically fortunate area, we try to make wines that are affordable and unique for our customers," says Denise. "We strive to make unique, premium fruit wines that are inexpensive." What began as merely a fun hobby for the couple to do on their farm quickly gained popularity after their official opening in late fall of 2017.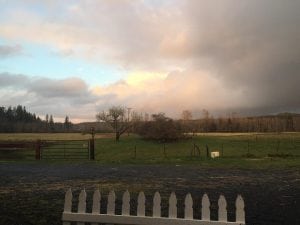 As a family tradition, the Schupbach's have a family dinner every Sunday. One particular Sunday over a decade ago stands out to Denise as a monumental shift in their direction that took them to where they are today. While picking raspberries, the family decided to switch up the traditional jam making ritual and try their hand at wine making. This, however, was no simple project as once the berries and fruits are gathered, the tedious task of hand peeling, pitting and prepping begins. Some fruits even need to be processed the same day that they are harvested as to avoid discoloring. Ever since the first experiment, the family makes wine almost every Sunday together. What started as making five gallons every Sunday has now transpired into a whopping 50 gallons per week.
"Our wines are clean and refreshing, yet full bodied," says Denise. "We grow raspberries, marionberries, boysenberries, blackberries, loganberries, currants, pie cherries, blueberries and apples from our farm, as well as harvest Asian pear, strawberries and cranberries from local farms." Many of their specialty wines are offered throughout the changing seasons, making for a great day trip during one of their scheduled tasting days.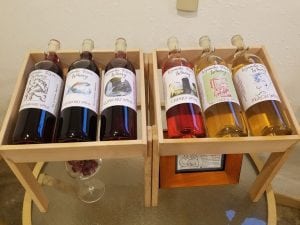 The winery offers a different selection of wines than your typical grape-based vineyard. WRW typically has ten different varieties available in the wine tasting room at any given time. Since the Schupbach's enjoy unique wines that aren't normally available in a traditional market, they strive to continuously have different flavors in production.
While visiting WRW, expect to see a few furry friends on the farm such as horses, cats and dogs the family have adopted that add to the welcoming environment. Part of the reason why many animals roam the farm is due to Denise's love of horses and her involvement in the Grays Harbor 4-H Club.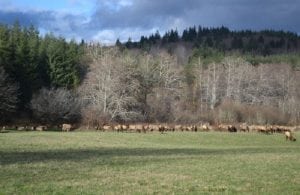 Future plans for the property will include increasing production and tank volumes to meet demand on many of the varieties. They will continue to offer seasonal wine special releases and are excited to offer new gardening opportunities as the business grows. This includes offering vegetable, flower and bulb starts for sale beginning this year. Further down the line, the couple hopes to offer some of their product in local restaurants and other retail locations throughout the county.
When asked what tips the couple would give to others looking to open their own business, Denise has a lot of ideas that she is happy to pass along. "Be patient," explains Denise. "Good things come to those who plan and are willing to wait. Also, the knowledge of federal, state and local regulations is a strong tool to have in your toolbox when starting a new business. Owning a small business is not a quick venture and has to be from the heart. Lastly, be creative and never take no as an answer."
The Wynooche River Winery tasting room is located at 79 Wheeler Road in Montesano.