Ask any of the team members, and they will tell you there is something special about playing for the Grays Harbor Griffins Lacrosse Club. "It's the brotherhood," says Matthew Johnson, a junior from Montesano. "This is a really tight team."
Nate Johnson agrees. "The first year they had the team, I saw how tight knit they were," he says. "They came from not having a team at all to having just enough kids to play. There's no sport like this, where on and off the field we are all so close."
Coach Ramon Cristobal remembers meeting Team Captain Jared Wallace at a lacrosse clinic a couple of years ago. When Jared asked if he was going to start a team, Cristobal told him he would coach if Jared could find some players. Three months later, Cristobal got a call. "Hey Coach, I've got a team for you," Jared told him.
This time last year the Griffins posted a roster of just eleven players, ten on the field and one sub. Only one player on the team had any prior experience with lacrosse. But what they lacked in experience, they more than made up for with enthusiasm and hard work. That enthusiasm proved contagious. This year, the team includes 24 players from five area high schools.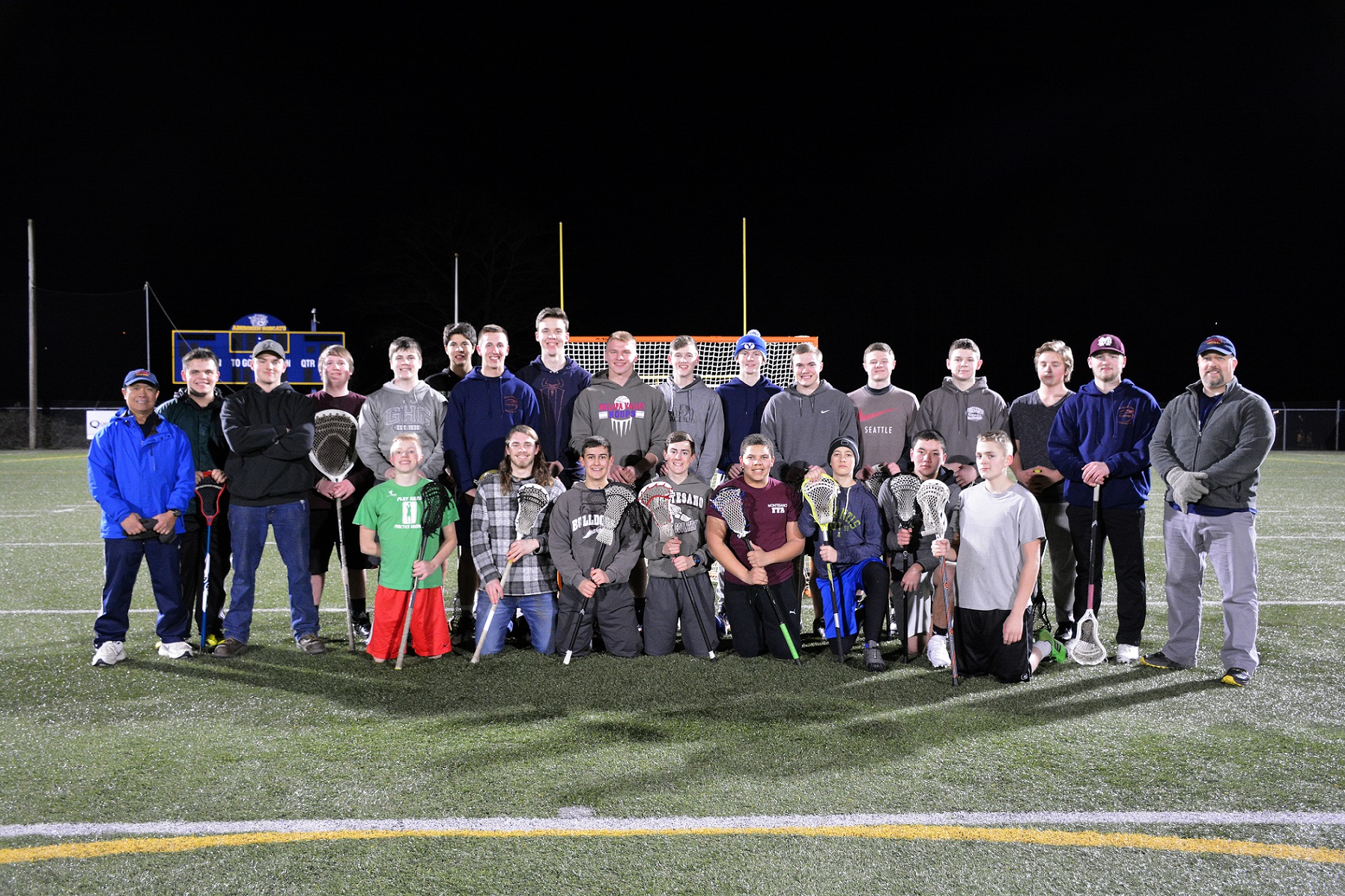 In addition to Raymond, those five high schools include long-standing rivals Elma, Montesano, Hoquiam and Aberdeen. Cristobal is amazed at how the players set aside their differences to come together and honor the game. "They didn't put each other down, because they knew they were all in the same boat," he remembers. "There was a lot of respect. It's a wonderful testament to the maturity of these athletes."
That maturity and dedication have earned the Griffins a reputation as a very classy team, reports Cristobal. Even coaches from opposing teams make a point of recognizing the positive attitude of the players, their work ethic and their sportsmanship. That respect was apparent from the very beginning.
Joseph Johnson vividly remembers a key moment in the first game of last season. As the fourth quarter came to a close, he caught a long pass from goalie Ethan Howard and shot the first ever Griffin goal. The stands erupted in cheers, team affiliation forgotten. "It was a pretty sweet moment," Johnson recalls. "Even the defenders on the other team were giving me some knuckles."
While the Griffins made history by forming the first lacrosse team in Grays Harbor, Seattle actually boasted a lacrosse club as early as 1900. Originally a Native American sport, lacrosse began to gain traction on the East Coast at the turn of the twentieth century. One hundred years later, it has become the fastest growing high school and collegiate sport in the nation.
The athletes provided some insight into the popularity of the sport. Dannan Rosenlund from Elma loves the unique nature of lacrosse. The combination of skill and on the go thinking keeps Jared Wallace intrigued. "I like that you can excel with your own personality," Johnson adds. "It's cool to see how everyone on the team has different things that they bring to the table."
As Cristobal points out, lacrosse is a great sport for developing athletes, with skills that transfer well into other sports like football and basketball. It combines the nonstop cardio of soccer with the physicality of hockey and plays similar to basketball. Lacrosse also forces players to think on the run, constantly reassessing the situation and developing creative solutions.
Most importantly, according to the boys, lacrosse is an amazing sport to play. "It's a really fun environment," Blake Foster states. "I never thought I would get so attached to a sport and that it would be so entertaining."
With high school boys lacrosse gaining momentum in the Harbor, Cristobal and Brad Wallace, another coach, hope to add a youth program, as well as girls lacrosse. If the first two seasons prove any indication, the game has come to stay in Grays Harbor.
Lacrosse season runs from the end of February through May. The Griffins practice and host four home games at Stewart Field in Aberdeen, with their first home game on Saturday, March 17 at 5:00 p.m. against veteran team White River. Come out to a game and prepare to fall in love with lacrosse. In the words of freshman player Stephen Radamacher, "This team right here is something really special."
Featured photo credit: Barb Johnson