Mesa Zang thought she was coming down with the flu. All the symptoms were present – the body aches and pains, the discomfort. The early stages surfaced during a June trip to an indoor rock climbing facility in Olympia three years ago.

Zang was barely able to participate.
It was a rotten way to kick off the summer following her freshman year of high school, but Zang knew there would be other opportunities to give the sport a try once the illness passed in a couple days.
Only it never did. Not only did it remain, it worsened. Soon the intense pain occupied one of her arms. Then both arms began to feel it.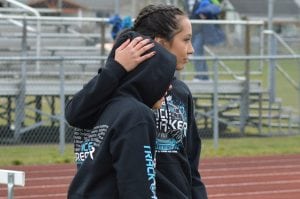 "Everything hurt," Zang said. "It all just happened so fast, and it progressed to my entire body. When I went to the doctor's everyone said I had the flu and to go home and rest."
Zang was a three-sport athlete during her freshman year at Elma High School. There was volleyball and basketball, but track and field was by far her favorite. A little more than a month before she had ran in the Eagles' 4×400 relay team at the Class 1A state meet.
She envisioned it was going to be the first of four trips to state during her high school career as she would only get faster and stronger, and mature as an athlete.
Two weeks passed since she was first diagnosed. Things were far worse now than before. This wasn't the flu.
The doctor trips started to pile up as did Zang's questions on what was happening to her. No one had an answer as she was shuffled around to a variety of specialists, eventually ending up at Seattle Children's Hospital.
"The first week I was there I was in isolation," she said. "They were running tests on me, but they couldn't figure out what was wrong. I just felt so helpless. Simple tasks, like getting out of bed in the morning, which should be super easy, I just couldn't do."
As soon as the pain came on, however, it suddenly left, leaving everyone even more baffled.
"I started feeling better," Zang said, "so they were going to send me home."
Unfortunately, the comfort was short-lived and as Zang was preparing to finally go home everything returned tenfold.
"A few days before I was supposed to leave (the hospital) my right lung was bleeding and burst," Zang said. "They sent me to the ICU. I was there for another week. My symptoms were so bizarre they couldn't really pinpoint what it was."
A biopsy from her lung provided some idea – small-vessel vasculitis – but the doctors weren't 100 percent sold on it just being that. They only knew Zang's blood vessels were being affected, causing them to get inflamed all the way to the muscles, immobilizing her for great lengths of time.
"That was their best guess," Zang explained. "It is such a rare disease. They put me on medicine and IV treatments. They still couldn't figure out exactly what it was so they couldn't really line up a solid treatment. The first two years I did a lot of trial treatments. I did chemo therapy for six months. They basically tried everything. It was just the unknown and that was really the frustrating part."
Still in pain, yet doing her treatments, Zang tried to get back into volleyball at the start of her sophomore year. It only took a couple days before she realized the sport was going to be just too physical for her. She suffered another flare up and found herself right back in the hospital.
"After that," Zang said, "I just got into the mindset that I was never going to do sports again."
Basketball season came and went with Zang not even attempting to give it a try.
Then came the start of track season. Out of all the sports, track was what Zang was most passionate about.
"She came out to the first day of practice,"said Bryan Schneider the Elma track and field coach. "Her face was swollen up because of all the medicine and steroids she was on, but she still had this huge smile and she told me how sorry she was she couldn't turn out. I just asked her, 'What do you have to be sorry about?' She was going through all of this and you would always see her smiling."
Zang's junior year was identical to the previous year – no volleyball, no basketball and no track, which provided the most heartache.
"When I was younger my whole idea was that I was going to college based on sports," Zang said. "I was going to get a scholarship and go wherever it took me. Track was the one thing I was really good at. I just had this huge passion for it. As a freshman you think you have three more years of it and it feels like that was taken away. It's discouraging."
Just as Zang started to come to grips with the thought of graduating high school without ever participating in athletics again, the mysterious illness, while still very present, subsided six months ago.
Although she prepared herself for letdown, she decided to be evaluated one last time in an attempt to be cleared to turn out for track her senior year.
After three years of severe pain, three years of treatments, Zang finally got the green light from her doctor.
Over the next six months she prepped for her return, spending countless hours in the gym.
At the Eagles' season opening meet at the Montesano Jamboree, Zang ran the 100 meters – her first race in nearly four years.
She placed 18th – in what could arguably be the most satisfying and spectacular 18th-place finish in Elma track and field history.
"I didn't care," she said. "I wasn't worried about my time or where I placed. I was running in a race which is something I never envision doing again. Passing the finish line was a reward in itself."
While Zang was ecstatic about her performance in the 100, it paled by comparison to the emotion she felt after she earned a spot on the Eagles' 4×400 team – the same event she went to state to as freshman.
"I broke down and started crying – I was balling," said Zang about what happened the moment after she was informed she made the team. "I know my individual times aren't the best now. So the relays was all I was working towards. When Schneider told me I made it, it was just a super rewarding feeling because of all that time I missed. All my emotions just came out."
She wasn't the only one.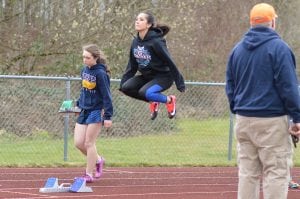 "Everyone was crying," Schneider said. "All her teammates started crying. And I will admit it, so was I. It was just unbelievable."
Her times are now slower than when she was a freshman. She still struggles with the pain and knows it will be something she will deal with the rest of her life, but you won't hear Zang complain once about either.
"All that lost time, it makes you appreciate the simple things about sports, like teammates and practice," Zang said. "It was definitely a long journey and I am still overcoming pain just to race. I'm not mad about what happened. I will probably be later when I think about it, but right now I just love being a member of this team again."