Submitted by Adopt-A-Pet
Meet Sadie!   She is a two-year-old, smart and strong, people-pleasing sixty-two-pound girl who is looking for her forever home.   Sadie has come a long way at the Adopt-A-Pet kennels since her arrival by gaining confidence and learning basic commands with leash manners.   Sadie enjoys leaving the shelter for a home visit and treadmill workout with one of her favorite volunteers.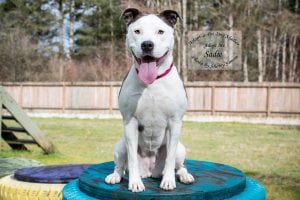 Sadie would do best in an adult only active family home, with no other pets, and a secure fenced yard for her daily exercise.   Sadie needs a grain free diet with no chicken.   If you are looking for a great, gorgeous girl and have time, love, and leadership to give, she may be the one for you.
Adopt-A-Pet has many great dogs and always need volunteers. To see all our current dogs, visit the Adopt-A-Pet website, our Facebook page or at the shelter on Jensen Road in Shelton. For more information, email thedoghouse3091@hotmail.com or call 360-432-3091.