Calling all meat eaters! Mark your calendars for July 7, grab the family and head east to Huntamer Park in Lacey for the eighth annual South Sound BBQ Festival, taking place from 11:00 a.m. to 6:00 p.m.
Brought to you by Lacey South Sound Chamber, this hugely popular event will host an array of food, non-food and retail vendors and will showcase amazing local businesses in the South Sound area.
Spend the day rock climbing, jam out to live music, quench your thirst at an adults-only beer and wine garden, and perhaps most importantly, satisfy that barbecue craving by sampling delicious food from local restaurants. Don't miss the much anticipated barbecue cook-off and all-ages chicken wing eating contest, put on by ACU (America's Credit Union). Admission to the festival is absolutely free with food and drinks for purchase.
Blaine Land is the Lacey South Sound Chamber Executive Director and says the South Sound BBQ Festival one of the largest community events in the summer.
"The Chamber will be accepting new vendor applications through June, but spots fill up fast so don't wait," says Land. "If you are a business interested in becoming a vendor, this is a great opportunity to promote your business at this local event that draws in thousands of Thurston County residents."
For more information about the costs associated as a vendor, check out the Chamber's website, or contact the Chamber office by calling 360-491-4141.
This is the second year the Lacey South Sound Chamber has collaborated with the Pacific Northwest Barbecue Association (PNWBA) to put on the infamous BBQ Cook-Off. The PNWBA is a non-profit organization dedicated to the promotion and enjoyment of barbecue in the Northwest.
The exciting event puts local barbecue experts and novices alike to the ultimate test as they compete for the best barbecue dish. Attendees can come and try delicious barbecue samples from the contestants and a panel of PNWBA judges will select the winner by the end of the day. Contest winners are qualified to be invited to cook at upcoming national and world championship events.
Food vendors who wish to sign up for the cook-off are asked to have some sort of barbecue related food item for sale and those that want to compete in the famed BBQ Cook Off can submit an application here.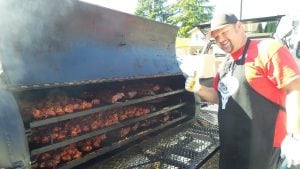 Owner of The Tailgate BBQ in Tumwater, Chris Lester, has been on the festival committee since the beginning, but it wasn't until after Lester started his barbecue business almost six years ago that he became a participating food vendor at the South Sound Chamber BBQ Festival.
"It's turned into such a wonderful festival, and a signature event for Thurston County," Lester says. "It's not about the competition for me, it's more an opportunity to be out there with the public and provide some great barbecue."
From buying the meat, to prepping it, to cooking it overnight and selling it the next day, Lester says about 30 hours of work goes into preparing for the big day, and he still runs out of food every year.
Attendance only continues to grow at this free local gathering, with an estimated 15,000 people showing up to support local businesses and share great food. Lester says the exposure of an event like the South Sound BBQ Festival has more than paid off for his business.
"I've met people who I ended up working for on different occasions like weddings and graduations just because they tried my food and loved it, so it's been highly beneficial for me to get the exposure," he says. "If I had to choose one barbecue event for my company to do, hands down it'd be this one."
So if the thought of tender pulled pork and brisket being smoked overnight then lathered in tangy barbeque sauce and served up hot starts to make you salivate, then don't miss this beloved community event. Just be sure to come early to take advantage of the free parking!
You can reach the Lacey South Sound Chamber by visiting their website, Facebook page, event page, or by calling 360-491-4141.
Stay up to date with The Tailgate BBQ by visiting their Facebook page or by calling 360-790-6003.
Sponsored