For the first time this ever, Great NorthWest Federal Credit Union (GNWFCU) welcomed an Aberdeen High School student as their intern. The experience went so well between high-schooler Diana Rodriguez and the credit union that they ended up offering her a part-time position at the end of the internship that she happily accepted.
Diana, 17, first applied for an internship through Grays Harbor Youth Works who placed 16 students into internships this year. Diana was accepted and placed with GNWFCU in January of 2018 and began her internship the day after orientation with Grays Harbor Youth Works. She hit the ground running, ready to learn and help out the team.
"I think we were really lucky to get her," Linda Vandiver, Vice President of Human Resources for GNWFCU said. "She kind of was a last minute intern for the program Grays Harbor Youth Works and we got a lot of information and figured out that we wanted to be involved. And then they set us up with who they thought would be the best person and it was Diana. We're extremely lucky and I was excited at the Recognition ceremony they had for all of the interns, to tell them that we actually hired her."
Founded in 2013 and ran by Dr. Doreen Harden Cato, Grays Harbor Youth Works has placed more than 100 local students in their internship program that encourages students 15- to 19-years-old to pursue higher education. Among other services, the program carefully places students in internships around the harbor where they feel will be most beneficial to everyone involved. One perk of the program is that internship participants are able to earn high school credit in the process. Diana is a go-getter and says she did it not only for the experience and credit, but for fun as well. "I didn't even need the credit, I just did it for fun," she said.
To have had an intern at GNWFCU has been a positive experience for everyone involved. The employees have worked together with Diana to build marketable skills in the workplace as well as cultivate work relationships and increase understanding of day to day business operations.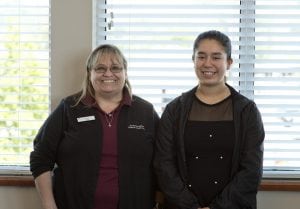 "It's been a great thing," Linda said. "I think it gives a buy-in for the student to actually feel like they are a part of something. We love being a part of the community. It was a good fit because our motto is 'people helping people,' so it's pretty good to be involved."
Diana, who says the staff have become like family to her in the last few months, attended to an array of responsibilities during her internship. She had various kinds of hands on experiences, helping out in everything from imaging and data entry to working in the Call Center and Loan Department. When asked what her favorite part was, Diana couldn't pinpoint just one thing. "I just like everything," she explained. "They're all so nice and help me if I need help or if I have any questions."
Though Diana said that everyone is friendly and helpful, she added that Missy, in the Collections Department, was her most valuable mentor. "She's always helping me and showing me how to do new things," Diana said.
Diana has proved herself to be an asset over the last few months by showing a strong work ethic and quick learning capabilities. And as of May 20, right after a recognition banquet by Grays Harbor Youth Works at the close of the internship, she was officially hired onto GNWFCU staff complete with flowers and a gift welcoming her aboard. She is currently taking more in-depth training where eventually she'll spend a majority of her time working in the Call Center as an employee.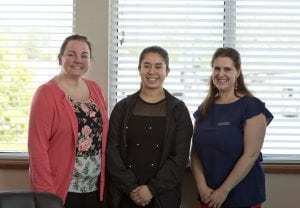 One day, Diana has plans to become a surgeon and is grateful for the internship experience, feeling it has helped give her more knowledge and direction that will be helpful in the future. She encourages other students to take internships, too, saying that it can help them find their interests.
Those at GNWFCU look forward to working with Diana and have seen firsthand the benefits of an internship.
"I was so excited that it was working out so well for us," Linda said. "And I thought 'what a good thing to get kids involved in' because look what it's done for Diana. I mean, she is a very, very involved person. She's got a huge future ahead of her."
Diana is daughter to Antonio Padilla and Rosa Rodriguez with younger siblings Nadia, 13, and Amir, 6. Linda notes that Diana's parents especially have been behind her every step of the way, encouraging her participation in the internship and now in employment. "Her mom and dad support her 150 percent," Linda said.
GNWFCU plans to continue offering internships, especially after such a promising endeavor with Diana.
For more information on services at the credit union, visit the Great NorthWest Federal Credit Union website. For more information on programs and opportunities for youth, visit the Grays Harbor Youth Works website.
Sponsored