For nearly 60 years the town of McCleary has gathered to celebrate the annual McCleary Bear Festival happening July 6-8. Whether you come for the vendors, parade, car show, fun run, softball tournament, or world famous bear stew, don't miss out on this family-friendly roaring good time.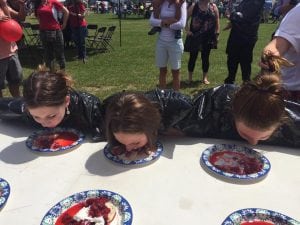 According to The Vidette, the area's local newspaper, an early headline advertising the festival read "Did you ever see a dream growing?" And grow it has. When the Festival began in 1959, the forestry-conscious founders "suggested barbequed bear be served. That would be in keeping with McCleary's interest in forest preservation as an adult bear could eat 40 fir saplings a day."
Bear stew is still a fan favorite part of the fun, with 2,000 bowls served last year alone. Organizing Committee Secretary Amanda Lewis is excited for this year. "Everyone's been working really hard all year and it's going to be a great weekend," she says. "There's food and entertainment for all ages. We hope to see you there." She and Treasurer Holly Pierce, Chair Tanya Beavers, and Co-Chair Karen Waddington wrangle teams of eager volunteers every third Thursday of the month at the McCleary Community Center (and are always looking for more help!).
"The kiddie and grand parade, softball tournament, bounce houses, pony rides, and petting zoo," say Lewis, are other big draws. "We will have several live bands, more than 45 food and craft vendors, the Bear Claw Derby, and other events."
New this year are a Velcro wall, slide, inflatable obstacle course, and hamster balls in the kid's zone that will appeal to youth in addition to bouncy houses and other entertainment for younger kids, Lewis adds.  Day and weekend wristbands are available for the kid's zone, $10 for one day and $15 for the weekend.
Though food and vendor merchant slots are full, spaces are still available for the car show on July 8, the parade, and children's Bear Claw Derby. This soapbox-style race is open to kids ages 6 and up with trophies for the winners.
Come meet Festival Royalty Queen Annabelle M, Princess Maci P, and Princess Emma P. "13- to 15-year-olds living in McCleary are encouraged to run for royalty," explains Lewis. "Once a part of the royalty court, there are multiple categories that help to determine who is crowned including an interview, essay, community service, sponsorships and button sales."
Friday, July 6 offers food vendors from 1:00 p.m. to 7:00 p.m., craft vendors from 3:00 p.m. to 7:00 p.m., games in the park from 3:00 p.m. to 5:00 p.m., and a visit from the Reptile Man at 6:30 p.m. Court coronation takes place at 5:30 p.m. at the nearby VFW Hall.
Starting at 6:30 p.m., head to Beerbower Park for the annual Guns and Hoses softball tournament.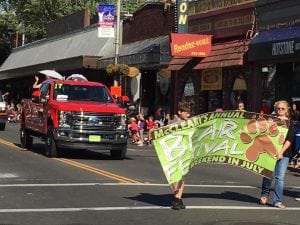 Saturday's calendar is full from 8:00 a.m. until late in the evening. The softball tournament kicks things off with food and craft vendors open from 9:00 a.m. until 7:00 p.m. The fun run starts at 9:00 a.m. with the kiddie parade at 11:30 a.m. Afterwards stay for the grand parade at noon, followed by pony rides and fun Kid's zone activities from mid-day until 5:00 p.m.
Bear stew is served starting at 1:00 p.m. on Saturday only, while supplies last. Don't miss out.
On Sunday the softball tournament continues starting again at 8:00 a.m. Food and craft vendors run from 10:00 a.m. until 4:00 p.m. with kid's activities and free face painting from 11:00 a.m. until 4:00 p.m. The Bear Claw Derby is also on Sunday from 9:00 a.m. until noon.
There will be live music as well, both Saturday and Sunday. "We will have serval live bands throughout the weekend that will include contestants from American Idol and The Voice—Jacob Westfall and Ericka Corban, award winning tropical rock artist Brittany Kingery, as well as other local artists that we're excited to have," says Lewis. Saturday at 1:00 p.m. is Jacob Westfall followed by Ericka Corbin at 4:00 p.m. while Brittany Kingery and Anna Robinson take the stage at 1:00 p.m. on Sunday.
The car show will be held at the Summit Pacific Parking Lot at Fourth Street on Sunday at 11:00 a.m.
The State Department of Fish and Wildlife estimates that "The statewide black bear population in Washington likely ranges between 25,000 and 30,000 animals." A trip to the McCleary Bear Festival will give you and your family true taste of small town Washington.
Sponsored