Most of us can agree that spending time in a hospital can be a grueling experience for patients of all ages. To help ease the tension that inevitably comes with a hospital stay, Summit Pacific Medical Center in Elma has introduced a unique kind of treatment in the form of a four-legged, 145-pound, 14-month-old Great Dane.
Vince the therapy dog was first introduced to Summit Pacific when he was just 3-months-old. Rachel Davis-Heintz is a social worker at Summit Pacific and is Vince's trusted handler. After over a full year of hospital visits, Vince is participating in the necessary training to become a certified Pet Therapy Dog. "It's an ongoing process to get Vince used to multiple types of people and situations," explains Rachel. "Our ultimate goal with Vince is to test with Therapy Dogs International in around six to nine months. During the exam the dogs are tested on obedience and comfort level with large groups of people and medical equipment. The test is intensive and will demand a great partnership between Vince and I, but it's a challenge that I am looking forward to." While the testing with Therapy Dogs International is not required for service animals, Rachel has made it her and Vince's dream and strives to reach it in the coming months.
A Day in the Life of a Therapy Dog
Vince's day-to-day regimen begins bright and early by making his rounds in the Emergency Department, visiting with both the patients and staff. Rachel then takes Vince to tour around the building in search of patients and visitors in the halls to interact with. The afternoons are spent on the hospital unit for both hospital and swing bed residents to visit with him. Vince's schedule is packed with full day visits to Summit Pacific two to three times a week. The facility has become a second home for Vince, so much so that he even has his own bed in Rachel's office, where he rests between visits, and a good supply of toys.
The presence of Vince within Summit Pacific is a welcome sight for children of young ages to elderly patients looking for creature comforts during their stay. As people pass by Vince in the halls, a smile immediately lights up their face. The stories surrounding Vince and his time at Summit Pacific are what inspire Rachel to continue bringing Vince to the facility and working to reach their goal of certification. "Several months ago we had a patient that was dying," recalls Rachel. "The family asked that Vince be allowed to come and see the patient. Vince went up to this gentleman and laid his head down on his chest for him to be pet. The gentleman immediately had a huge smile on his face while petting Vince and interacting with him. The next day this gentleman unfortunately passed away. His family, knowing that he loved dogs, was thankful that he was able to be around Vince while at Summit Pacific."
Although over the past year there have been innumerable touching stories that stick out in Rachel's mind, there's one that especially touches her heart. "This circumstance involved a gentleman with advance dementia who would tend to get very anxious and agitated at times," explains Rachel. "One day this gentleman was more anxious than normal, so we decided to bring Vince in to see him and gauge his reaction. Within a few minutes, the gentleman sat down and began petting Vince while talking about the hunting dogs he used to have."
The presence of animals has been shown to help calm patients and residents at hospitals suffering from anxiety, depression, and pain. "We immediately could see all of the anxious thoughts and feelings fade away as Vince spent time in this patient's room. It's these experiences that make all of the training and hard work worthwhile."
Vince was recently recognized by the staff of Summit Pacific for his exemplary modeling of Summit Pacific's core value of "compassion" on the organization's core value recognition board. Each quarter, a corkboard in the staff hallway collects notes written by various staff wanting to recognize their peers for modeling the core values of passion, respect, integrity, compassion and excellence. When the board was cleared for the quarter, staff filled it with an overwhelming show of gratitude for the work Vince does. Staff have watched him grow from a not-so-little-puppy into the caring and compassionate gentle giant he has become. They are often spotted taking him for a walk around the wellness trail or stopping by just to say hello to him on his "work days."
Whether a patient is admitted to Summit Pacific Medical Center for a few hours or multiple days, the presence of Vince in the facility is sure to brighten people's lives. Learn more about the services available at Summit Pacific and visit their Facebook page for regular updates on the facility and all of its happenings.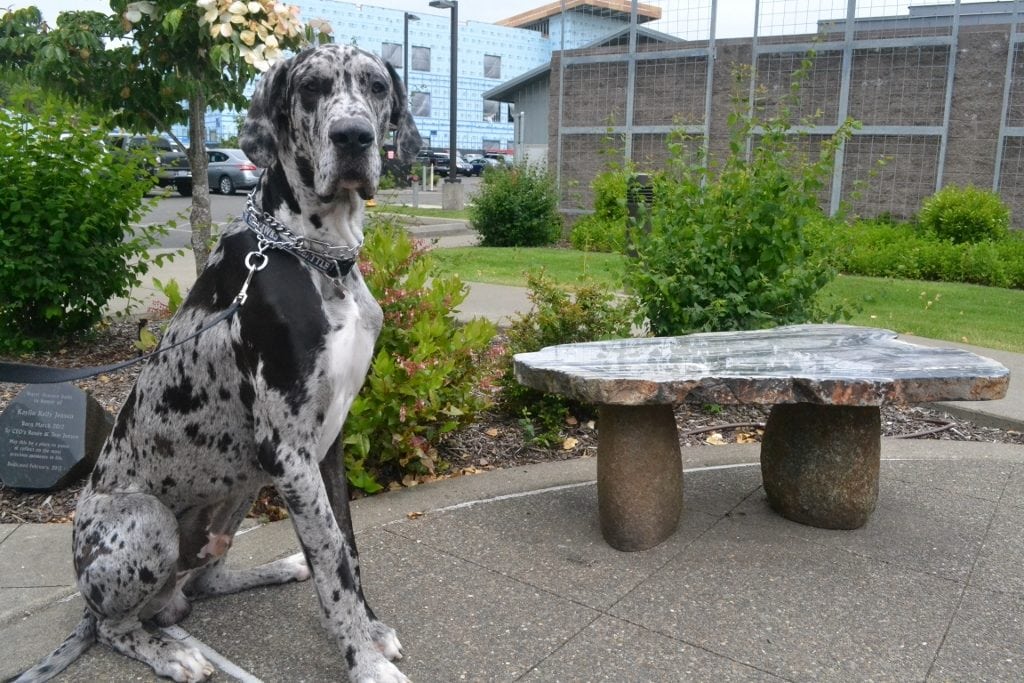 Sponsored