August may be reaching its end. Pleasant, sunny days may be getting shorter. Kids may be gearing up for the start of school. These are no reasons to worry, though! Summer isn't over until it's over and the greatest sendoff is still on its way. The Brats, Brews and Bands Festival is back again and better than ever!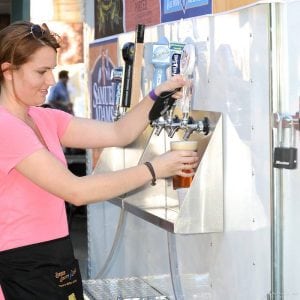 This year's event is scheduled for September 8, 2018 from 1:00 p.m. to 10:00 p.m. at The Hub in Lacey. Anyone 21 and older is encouraged to attend. Tickets can be purchased the day of at the front gates or in advance on the Brats, Brews and Bands website for only $10.
Prior to embarking on any benevolent mission, event organizers, Gateway Rotary, ask themselves a series of questions. Perhaps the most important one being, 'Is it fun?' Anyone who has been to Brats, Brews and Bands in the past knows the answer is a definite YES, YES, YES!
Len Faucher, Gateway Rotary's current President Elect, and his team have focused this year on bringing back crowd favorites, like an extensive offering of beers, while also adding in some new things to look forward to, like a broader selection of ciders, a greater number of bands, and crowd requested Washington wines. For Gateway Rotary, it's all about finding new ways to have an awesome time!
"As expected, Gateway Rotary's theme this year is FUN and that is precisely what guests will experience on September 8 at the Hub in Lacey," divulged Len excitedly.
Here some other things you can look forward to savoring at this year's festival:
Top-Notch Beverages
For a comprehensive list of featured brews click here.
Mouth-Watering Sustenance
Provided by Ricardo's at the Hub
The Ricardo – a grilled hot dog on a fresh roll topped with caramelized onions and Rickey's whipped cream cheese
The Terminator Brat – a grilled brat on a pretzel bun topped with cheddar cheese, sourless kraut and grilled onions
Yummy Sides – fancy baked beans, German pretzels and gourmet popcorn
Pulled Pork Caesar Salad
For a complete menu, click here.
Musicians That Will Move You
For a complete list of scheduled musicians click here.
"Between the hours of 1:00 p.m. and 10:00 p.m., guests will be completely immersed in unforgettable performances," added Len, "played by our best local bands. This year's line-up will consist of a mix of rock, country and modern music. Brats, Brews and Bands 2018 features the addition of a third, smaller stage for solo shows. We'll be serving pilsners, porters, lagers and of course IPA's. And when you get hungry, Ricardo's will be ready with the finest brat selections, gourmet popcorn, pulled pork sandwiches and creative salads. Guests can even play games of corn hole, compete to win an autographed football or just relax with friends."
At Brats, Brews and Bands you're always guaranteed an assortment of the highest quality craft beers, an array of savory eats and a line-up of not to be missed performances, but did you also know that your attendance and contributions to the event also support the greater community? Each year, Gateway Rotary passes on the event's proceeds to local charitable organizations. Previous recipients have included Homeless Backpacks, The Boys and Girls Clubs of Thurston County and  Rebuilding Together Thurston County.
"Brats, Brews and Bands is the premier end of summer event," reminded Len. "What makes this event so fun for us, is watching our key community leaders participating in the day's events, cooking brats, taking tickets, even pouring beer. You'll even spot a few elected officials among the club in their BBB shirts and BBB aprons. The event continues to grow, along with the amount we are able to give back to the community thanks to you, our fans, and our many personal and corporate sponsors. We really want to encourage everyone to follow us on our Facebook page, like our event, spread the word, support the businesses that have made Brats, Brews and Bands possible and bring all your friends because when you attend the community benefits in some really big ways."
Did you know Gateway Rotary Club is one of the fastest growing clubs in Thurston County? This year's Brats, Brews and Bands Festival marks the club's six-year anniversary who focuses everything they do on honoring their mission to bring professional leaders and businesses together to promote peace, provide humanitarian services, encourage high ethical standards and build goodwill. In other words, they fight to make our community and world better tomorrow that it is today.  Gateway Rotary is open to anyone who wants to join.  Look for a member at Brats, Brews and Bands to learn more about their mission and how you can get involved.
September 8 is fast approaching.  To discover more and purchase tickets for this year's event, visit the Brats, Brews and Bands website today!