We all have that one thing that makes us realize fall is just around the corner. Whether it's the first rain on a cool crisp morning or the aroma of hot apple cider brewing on the stovetop, everyone can tell when the season is changing and it's time to bid goodbye to summer.

Nothing ups the ante on a season like joining in with fun local events. Read below and discover all of the fall-centered local happenings taking place in Grays Harbor County.
Montesano
Come out to Shaffner Farms located at 158 Geissler Road on a day that suits you best, as they are open every day throughout October from 9:00 a.m. – 6:00 p.m. The farm offers completely free covered hay rides, an upstairs hay maze, hay jump, and products for sale including fresh produce and locally made products. Pick out the perfect pumpkin while making memories to last a lifetime.
Another local crowd-pleasing pumpkin patch is Chapman Farms. The farm is located at 239 Brady Loop Road E and is open all season long. Get lost in the winding corn maze that changes shape each year before meandering through the rows and rows of pumpkins of all varieties. Once you find the ideal pumpkin, head inside the barn and pick up some local produce and let the kids run free in the free indoor hay maze.
After enjoying a day at the pumpkin patch, plan a visit to the 9th Annual Lake Sylvia Fall Festival at 1812 Lake Sylvia Road N taking place on Sept 15 from 7:00 a.m. – 4:00 p.m. There will be an Artists Market, trail races for kids and adults, an early morning pancake breakfast, kayak paddle, live music, vendors, nature crafts and activities, bike trail tours, and demonstrations by the Boy Scouts and Girl Scouts. If you don't want to drive into the park or don't have a Discover Pass, use the free shuttle bus provided leaving from Simpson Elementary School on Simpson Avenue.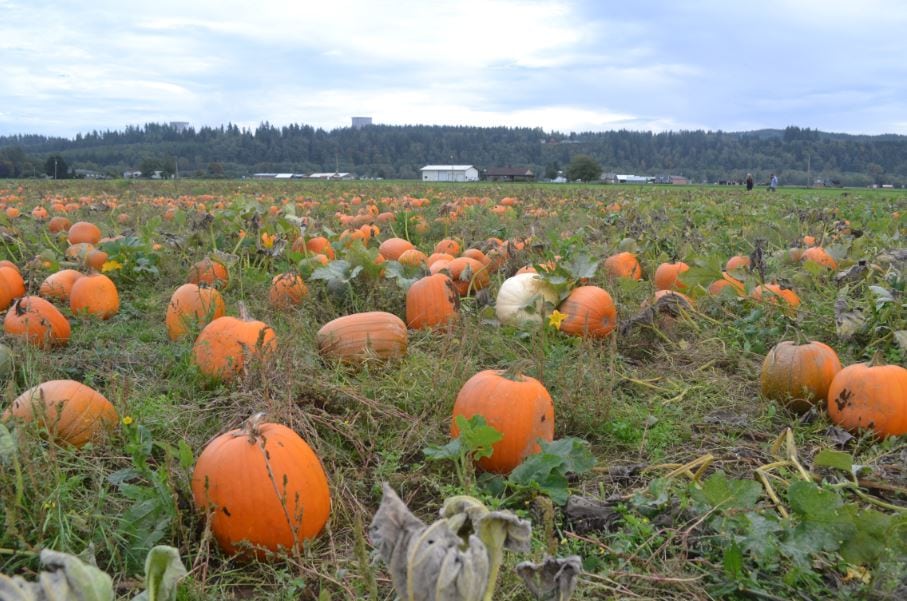 Aberdeen
Located in downtown Aberdeen is Steam Donkey Brewing Company, a locally owned brewery that reignited the brewing craze in the city. Stop by their storefront location at 101 E Wishkah Street for their 2nd Annual Wurst Party Ever! Oktoberfest. This one-day event will be happening on September 22 from 12:00 p.m. – 10:00 p.m. Pull out your lederhosen and indulge in bratwurst, pretzels, and brew, enter to win raffle prizes, enjoy a special beer release, as well as family fun.
Also taking place in Aberdeen is the St. Mary School Oktoberfest Holiday Bazaar at 510 North H Street that mixes Oktoberfest festivities with a holiday twist. The event includes stage entertainment, bingo, a Christmas Corner, Bavarian Coffee Haus, Great Bites Café, and a kids carnival. Plan to bring the family to this local happening on October 6 from 9:00 a.m. – 3:00 p.m.
Elma
The Grays Harbor Fairgrounds is one of the most popular venues in Grays Harbor. On September 28–29 the Junk Queens Autumn at the Fairgrounds "Pinterest Party" will take place there, complete with hand-picked festive vendors, antiques, vintage country collectibles, recycled, reused and re-purposed products, and of course lots of pumpkins. The address is 32 Elma McCleary Road and the cost is $5 at the door, 12 and under free, or free entry with a new backpack, coat, or toy donation.
Pacific Beach
Seabrook Washington is a coastal community in Pacific Beach brimming with events throughout each and every season. One of their signature events taking place this fall is the 6th Annual Big Foot Brew Festival at Seabrook on October 6 from 11:00 a.m. – 6:00 p.m. Craft beer enthusiasts from across the Pacific Northwest will gather together to sample over 40 varieties of seasonal craft beers from 15 different breweries. Expect to enjoy live music, local food vendors, fun and games, and more for the cost of $25.
A few days before Halloween, Seabrook will also be hosting a free Town Trick-or-Treat beginning at 4:00 p.m. All Seabrook Town Merchants and many homes throughout the quaint town will be giving out treats for kids in costume. Look for the homes with a glittery pumpkin on display, meaning that they're participating.
Ocean Shores
The beach is the place to be this fall! The Shilo Inn in Ocean Shores at 707 Ocean Shores Boulevard SW is hosting their First Annual Halloween Gala from 6:00 p.m. – 10:00 p.m. There will be live and silent auction, cash bars, live music, and a costume contest with $1,000 in prize money. Tickets are $35 a person, and can be purchased at the North Beach Chamber of Commerce office located at 114 E Chance a la Mer, Unit 100, over the phone by calling 360-289-2451, online at the website, or at the door.
Grayland
One of the most unique events in the county is the Grayland Cranberry Festival. This fun fall event will span over the weekend of October 13 from 10:00 a.m. – 5:00 p.m. and October 14 from 10:00 a.m. – 3:00 p.m. at the Grayland Community Hall at 1071 Cranberry Road. Watch a cranberry harvest in action on an exciting bog tour, participate in the Jog the Bog fun run, watch the Cranberry Cook-Off, and other activities that will leave you hungry for more.
Quinault
Head to the tranquil Olympic National Park and watch the seasons from rich green to beautiful gold, red, and orange. While you're visiting the area, take part in the 16th Annual Mushroom Festival. There, you'll have the opportunity to meet up with an experienced team of mushroom enthusiasts who share the art and science of mushroom collecting and cultivation. The three-day festival runs from October 19 – 21 at the historic Lake Quinault Lodge at 345 S Shore Road and includes a multitude of mushroom-related activities such as guided hikes and foraging in the rainforest as well as delicious autumn menus that incorporate local mushrooms from the seasonal harvest. Costs vary depending on how many days you wish to attend the event.