T
he weather has turned and it's time to indulge in the incredible flavors of fall; for many of us that means lots and lots of pumpkin. Luckily, you don't have to roam out of Grays Harbor to find pumpkin spice lattes, pumpkin bread, and anything else you can think of that may taste better with a bit of that flavorful fruit (yup, that's right, pumpkins are technically fruits…and members of the gourd family, not squash!) So, hop into your car and drive just a short distance to one, or all, of these local Grays Harbor bakeries and coffeehouses to sample the flavors of the season.
---
South Bay Coffee Company 2
1019 E Wishkah St, Aberdeen
South Bay Coffee Company is known for their artisanal drinks, made with the highest quality ingredients by Baristas that know their way around an espresso machine. In honor of fall, they are taking the pumpkin latte to a whole new level – this year they are offering a pumpkin spice latte made with locally crafted pie sauce. You won't find anything like it anywhere else.
Hours:
Monday – Thursday: 6:00 a.m. – 6:00 p.m.
Friday: 6:00 a.m. – 8:00 p.m.
Saturday: 6:30 a.m. – 8:00 p.m.
Sunday: 7:00 a.m. – 5:30 p.m.
---
The Sweet Life
215 S Meriweather Street, Pacific Beach
The Sweet life in Pacific Beach is kicking of fall with their amazing spin on pumpkin spice that will have you feeling those last few summer days all over again. The Sweet Life will have two fall flavors of ice cream, pumpkin spice and pumpkin spice and caramel swirl. They can also make either flavor into a handcrafted milkshake. A nice cold pumpkin milkshake or cone is the perfect way to say good-bye to summer and hello to fall.
Hours:
Monday-Wednesday: 11:00 a.m. – 7:00 p.m.
Thursday: 11:00 a.m. – 8:00 p.m.
Friday: 11:00 a.m. – 7:00 p.m.
Saturday: 11:00 a.m. – 8:00 p.m.
Sunday: 10:00 a.m. – 7:00 p.m.
---
Coffeeman Espresso
415 W Heron St, Aberdeen
After 19 years in business, there is one thing the owners of Coffeeman Espresso in Aberdeen knows – people love pumpkin! They said customers started asking them in August if they had pumpkin items yet, and so they know offer pumpkin year-round! "Pumpkin is such a delicious, warm flavor that we do our best to have every kind of pumpkin available all year long," says owner Albie Shaver. Trot on down to try out their plethora of pumpkin items including pumpkin cheesecake made with real pumpkin (made just like Mom used to make it!), pumpkin spice latte topped with real nutmeg, freshly-made pumpkin bread and more. They even have pumpkin spice tea for the non-coffee drinkers with real nutmeg and fresh lemon.
Hours:
Monday-Friday: 5:30 a.m. – 6:00 p.m.
Saturday – Sunday: 6:30 a.m. – 5:00 p.m.
Holiday Hours: 7:00 a.m. – 4:00 p.m. Closed Christmas Day
---
Huckle-Bearies Espresso & Bake Shop
2400 Sumner Ave, Aberdeen
Huckle-Bearies Espresso & Bake Shop in Aberdeen has plenty of pumpkin goodies to fill your belly and keep you warm on a cool fall day. One of their specials this month is a pumpkin crisp drink that has pumpkin, caramel and brown sugar cinnamon. Pairing perfectly with this drink are their baked goods, which include pumpkin white chocolate muffins, pumpkin cheesecake muffins, and frosted pumpkin bars.
Hours:
Monday – Friday: 6:00 a.m. – 6:00 p.m.
Saturday: 7:30 a.m. – 5:00 p.m.
Sunday: 8:30 a.m. – 4:30 p.m.
---
All Wrapped Up!
110 E Pioneer Ave, Montesano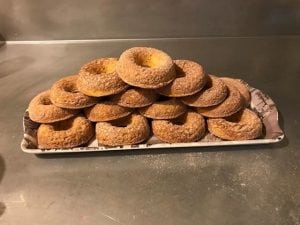 All Wrapped Up! in Montesano has so many pumpkin-loving customers that they offer their pumpkin bars year-round. For the fall, they have several more pumpkin spice treats waiting for you to taste including snickerdoodles, crumb cake and donuts. And of course, they have plenty of pumpkin spice on the drink menu as well, including pumpkin spice lattes, frappes and cold brew.
Hours:
Monday-Friday: 6:30 a.m. – 7:00 p.m.
Saturday: 8:00 a.m. – 3:00 p.m.
Sunday: CLOSED