It's time for rodeo fans to buckle up for an evening of excitement as Clash of the Cowboys comes to the Grays Harbor Fairgrounds on Saturday, October 27 at 7:00 p.m. Sponsored by Bud Light, Clash of the Cowboys will have viewers on the edge of their seats as bull riding, bronc busting and barrel racing competitions take place in a fast-paced thrill ride of a night.
"It's going to be a younger generation's rodeo," says Rod Easton, fair and events supervisor at the Grays Harbor Fairgrounds. "There's going to be a lot of pizzazz."
Parking is free at the event and the doors open at 5:00 p.m. Advanced ticket sales are available for $12 and may be purchased from the Montesano Farm & Home in Montesano, at the Grays Harbor Fairgrounds office in Elma, or at the Les Schwab locations in Elma, Centralia, or Olympia. It is $15 for admission if tickets are purchased at the door, so why not plan ahead for a fun night out and pick up those tickets early and put that extra $3 toward some delicious food at the rodeo?
This will be the first time that the Fairgrounds has hosted Clash of the Cowboys and it promises to be a lively show with some pyrotechnics and spotlights to keep the sparks and the crowd's energy flying high. After the rodeo is over, attendees 21-years-old and over are invited to stick around to enjoy some live music and dancing with a concert by country music's the Jessie Leigh Band."I'm looking forward to hearing the Jessie Leigh Band," says Mike Bruner, Grays Harbor Fairgrounds and Tourism manager. "They put on a good show. It's fun, it's lively. It's a good mix of modern country and classic country stuff."
The Jessie Leigh Band has played at the local county fair and at two past Oktoberfest events in the harbor. The group always brings those down-to-earth country vibes along with the energy of rock-and-roll that will be sure to have the crowd dancing and singing along. "That's what goes best here is country," Easton says, noting that the past performances by the band have been entertaining and spunky.
There will also be a beer garden and a separate family section in the grandstands for the duration of the rodeo, along with traditional foods like burgers, hot dogs, chicken strips and some fun themed food specials for the evening. It's the perfect opportunity to get in the spirit of the rodeo and bring out an inner cowboy or cowgirl.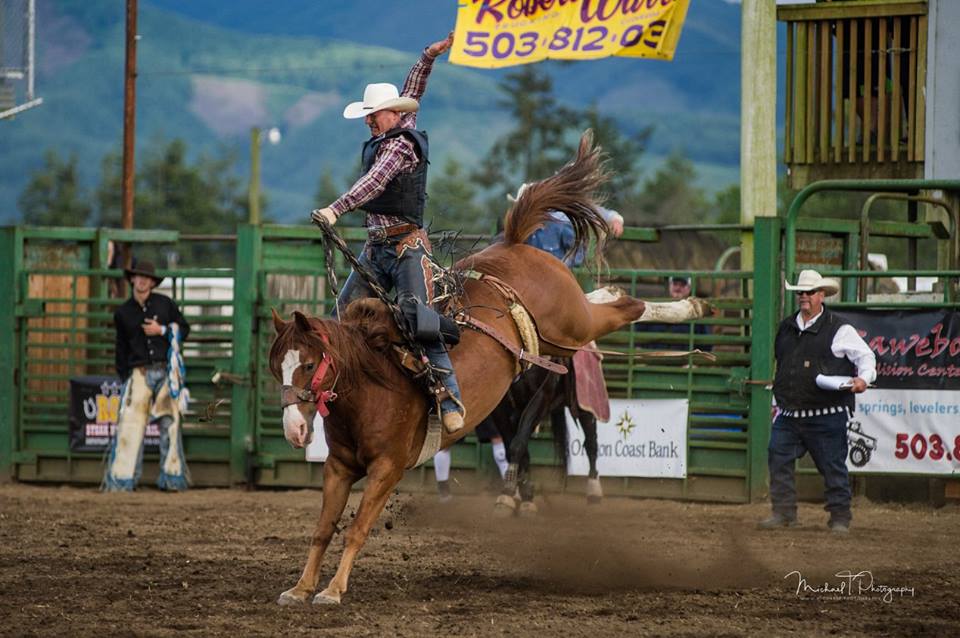 Along with the tasty food options, there will be the opportunity to pick up some country swag and peruse a number of vendors that will be there with options to purchase items like T-shirts, belt buckles, belts, hats, sporting goods and other rodeo related novelties.
Each year, Elma hosts the Grays Harbor Mounted Posse Indoor Pro Rodeo that will still be taking place in March. The Clash of the Cowboys rodeo is set to be just as fun, but also brings in some fresh approaches that a dynamic audience will enjoy. "We're just being told that it's a little bit more bells and whistles than your traditional rodeo," Bruner says. "It's something a little bit different for a reason. We don't want to duplicate what the Posse is doing in March, just wanted to try something new."
Clash of the Cowboys is put on by the Howell Rodeo Company that is based in Oregon. The rodeo company has been putting on their trademark exciting rodeos for more than 30 years. Their mission is to do something new and work to make rodeo exciting and engaging for spectators so that it will always be something for people to look forward to attending. "I'm really curious to see how big a difference there's going to be between a regular rodeo and a Clash of the Cowboys rodeo," Easton says. "I've never seen one. It's new, we don't know what's going to happen."
Since it's the first time that Clash of the Cowboys is being hosted in Elma, there is potential to make it a fun yearly event with hopes to draw in a good crowd. It is looking promising as the Howell Rodeo Company has said the participant slots are all full and everyone is gearing up to put on a good show on October 27. "Ideally, it would be successful and well received and we would have it as an annual event," Bruner says.
For more information or questions, call the Grays Harbor Fairgrounds office at 360-482-2651 or visit the Grays Harbor Fairgrounds website.
Additional sponsors for this event are A&B Machine and Hydraulics, Inc., Les Schwab, Mattress Ranch, Bigfoot 107.3 KANY, House Brothers Construction, and East County Sporting Goods.
Sponsored