Katie Granstrom didn't find out she made the all-state soccer team last year until well after the season was over.
She learned she was named to the Class 1A all-state first team as a defender by the Washington State Girls Soccer Coaches Association almost in passing, and while it may have caught her by surprise, the selection wasn't surprising to anyone who has seen her compete.
The girl knows how to play defense.
The Montesano High School girls soccer team has been about as stingy as it comes over the last few years in allowing goals. Granstrom is a very large reason why that is the case.
Last year's 1A Evergreen League's defensive player of the year, Granstrom has picked up right where she left off last season, making life extremely difficult for the opposing team's best offensive players.
In the three previous seasons, Granstrom, who is joined on the roster by fellow seniors Marta Bosch, Savannah Dilley, Matti Ekerson, Glory Grubb, and Lexi Lovell, has helped Montesano win three consecutive league championships, advancing to the state playoffs every year.
The Bulldogs, who posted shutouts in five out of their first 12 games this year, are well on their way to continuing that streak.
"This year's team is different than any soccer team I have ever been on. We have so many amazing players who all play so great together," Granstrom said. "There is no one player we put all the spotlight on. We work together to win. We are selfless and will do anything to win. I don't think there has been another group of girls so driven and as hard working as us."
The Bulldogs opened the season by winning their first five matches, all of which were nonleague contests with four victories coming against teams from the 2A Evergreen Conference where they outscored Aberdeen, Rochester, Tumwater, and W.F. West by a combined score of 16-3.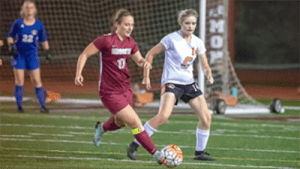 Montesano also tied King's Way Christian, a team that defeated the Bulldogs in the district championship game in each of the past two seasons, and blanked 2A Centralia, 5-0, to post an impressive 7-0-1 record in non-league play.
"We knew that the competition was going to be tough. We emphasized doing what we have been working on in practice and applying it to the game," Granstrom said about Montesano's early season success. "Every single person did what they needed to do those games and we really connected and played as a team."
After opening league play with a 3-0 victory over Hoquiam, Montesano lost, 2-1, to Elma before winning their next three matches.
"This season has been going really well for our team. We knew that we really needed to work hard this season after losing 12 seniors last year,' Granstrom said. "I think we have surprised many people with how well we have been doing."
The Bulldogs have been a familiar face in the 1A state tournament, advancing to state 15 times since 2001. Granstrom has been a member of three consecutive state playoff teams at Montesano since arriving as a freshman, but has yet to experience a state tournament victory as the squad has bowed out in the opening round each year – a trend Granstrom plans to end this year.
"We will every once in a while talk about what (head coach) Fidel (Sanchez) calls 'The Curse,' but we do not focus on those losses. We try to focus on one game at a time," Granstrom said. "Those teams were not us and as long as we continue to work hard every day to try to improve and give 110 percent on the field, good things will happen."
Good things have already happened for Granstrom this season.
In addition to turning 18 at the end of September, she was also named homecoming princess a day or so after learning she was accepted into Northwest Christian University, where she will play fastpitch.
A three-sport athlete, Granstrom also excels on the diamond and on the basketball court. She was a first-team all-league infielder for the Bulldogs' fastpitch team last season and helped Montesano capture the 1A state championship during her sophomore year.
In basketball, she averaged nearly four points a game on the Bulldogs' league championship team last year.
"I have always been a three sport-athlete through high school and practically my entire life. I love soccer, basketball, and fastpitch too much to quit any of them as they have been a huge part of my life for so long," Granstrom said. "Montesano has so many great sports programs and great coaches. Playing multiple sports has made me better as an athlete and as a person. With each sport I've played and coach I've had I have learned something that I will carry with me forever."
"It means so much to be able to play with such amazing girls and to have amazing coaches. Our coaches teach us so much and make going to practices fun," Granstrom said. "They push us to be the best, but still encourage us to have fun while we're playing. I've played with so many great people and learned so much through this program."