"It's like learning to ride a bike," is a phrase often used for a skill that once learned is never forgotten. However, first you have to learn how to ride that bike.

Thanks to a $30,000 grant from the state Office of Superintendent of Public Instruction, Montesano Junior High School students will soon do just that, as they learn to ride bikes safely during their school day. And, from P.E. teachers to district administrators to bicycle enthusiasts, everyone is hoping the skills and information the students learn will stay with them for the rest of their lives.
"Bike riding is a life skill," said Doug Galloway, P.E. teacher at Montesano Jr.-Sr. High School. "I think most kids around here know how to ride a bike, but how proficiently and how safely is the question."
Galloway applied for the Safe Routes to School Bicycle and Pedestrian Safety Education Program grant that funded the 30 specialized "Roll" bikes in red and black, accompanying helmets, and even a large utility trailer to store and transport them.
"These are beautiful, heavy-duty bikes. They are a nicer bike than I've ever owned," Galloway noted, while taking one of them on a short spin on the track this fall. "Biking is a great way to travel to and from places and it's great exercise. And kids need to be getting at least 60 minutes of exercise a day," said Galloway, who is also the Montesano High School boys basketball coach and girls golf coach.
Stephanie Klinger, the Montesano School District's curriculum, assessment and CTE director, said she is  thrilled with being one of the districts in the state to receive the grant because of what it will mean for the students.
"We have many students who walk or bike to school and we would like to increase the number of students who choose healthy options to get to and from school while educating students about bicycle and pedestrian safety. We hope to help students establish healthy lifestyle choices that will carry with them beyond our school doors," Klinger said.
"In addition, numerous studies have demonstrated the link between physical activity and increased learning for students. We believe that keeping students engaged in physical activity will lead to increased student success," she said.
The grant money also covered the cost of having Rachel Osias, the youth program manager of Cascade Bicycle Club, teach the curriculum to the school's P.E. teachers during a recent teacher in-service day. Based in Seattle, Cascade Bicycle Club is the nation's largest statewide bicycling non-profit organization. Its mission is to improve lives through bicycling.
"We strive to accomplish that through rides, events, policy, advocacy, education, and encouragement," Osias said.
"This curriculum teaches pedestrian safety and bicycling safety," Osias continues. "It includes using both verbal and nonverbal communication like hand signals. We teach about the rules of the road and about how to bike in the built environment and where to position oneself on the road to be the safest. Situational awareness is the foundation of being a good cyclist or pedestrian. This same awareness and information will be helpful in making these students a safer car driver down the road as well."
During the Montesano training, Osias took the P.E. teachers – Galloway, Terry Jensen, Dorrie Rossmaier, and Eric Stanfield – on a bike ride off campus where they discussed what made a good, safe, off-campus route for students to learn on. The curriculum is flexible so that much of it will occur on campus – likely around the track – with off-campus rides implemented if teachers think the students have adequate ability and teachers have adequate help to do so safely.
"When I was a kid growing up in Eatonville, I went everywhere on my bike," Galloway recalled. "I even pulled my lawn mower behind it to mow lawns in the summers. I think most kids around here know how to ride a bike, but I don't think most kids ride their bikes around like we used to."
Osias concurred with Galloway's observation, saying: "Because of the way our infrastructure is built and the way most people live now, a lot of youth are not getting the exposure to being a pedestrian or a bicyclist and therefore they aren't getting the repetition needed in making safety judgments and critical thinking skills. That's where this curriculum and these bikes can make a difference."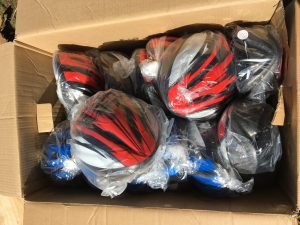 Bicycling not only is good exercise, it helps with balance and both fine and gross motor skills as well as critical thinking skills, she said. "Additionally, there's an environmental factor. It's good to try to find different ways of moving around besides relying on single-occupancy vehicles if possible.
"We also want to encourage students to discover if bicycling might be right for them as a lifelong pursuit. Sometimes it can be seen as an elitist activity or sport, but we'd like to see it as accessible in many different ways. For some that might mean biking off road on a safe trail with no car traffic, for others it might become their main way of getting around."
Galloway said that the bicycle units will be taught to the seventh and eighth grade students beginning this spring. "Who knows what might develop? Maybe we can take a day and go up to Lake Sylvia and ride around there. Someday maybe we could even have a bicycle club at the school."