Ask any high school basketball coach and they will tell you one of the more difficult tasks they face is trying to convince everyone to commit to playing defense the entire game.

Montesano girls basketball coach Julie Graves, however, doesn't have that problem.
Usually a team will feature at least one defensive stopper. That rare individual you can rely on to dig in defensively on every possession.
The Bulldogs have four this year.
Seniors Matti Ekerson, Katie Granstrom, Glory Grubb, and Lexi Lovell provided Graves with the rare luxury of having multiple defensive specialists on her roster this year.
"They just all like playing defense," Graves said. "I don't even have to ask. These kids come out and work for you."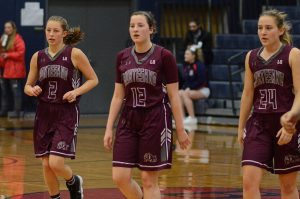 It's as if Graves cloned her four gifted seniors. In addition to having a giddiness for defense, each one stands 5-foot-5, is a three-sport athlete and a state champion, albeit in sports other than basketball.
While Graves wouldn't mind the height being a little taller, she believes the other two traits helps her team immensely.
"In a small school, you want them to be three-sport athletes," Graves said. "I want them competing year round. I don't like it when they specialize. They are just going to be a lot more well-rounded and coachable in the end."
All four were members of the Bulldogs' successful soccer program in the fall before transitioning to basketball during the winter.
Ekerson, Granstrom, and Lovell will all head to fastpitch in the spring, while Grubb ventures off to the links to play golf.
"We used to try to get her to come out for fast pitch," Granstrom said before Grubb quickly provided a reason why she hasn't taken her teammates up on the offer.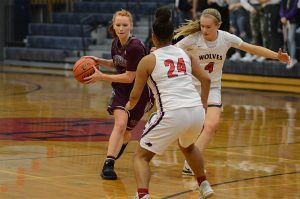 "I played my freshman year," Grubb said. "I was not good at fastpitch."
The same cannot be applied to golf as Grubb helped the Bulldogs win the 1A state championship last year.
Ekerson, Granstrom, and Lovell are state champions as well, claiming the 1A state fastpitch crown in 2017.
"It's just always been that way for us. We've always been three-sport athletes," Lovell said. "We've been doing that together since we were little. We definitely know each other really well."
The foursome closed out their high school soccer careers on a positive note, winning the 1A Evergreen League title and powering the Bulldogs to the state playoffs for a fifth consecutive season.
They now look to duplicate the feat on the basketball court.
"These guys have been great leaders," Graves said. "I never doubt their effort when they step out onto the court. They give it their all."
That was certainly the case during an early non-league battle against Rochester where the Bulldogs trailed by 21 only to charge back before losing in overtime.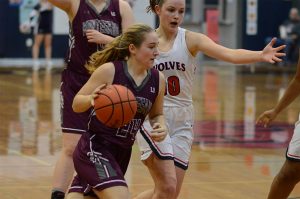 "We're not going to roll over. To be able to come back from 21 points down in 16 minutes shows there's no quit in this group," Graves said. "They were the ones that challenged themselves in the second half. They stay positive. They encourage each other. We know there's obstacles, but they work together to overcome them."
Rochester is one of seven 2A programs Montesano will face this year. In addition to the Warriors, the Bulldogs have already played 2A Evergreen Conference members Aberdeen, Centralia, Tumwater, and Black Hills, last year's fourth-place team in the classification, and will face White River later this season.
It's a non-league slate Graves believes will greatly benefit her team down the road.
"We want to challenge ourselves," Graves said. "We want to make sure we're ready to go once league starts in January. That's why we try to play some tougher schools."
It's been a proven recipe for successful for the Bulldogs as they have gone 54-1 in league games over the last five seasons and have claimed at least a share of the league title every year.
Lovell has been a part of the last three league championship squads, having played solely on varsity since she was a freshman. The Bulldogs have relied heavily on her experience.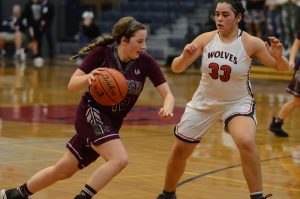 "Lexi is our vocal leader off the court," Graves said. "She is our behind-the-scenes leader. It's nice to see how she's made the transition from role player to leader over the last four years here. I am really proud of her progression.
While Lovell directs traffic off the court, Granstrom has assumed that role during games.
"Katie's the one filling up the stat sheet for us this year," Graves said. "She may not be our high scorer during a game, but she'll be the one getting steals and assists and rebounds. She brings her lunch pail every day and does a little bit of everything for us."
Grubb, the team's primary ball handler, and Ekerson, who Graves said can excel at any role on the floor, round out the valuable quartet, each playing large roles in the Bulldogs' success.
"It's sad, but it's exciting that it's our last year of basketball together," Granstrom said. "We really want to go out with a bang."