The Windermere offices in Aberdeen and Ocean Shores are composed of people dedicated to serving the Grays Harbor community, from its real estate needs to various forms of community involvement. Last year, Windermere Aberdeen and Ocean Shores saw a combined increase of 10.8 percent in the number of sales in 2018 compared to 2017.
The strong market is likely to continue, and residents can remain confident that Windermere is up for the challenge. As it stands, heading into 2019, Grays Harbor is in a seller's market Both Windermere Aberdeen and Ocean Shores run weekly statistics, for Aberdeen, Hoquiam, Ocean Shores and Montesano. These are broken down by specific price ranges to determine where the most activity is currently taking place. Any percentile over 55 percent is considered a seller's market.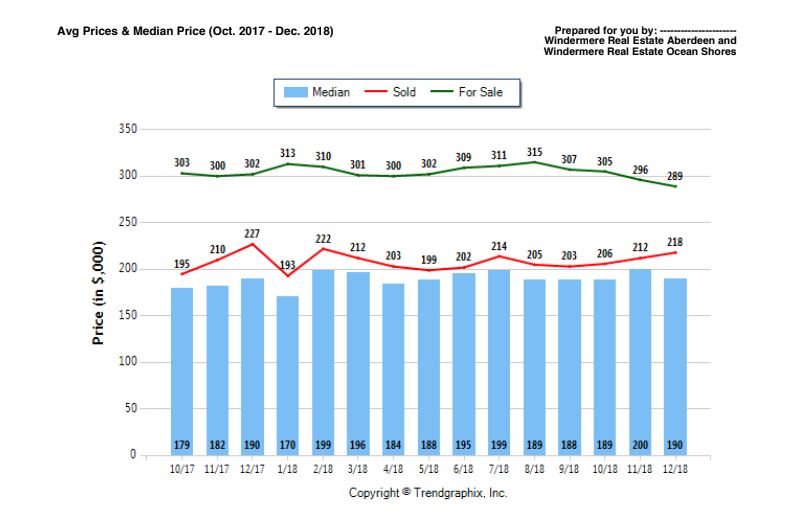 "We're still in a good seller's market," says Travis Jelovich, broker and owner of the Aberdeen and Ocean Shores Windermere Real Estate locations. "We did experience a leveling off of prices towards the end of the year as the market slowed. To start the year there is a real lack of inventory, which usually happens this time of year, but not to these levels."
Though the inventory numbers have dipped, there are still buyers out there on the hunt for new homes. And with certain homes, sellers are still receiving multiple offers if the home is priced at the market value. Brokers have noted that they are seeing more contingent offers from buyers that need to sell their house before buying.
"With limited inventory, even if you have limited buyers, it still makes it a strong seller's market," Jelovich says, that's how low the inventory is right now.
Based on data from Northwest MLS, about 15 percent of all real estate transactions in  Grays Harbor go through the Aberdeen and Ocean Shores Windermere offices. If the numbers for the Windermere office in Westport are included, the percentage is nearly at 20 percent. A lot of factors contribute to this impressive percentage; from Windermere being a name that people recognize and trust, to having a large, hardworking, and dependable team.
"This Windermere office has been in town since 1991," Jelovich says. "We do have a good mix of established brokers as well as a few new brokers. The Windermere brand recognition helps direct phone and walk-in traffic to our offices. We appreciate that part of our business."
Matthew Gardner, the chief economist for Windermere Real Estate, has speculated that the market is going to stay strong in 2019 with the number of new home sales likely to increase by 6.9 percent. In Grays Harbor, that forecast comes with potential challenges for some areas of the county.
He predicts the number of new home sales to increase, but for us that's may be a tough number to hit around here," Jelovich says. "You see a lot of new construction in the Ocean Shores and East County. This is something that Aberdeen and Hoquiam could really use; new construction."
While there is a need for new homes in the area, brokers are seeing more activity in the commercial and timber markets.
Follow Windermere today to see market trends, new listings and more:
Windermere Aberdeen–
Facebook
Instagram
""We will continue to stay busy, and are off to a good start for 2019," Jelovich says. "We continue to work with people from out of the area moving to town and buying homes. We also are working with the move up buyer/seller and first-time home buyer."
Something new that people will notice this year is that Chase Bank who owns the building where the Aberdeen Windermere office is located, will be closing their branch. Windermere Aberdeen will continue at its current location at 101 S Broadway Street. Currently there are no plans to relocate and they will continue to work out of the same office for the foreseeable future.
For more information on Windermere Real Estate in Aberdeen, visit the official website, Facebook page, Instagram page, or call 360-533-6464. For those interested in viewing more detailed statistics, Windermere publishes a monthly real estate activity report for its customers. Get in touch with any agent from Windermere to be added to the mailing list for these insightful updates.
Sponsored