Forget about this terrible winter and warm up with some family friendly fun this March, right here in Grays Harbor! First, get in the Irish spirit with the Shenanigans Fest and Parade happening March 16. Then, put on your boots and cowboy hat for a foot-stomping good time at the 26th Annual Grays Harbor Mounted Posse Indoor Pro Rodeo March 22-24. You don't want to miss either of these events!
Shenanigans Fest
Head to Seabrook on March 16 for plenty of St. Patrick's Day fun. You may have noticed that the Daffodil Festival is not taking place this year. The City found it too hard to plan the event each year, since they can't control when the daffodils would bloom. "Last year they bloomed much earlier than expected," explains Cory Wray, from the City of Seabrook. "In 2017, the daffodils bloomed super late into the season." So instead, they are putting on two other festivals this year, The Shenanigans Fest and the Boots & Brellas Festival, also happening in March.
"Our events team came up with the concept of Shenanigans Fest, which is our pre-St. Patrick's Day festival as St. Patrick's Day falls on Sunday," says Wray. "For us, Shenanigans is about traditional Irish spirit fun."
Don your white, orange and green (the colors of Ireland's flag), and head out to Front Street, in front of Cottage Rentals where the festivities will kick off with a parade at 10:00 a.m. The parade will walk up and around Seabrook Avenues, ending in a loop on Meriweather Street in front of Red Velvet Bakery. The parade will have bagpipers, high schooler bands, club, business owners and more. All are welcome! "The parade is open to the community, all of our guests, and pets," says Wray. Decorate your stroller, dress up your dog, and join the fun.
After the parade, stick around because the fun is just getting started! On Meriweather and Market Streets the festival will commence right after the parade, with live music by Paul Bouma's Band and other entertainers.
And you can't have a St. Patrick's Day festival without Irish food! Mill 109 will be providing all sorts of delicious goodies, including corned beef sandwiches, Irish stew and soda bread. The 21-years-old and up crowd can even celebrate with glasses of Guinness and shots of Irish whiskey.
Kid friendly activities include things like potato bowling and chalk drawing on the cross walk – including a contest to draw your favorite pot o' gold, rainbow or shamrock. Activities are subject to change and weather permitting.
For those looking for some exercise beforehand, check out the fat tire bike race.
Grays Harbor Mounted Posse Indoor Pro Rodeo
If you have not seen the Grays Harbor Mounted Posse Indoor Pro Rodeo, you are missing out on one of Grays Harbors most-loved traditions. In its 26th year, the 100 percent volunteer run event is coming back for three days of rip-roaring family fun featuring bull riding, wild cow milking, barrel racing, roping and of course, tons of entertainment from a professional rodeo clown.
Be Sure to Bring the Kids for Kids' Day, Sunday March 24
Get to the fairgrounds early, at 10:00 a.m. on Sunday, March 24 for the Kids' Day – a day full of fun and rodeo excitement geared towards kids. The event has grown every year since the rodeo started, and this year will be no exception. "When the rodeo first started, we had about 50 kids come and do the stick race," reminisces Marv Cole, treasure for the Grays Harbor Mounted Posse. "Now, we have over 200 kids and we divide them into a 6-and-under stick horse race and a 7-and-over sack race. Each winner receives a bicycle."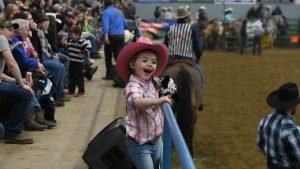 Aside from the famous races, kids can play in a bouncy house, watch a clown perform tricks and make balloon animals, get their face painted and even sift for gold! The Kids' Day activities are sponsored by the Elma Les Schwab and riders from the local high school equestrian teams volunteer to help run it.
"The Kids' Day event is so popular, we have people that come from Eastern Washington and Tacoma, just to attend," shares Cole.
Saturday's rodeo is more "adult focused" says Cole, complete with a dance afterward featuring live music by Cory Daniels and Humptulips. There will be a beer garden and several food options as well.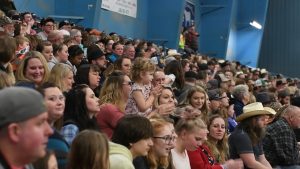 The rodeo is put on all by 50 volunteers, with all profits going back to into the community. Proceeds from the weekend got to local area high school scholarships, teen backpack program, local food banks, high school equestrian teams, 4-H, and many other local organizations. Parking is provided by volunteers raising money for the American Cancer Society Walk and local boy scout troop volunteers clean up after the rodeos each day, and are given a donation in exchange.
Doors open Friday and Saturday at 5:00 p.m. (rodeo at 7:00 p.m.) and Sunday at 10:00 a.m. (rodeo at 2:00 p.m.) Tickets are priced at $10 adults and $7 for kids 6-12 (5 and under are free). Family Packages (Friday and Sunday) are available for $25.