The craft brewing scene has been rapidly on the rise over the past decade all across the Pacific Northwest and beyond. Beer drinkers are not only craving one-of-a-kind beers, but they're searching for an environment that varies from the chain restaurants and bars that are all too familiar. With such a high demand for a shift in the beer scene, local Grays Harbor residents have been hard at work opening the doors to their own businesses in Aberdeen.
Steam Donkey Brewing
Aberdeen went without a local brewery for 70 years. Steam Donkey Brewing jumped at the chance to bring the trade back to Aberdeen. The owners, husband and wife duo Jon and Stefanie Bennett, noticed the opportunity to create something incredible in their hometown. "If you would have told me five years ago that I would own a small business in Aberdeen, I may have thought that you were crazy," expresses Stefanie. "But Jon and I are so glad that we are where we are both professionally and personally."
The year 2011 was the start of this dream for Jon and Stefanie. After dabbling in home-brewing and learning the ropes, the two cashed in their retirement savings and began the process of opening up their very own small business. After settling on the perfect location in 2016 that proved to be large enough to hold their newly purchased brew system, renovation officially began. Just one year later, the dream became reality and the first brewery in the city in 70 years served their very first customer.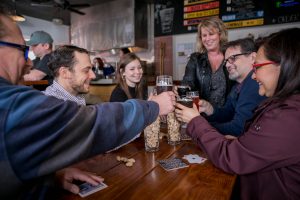 Two years into business, the family-friendly space has grown from four beer taps to eight featuring their own unique products. They now also offer cans of beer on demand in addition to being able to can 16-ounce cans of any beer, making for the ideal beverage to take on the go. "We've added a lot of additional services recently, including a barrel program and release barrel aged bottled beers a few times a year," explains Stefanie. "We also rent out our space for local events and have increased our distribution to several local bars and restaurants in Grays Harbor and Olympia."
One of their favorite aspects of owning Steam Donkey is the opportunity that it's provided them to give back to the community. "The brewery has been a great vehicle to raise awareness for so many local non-profit companies who are doing great work in Grays Harbor," says Stefanie. "We often host a Charitable Suds event that takes what we do and showcases what others are doing to better the area. We're happy to have gotten to attach ourselves to fantastic events, auctions and organizations who make a difference on the Harbor."
As for the future, Jon and Stefanie are ready to expand their services and product line within the next three years. "Expansion, at a reasonable rate, is something that we are always talking about," states Stefanie. Whether that means a secondary brew space or expanding their reach with distribution of their products, Jon and Stefanie are excited to grow and evolve for many years to come.
Mount Olympus Brewing Company
The second and newest brewery to spring up in Aberdeen is Mount Olympus Brewing Company. The idea for the brewery started with a sip of a craft beer back in 2006. Over the course of a few years and a couple of dozen homebrew experiments, head brewer Orlando Maldonado and assistant brewer James Lundgren decided to move forward with their brewery vision. After seeking out investors to assist in making their business the real deal, they quickly created an all-star team of enthusiastic brewers-turned-great friends, who have a passion for the industry while sharing the same vision for the future.
"Aberdeen was chosen as the location of Mount Olympus after we all realized a huge potential for growth in this town," states Orlando.
"I've lived in Aberdeen my entire life, so I can see the potential to bring new life to downtown," adds James.
Orlando's love of the Pacific Northwest helped inspire a large portion of the business. Even before the brewery space had been chosen, he had the name locked into his mind. "The Olympic Mountains are a place where my dad, Audel Maldonado, and I spend a lot of time hunting, fishing, hiking and camping," explains Orlando. "We really just love the area. It's like visiting the land of the lost where everything seems untouched by man." With this vision in mind, Orlando used that as the inspiration for the name of the brewery as well as many of the beers. Local tourist destinations and recognizable Grays Harbor attractions also grace the menu as beer names, one of those being the Hawaiian Chieftain double IPA named after the tall ship that visits the Harbor each year alongside the Lady Washington. Some of the IPA's on tap are also music themed since the brewing process always begins with Orlando and James cranking the music up to create a laid-back environment. The newly renovated space may be recognized as a former retail shop, however today the industrial design with pops of color feels airy with a large, open concept layout.
The future of this new business is bright as a detailed plan has already been laid out for the next year or so. "Our hope is that we will be able to create a large outdoor space for our customers to enjoy," says Orlando. "We also have a goal to install a small canning line that will allow us to sell our products in more stores in the area. Also, we can't wait for our kitchen to be pumping out delicious food that pairs well with our beers."
Next time you're in downtown Aberdeen, pull over, grab a local beer and get to know the stories of these dedicated brewers and the historic buildings that they've transformed into something truly memorable.
Sponsored