Grays Harbor is a special place to live, from the natural surroundings, to the tight community. One person who has shown that he cares deeply for people and has dedicated the last 35 years to serving the city of Aberdeen is the newly retired patrol officer, Monte Glaser, who completed his last day on January 1, 2019.


"It's been such a fun 35 years and I learned so much, and I'm still learning," Glaser says, reflecting on how great the department has been from the get-go. "I've just seen the Aberdeen Police Department (APD) develop even better than it was when I came to work here."
Glaser grew up in Escondido, California, where he first met his wife of 47 years, Kathy Glaser, who he has four children with and now ten grandchildren to enjoy. After Glaser graduated high school, he joined the Navy during the Vietnam War. Later, he worked as a licensed psychiatric technician in California for a while before he decided to go back to school. Originally, he enrolled at Minnesota State University to use his GI Bill to study pre-med, but his plans changed. He ultimately ended up switching his major to international studies because he had three children at the time and he was hardly able to see his family with the intensity of the pre-med program.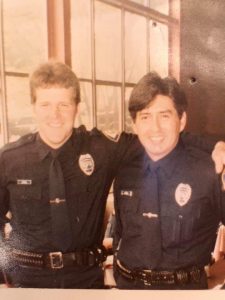 While attending college, he joined the Army reserves. Later, he moved to Grays Harbor to help out his parents while he waited to hear from a special skills program for the government that he had applied for. This was taking some time but he wanted to keep his skill set sharp and he was still in the reserves, so he began applying for jobs. One of these applications was for a patrol officer position at the Aberdeen Police Department.
After accepting the position at APD, Glaser's first day on the job was January 9, 1984. The police chief at the time was Chief Bill Ellis and he asked that Glaser commit to staying on the force for four years.
"It ended up being 35 years," Glaser says, laughing.
Glaser says that working in a small community where first responders are able to respond quickly to calls is part of what has made the years in Aberdeen such a good experience, with the outcomes being mostly positive due to quick response times. Working in a smaller city also means that everyone gets to know everyone personally, making it easier to calm otherwise chaotic situations. Glaser says he will miss the people aspect of his job the most.
"All of the people that you work with are so special, they're like your family," Glaser says. "And everything you do, you never do it as an individual, it's always with the people you're working with."
Some of his most treasured memories have to do with simply being a presence in the community and interacting with the residents.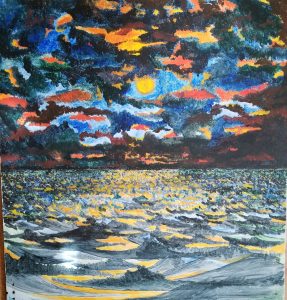 "Some of my favorite memories are just kind of driving around and seeing kids going to school and they want to talk to you and visit with you and ask a bunch of questions," Glaser says. "And even the older kids, the high school kids…they're all just good kids."
Outside of being an exceptional police officer, Glaser's talents extend to speaking in other languages. He can speak Swedish, Danish, and Norwegian with functional skill in Korean and Japanese, and others. He got to use his language skills on duty sometimes when tourists would be passing through and that is something he enjoyed about his work, as well. He is currently studying Italian for when he and his wife go on a European trip that they are planning.
Now that he has retired, Glaser will spend more time on his hobbies, like art projects.
"I paint and I sculpt and all that," Glaser says. "I minored in fine art, but I've been drawing since I was about four-years-old."
What first got Glaser interested in art was when he would go with his grandfather, a World War II veteran, to get his prosthetic leg measured at the hospital. While in the waiting room, the secretary would give Glaser typing paper and a pencil and he would draw from memory the sights along the scenic San Diego routes to the hospital.
Glaser also enjoys reading, riding horses, all kinds of winter sports, and spending time with his grandchildren.
In April, Kathy Glaser will also be retiring from her job as an ophthalmology technician and officer manager. The Glasers then plan to move to Colorado this fall where their daughters live, but they will still be visiting Washington from time to time.
Glaser says that his wife has been his biggest supporter, being there through it all.
"She really deserves all of the credit for everything that I've done," Glaser says. "She deserves everything. We've been through a lot. Mostly all great, great times."
Glaser says that Aberdeen is a special city with a rich history and he feels very fortunate to have worked with so many great people over the years.