Driftwood, beautiful in itself, with its infinite variety of shapes and texture, is irresistible to the creative spirit. After a storm, our ocean beaches brim with salted, gray trunks, limbs and roots of fallen trees. Not surprisingly, many yards in our coastal towns display driftwood, either nature-made or shaped by creative hands. Tokeland artist Jeffro Uitto's hands are a little more creative than others.
The Westport Winery's sculpture garden houses a giant electric guitar called Pinot Noirvana, a contribution by Nirvana fan Jeffro Uitto. The sculpture is fashioned from seemingly random pieces of driftwood with a few rusty bolts for pegs and salvaged steel cable for strings. This is one of Jeffro Uitto's assemblage pieces, the wildly elegant result of a long, laborious process of collecting and fitting the right pieces into the right place to form the shape of a guitar. The process is mysterious. "The outcome is beyond me," the sculptor declares.
The creator of this marvelous sculpture has never been to art school and he does not draw. He naturally grew into his art. Jeffro grew up with his grandmother, Jan Connel, in the same small Tokeland house close to the beach in which he now lives with his wife and two daughters. "She was wild. We rode her Harley," he smiles. "I grew up immersed in nature creating my own fun." Jeffro was always carving things from wood, things that boys like, big knives, for example. He found that his friends wanted them and were willing to trade. He discovered his capabilities.
After Ocosta Elementary School, Jeffro attended Ocosta High School in Westport, where he gained access to tools. He was ready to seriously develop his skills while also being mentored by a friend who made log furniture. Jeffro's own driftwood furniture turned out strangely beautiful and unlike anything you have ever seen. They look organic and alive, like something from the Lord of the Rings or from Norse mythology. An aptly named example is King Canute's chair. Jeffro does not cut much. He allows burls, spikes and points to sprout from the backs of chairs and bed frames. His furniture is sculpture with a practical use.
While developing his artistic skills and building a customer base, Jeffro supported himself by working in traditional coastal industries: commercial fishing, carpentry, and cranberries. He began showing his work at local woodworking shows slowly extending his circuit to Seattle, then to big shows in Chicago and California. "I make my own opportunities," he says. "I try not to worry too much about getting jobs."
For the last 10 years, Jeffro has been able to sculpt full-time. He has been discovered. A museum in Taiwan called asking to lease his sculpture of a rhinoceros for a special animal show.  He assumes they found his work on the internet. The museum liked the monumental animal sculpture so much that they bought it after the show was over. He also has pieces in Russia. Customers from Alaska and Hawaii have had him travel to their homes to build installations onsite.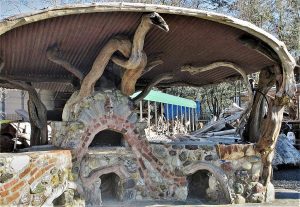 Today, Jeffro works in a shop on the property next door to his home which he was able to purchase. The lot also houses part of his huge collection of driftwood. His storage and work area has spread out to two more rented locations in the neighborhood. He always has several projects going. Large projects, like a life-sized Texas longhorn, a rearing stallion, a giraffe or a humpback whale, take years to complete. He will find a piece of driftwood reminding him of an animal with its particular energies. He will collect more wood paying attention to the energies and the sculpture will take shape. He talks about balancing lines with wood pieces, about certain lines that cannot be crossed. He has learned to trust in his creative process and enjoys the struggle.
"I love winter," he says. "I can work and don't have to worry about shows. His home work shop contains several graceful heron carvings at various stages of completion. He calls them his bread and butter. A fantastically shaped brick oven with driftwood shapes growing all through and around it bears witness to Jeffro's collaboration with a brick mason friend. A combination wood/wrought iron set of bar table and chairs is the startling result of his collaboration with a blacksmith.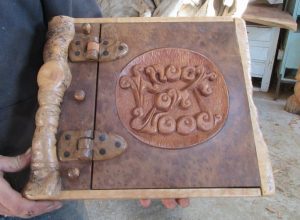 Jeffro makes many items he needs from wood, beautiful tools, and even his portfolio. An exquisitely crafted box with a hinged lid in the shape of an ancient book holds pages with photographs of his work. Presentation is everything. He takes the saying seriously.
In the future, Jeffro's work may lead him in the direction of conserving endangered species. His has sculpted rhinos, lions and a giraffe with ideas for more African animal sculptures to come. His fascination with large African animals makes him hope to have a voice in their survival.
View photos of Jeffro Uitto's work and find contact information on his website under his business name Knock on Wood. Follow Knock on Wood on Facebook.