The Lindsey Arcangel Jiu Jitsu Academy in Hoquiam is a dream turned into reality for Lindsey Arcangel, who is a black belt in Brazilian jiu-jitsu and has been practicing in martial arts since 2005. The former CrossFit gym is now adorned with a sleek and fresh new look and opened officially on February 9, 2019. Arcangel is excited that he now has the opportunity to teach others everything that jiu-jitsu has to offer.


"I think there's so many benefits for people to know jiu-jitsu," Arcangel says. "Like confidence and actually knowing how to properly defend yourself in situations."
Jiu-jitsu was created so that a smaller opponent can overcome a larger opponent using technique as opposed to strength, Arcangel says, adding that he believes it's very important that everyone trains in jiu-jitsu for the self-defense aspects of the art. Arcangel compares knowing proper self-defense to be like swimming in that without using the proper technique, any attempts will not be fully effective.
Jiu-jitsu is also special in that advancement doesn't come from tests, but through overall improvement in order to rank up.
"For you to rank up, everything is about consistency," Arcangel says, adding that it took 10 years of training to obtain a black belt. "The more you come, the better."
When Arcangel is not instructing students, he is active duty military in the U.S. Coast Guard where he has been serving for more than 13 years. While serving, he was impressively awarded the 2015 Coast Guard Male Elite Athlete of the Year for his physical pursuits and competition achievements that year.
Previously living in California, he moved to Grays Harbor with his family a little over a year ago when a job opening became available. His wife, Ashley Arcangel, and their three children Zoie, Zen, and Zion, are eager to put down roots in the community that they have come to call home.
"We meet a lot of really good people," Ashley says. "Everyone has been really wonderful."
Arcangel had known for a while that he wanted to open up an academy one day, but he was not sure where. Since taking the job opening in Washington, he and his family have enjoyed the quiet and mellow feel in Grays Harbor, especially the greenery and outdoor activities it has to offer. Once the Arcangels knew they wanted to settle down locally, it was time to find the perfect location to open up the academy. They decided on the Hoquiam location because of the ample parking and because is not on an especially busy road, making it easier for families to come and go to classes.
Before Arcangel lived in California, he lived in Hawaii where he was born and raised. It was in Hawaii that he was first exposed to the martial arts culture. After his move to California, he fully embraced martial arts and trained in all kinds of areas, eventually settling on jiu-jitsu as his primary focus. Arcangel has been active in competitions for years, most recently taking second place in the Portland International Open IBJJF Jiu-Jitsu Championship with plans to compete in the Pan American Championships later this month.
The Arcangel family hopes to spread an interest in jiu-jitsu by having classes for several age groups and all levels where Arcangel is able to adjust individual teachings as necessary, from beginners to more advanced students.
"I've been training with some guys in their sixties, going into their seventies, and that right there gives me motivation," Arcangel says. "If they're doing it at that age, why can't someone younger than that be on the mats as well. It's just a good activity for people; you learn something and get good physical fitness out of it, too."
Another aspect of jiu-jitsu that the Arcangels want to bring to Grays Harbor is the sense of togetherness that the practice brings.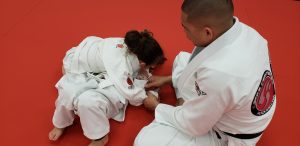 "It's a lot of community building," Ashley says. "Most of the people that we still talk to and have long-term friendships with have been through jiu-jitsu people. That's where all of our big connections are. It's a great way to build community."
In the future, there will be more programs, such as a women's self-defense striking course. Arcangel says that when these classes debut, it will be a full program with several classes so that the students will be able to be well trained in their defense tactics versus having just one short training.
The academy is located at 524 8th Street in Hoquiam. There are discounts available for military, fire, police, first responders, and siblings available. For membership prices, age ranges for classes, and operating hours, visit the official Lindsey Arcangel Jiu Jitsu Academy website. To stay posted on upcoming classes, follow the official Facebook page.