Perhaps you recently had knee surgery and need to bring the new knee up to speed. Your co-worker may have suffered a traumatic brain injury in an accident and requires help re-learning how to perform basic tasks of living. Or, your newborn niece is having difficulties breastfeeding. RehabVisions at Grays Harbor Community Hospital (GHCH) provides services to help with all of these issues and more.
For the past 18 years, RehabVisions has contracted with the hospital to provide the full continuum of physical therapy, occupational therapy and speech-language pathology. With offices in Aberdeen and Westport, an expert team of therapists and assistants offers a wide range of services to patients of any age, from birth on up. Therapists also provide inpatient services at the hospital.
Full-Service Therapy
RehabVisions offers a complete menu of therapy options, including:
Physical Therapy (PT) – Physical therapy includes treatment of musculoskeletal injuries, as well as post-surgery therapy. During a session, the physical therapist may use manual techniquesas well as prescribe a series of exercises and stretches that they will perform in the clinic and at home. Therapy often includes other treatments such as ultrasound, electrical stimulation, massage or traction.
Occupational Therapy (OT) – Occupational therapy focuses on helping the patient achieve greater independence with daily life or job skills. For instance, a stroke patient will work on cognitive and safety issues. A patient with rheumatoid arthritis may learn to use tools to help them feed themselves or get dressed, despite difficulties with grip.
Speech Therapy (ST) – Speech therapy addresses issues with both communication and swallowing. Communication involves not only the mechanics of speech, but also cognition, the ability to understand language and put sentences together. Speech-language pathologists work with patients of all ages who have difficulties swallowing. This could include an infant with a cleft lip or cleft palate or a geriatric patient who coughs every time they attempt to swallow.
What Should I Expect at a Therapy Visit?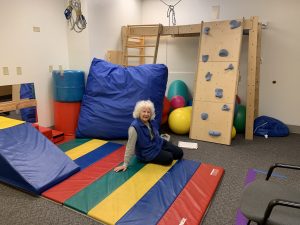 "The most common misconception we see is that patients come in expecting that therapy is going to really hurt," reports Steve Norman, director of rehabilitation at GHCH. "Our goal is to decrease pain. We may cause some muscle soreness but we try to give patients guidelines as to how long the soreness will last."
The first visit begins with a thorough evaluation, including an examination of prior medical history. Depending on the problem, the evaluation will include testing muscles and range of motion. It may involve observing patients as they transfer from one surface to the next, get into and out of bed or walk.
An important part of the initial session involves setting goals and expectations. The referring physician will have determined an aim for therapy. But the treatment plan also takes into account the patient's objectives. That could include achieving a certain range of motion, an improvement in ability to walk or a reduction in pain.
The first visit will also include some treatment. Therapists try to spend at least 45 minutes with patients during each session. Typically, treatment will involve multiple sessions, depending on the issue involved.
Patients as Partners in Success
Norman tells of a patient who had surgery in early summer on both knees. He had an ambitious goal to play tennis during his annual vacation to Palm Springs later that year. They worked hard in therapy for several months, and winter found the patient on the tennis court, just as he had hoped.
"If patients are highly invested in the process, they can achieve their goals," says Norman. "My goal is to get them back to where they feel they can function the way they want to function, but I'm not going to be able to get them there unless they want to do their part."
Success will happen as patients engage fully in the therapy process. A few key tips will help:
Dress in comfortable clothes for therapy appointments. Tight jeans inhibit movement.
Communicate with your therapist. Be open and honest about what you are experiencing during therapy and at home. If you feel pain, speak up.
Perform the suggestions or homework that the therapist gives you.
Working with your therapist, set challenging but realistic goals.
A glance in the door at RehabVisions on a typical day will show patients improving mobility with their walkers and athletes returning to full mobility while recovering from sports injuries. Down the hall, occupational therapists teach restorative yoga to stroke patients, and speech-language pathologists help patients through their communication challenges. Everywhere, patients are improving their lives.
"We are here to serve the community with a complete range of therapy options," says Norman. "Our passion is patient care, and we can help you achieve your goals."
Sponsored