Submitted by Kathy Jacobson for Chehalis Basin Partnership & Chehalis Basin Lead Entity
Steven Franks, hatchery manager for the Satsop Springs Hatchery has loved fishing and the outdoors since his grandfather took him fishing as a young child. Born and raised in Grays Harbor, Steven has been the hatchery manager since 2007.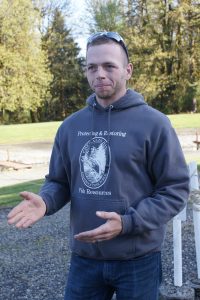 "Our hatchery is a beautiful fish rearing and brood stocking facility which provides fish for all user groups," said Steven, "located on the East Fork of the Satsop River, we're just past Schafer State Park. I work for the non-profit organization, the Chehalis Basin Fisheries Task Force (CBFTF) to manage the hatchery."
Satsop Springs is 60 acres in size and is fed by Artesian Wells which provide constant cold water (46-54 degrees F) and for year-round fish rearing. No water is pumped from the river or shallow aquifers, which makes Satsop Springs very cost effective.
"After spending years on local rivers fishing, in my freshman year of high school I built relationships with the hatchery staff at the Humptulips and Lake Aberdeen hatcheries," he continues. "I became excited about hatcheries and fishing, and so I volunteered many hours at the hatcheries — and far exceeded my high school graduation service hour requirements. I knew then that my dream job would be to work and live at a hatchery.
"So, I began turning my dreams to reality and sat in on some college classes, volunteering more time and immediately after high school I enrolled in Grays Harbor College's Aquaculture Program, and my professor recommended me to CBFTF for the position. Although I was only partway through the Aquaculture program, I started working for the CBFTF part time while I finished my degree. Originally, I had planned to transfer to a four-year university but did not need to because I had my dream job!"
The hatchery is a partnership between CBFTF, the citizens of the Chehalis Basin and the Washington State Department of Fish and Wildlife (WDFW) with fish production quotas set by WDFW.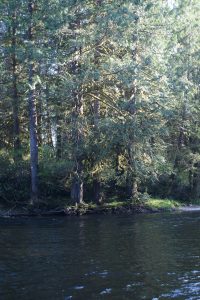 Funding sources include: the WDFW ALEA Grant, U.S. Fish and Wildlife Service funding, Surplus Egg and Carcass Sales, Port of Grays Harbor, Grays Harbor County and many other private contributors.
As the hatchery manager, and the only full-time employee, Steven guides the work of volunteers.
"In any given year," said Steven, "there are well over 100 volunteers that contribute more than 1,700 hours yearly to the running of the hatchery. Groups that assist include the GH Poggie Club, Elma game Club, Montesano Moose Club, Ocean Shores Elks, the Puget Sound Anglers, Grays Harbor College students, and many standalone volunteers. Egg takes are achieved through our labor-intensive brood stock collection program through hook and line and seining efforts."
Egg take goals for chum are 450,000 and for chinook, 600,000. These eggs are transferred to the Bingham Creek Hatchery where they are incubated, mass marked as juveniles and then half are transferred back to Satsop Springs where they are reared and released into the Satsop River (the other half are reared and released at the Bingham Creek Hatchery). Bingham Creek also provides the brood stock for Coho. Yearly, Satsop Springs strives to release 450,000 Coho, 200,000 chum and as many as 300,000 chinook salmon into the Satsop River.
"By contract with WDFW," Steven noted, "I am required yearly to provide WDFW 60 samples per fish species – everything from kidney, spleen, ovarian fluid, to scales and otoliths (salmon ear bones). Returning adult Coho to Satsop Springs are excess fish and sold to a fish buyer, and funds generated from egg and carcass sales are put back into the facility for maintenance (like our new office) and upgrades, which provides fish for all user groups to benefit from."
"In addition to salmon," he added, "7,000 rainbow trout are provided by Eels Springs Hatchery at the juvenile stage and then reared at Satsop Springs until they reach 4 pounds in size. These trout are then planted with the assistance of dozens of volunteers helping to seine, load and haul them to the lakes and ponds. The local lakes include Lake Nahwatzel Lost Lake (Both in Mason County), Failor, Vance Creek Pond #1, Vance Creek Pond #2, Lake Sylvia, Aberdeen Lake, Duck Lake and others. The trout are released for spring break fisheries, holidays, lake openers and for kids fishing derbies. Fishing derbies introduce young children to the joys of fishing. One year, in partnership with the Poggie Club, a young girl fishing with a donated fishing rod and reel was the big winner — with a 15-pound trout!"
"Steven works hard every day raising salmon and trout," said Lonnie Crumley, Chair of the CBFTF. "He also keeps the facility in immaculate condition and is by far the best facility manager we have ever had. A great person with great ethics and character."
Satsop Springs fish rearing and lake planting have created a lot of interest in fishing. "With interest comes responsibility," said Steven. "Beautiful lakes and rivers are what people come to see and experience – not shorelines strewn with garbage, hooks, unwanted bait, fishing line which can harm people and wildlife. Please remember to 'Pack it in, and Pack it out.' Even a one piece of garbage is too much."
The hatchery is open for public and school tours with reservations. For more information, please email satspringsfac@centurytel.net.
Satsop River Background: The word Satsop comes from the upper Chehalis word – "made stream." This area has been used since time immemorial by native people. A trail ran through the Satsop lands over which trade passed south to Grays Harbor and Willapa Bay. The Satsop River is one of the largest tributaries of the Chehalis River, especially in the summer. 30% of the Chehalis River's flow at Cosmopolis comes from the Satsop River.