On the far eastern edge of Grays Harbor County, tucked between the Black Hills and the foothills of the Olympic Peninsula, you'll find McCleary. Known for access to majestic forests and awesome adventures, the McCleary area has a handful of camping destinations that make for perfect basecamps on day trips into nature. While the town itself doesn't have camping options, you'll find some great destinations a short drive from the community of McCleary. Whether you are looking for amenities or hoping to escape into the wilds around Grays Harbor and beyond, these three camping areas offer something for everyone. From McCleary, you are just a short drive from the Washington Coast, Olympic National Park and Forest, and the recreation opportunities found in the Capitol State Forest. We promise that if you explore all of these camping areas around McCleary, you'll find one that you will want to return to, year after year.
Porter Creek Campground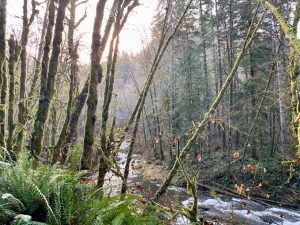 Located on the east side of the Capitol State Forest, the Porter Creek Campground is a local favorite. While the campgrounds are closed in the Forest from December to the end of April, you still have seven months to enjoy this wooded camping area. To camp here, you'll need a Discover Pass, but once you are here, you'll be surrounded by towering Douglas-fir trees around the 16 campsites. Each campsite has a fire pit and picnic table for you to enjoy, but don't expect many more amenities. Porter Creek is rustic, but still great for families and for those with leashed dogs, as there are some easy to follow trails to wander and a waterfall to explore. Porter Creek is also a popular area for recreation, thanks to access to dozens of miles of trails for all abilities of adventurers. Trail runners, horseback riders, ATVs and motorcycle enthusiasts frequent the area throughout the year, so expect to see other people and to hear a little noise during the day around the area. Overall, Porter Creek is your best option for some truly rustic camping right out of McCleary. Just 11.7 miles from town, you can't go wrong with a night, or seven, here.
Little Creek Casino
Those looking for more amenities than Porter Creek may enjoy the camping found at the Little Creek Casino RV Park. This family-friendly, pet-friendly RV Park is a perfect spot for anyone looking for a true basecamp to the region. At the RV area, you'll have Wi-Fi, access to laundry, showers, TV connections and 50 amp AC power. Offering 44 spaces for RVs, the Little Creek Casino RV Park lets you be as active or relaxed as you want. The camping area is close to the Salish Cliffs Golf Course, Seven Inlets Spa, numerous bars and restaurants, and even a heated indoor swimming pool and hot tub. If you'd rather explore nature when staying here, you are just a short drive from Olympic National Park's Staircase region, full of hikes for all levels and ages. The Little Creek Casino and RV Park is just 10 miles from McCleary and is open all year, letting you experience everything this location has to offer in each season.
Olympic National Forest
If you want to experience National Forest Service camping, the small town of McCleary is a short drive to numerous campsites in the Olympic National Forest. Highlighted by the camping at Spider Lake and Brown Creek Campground, you'll be out in the stunning forests within 45 miles from town. Spider Lake is a local favorite, but has no real amenities, including no toilet or potable water. What you get at Spider Lake is a remote campground that is dog-friendly, with only a handful of spots available. Families will enjoy this campground if they are used to roughing it, as it is remote and wild. Around the camp, you'll have an easy to follow, 1.7-mile trail that leads around the lake, passing through stunning old growth forests.
Closer to Spider Lake is the slightly more developed and family-friendly campground of Brown Creek. Here, you'll find 20 campsites, 12 of which can accommodate trailers and RVs. Six of the sites are open all year, letting you get out and explore this forested corner of the Olympics in any season. With fire pits and picnic tables, vault toilets and potable water, this dog-friendly area is a great place to camp if you are looking to get a little more rugged and wild. What makes this camping area so great is that you also have access to trails right from the campground. Both the family-friendly Brown Creek Nature Trail and the longer, more advanced Lower South Fork of the Skokomish River Trail are found within walking distance of the campground.
Sponsored