When the weather is nice, there is nothing like heading out camping with horses at a Washington Beach or the Humptulips wilderness in Grays Harbor. With a changing topography that includes everything from rain forest to beach, there are plenty of trails to explore in Western Washington. People from all over the state head to Grays Harbor County for trail riding and it's no surprise. If you are looking for a fun outing, check out this list of where to camp with horses in Grays Harbor.
Screamin' Eagle Campground
17 2nd Ave, Ocean City
855-627-4673
On the North Beach of Grays Harbor, the Screamin' Eagle Campground has both tent and RV camping. Sites are grassy and some even have trees for shade. This is the closest campground to the ocean and it allows you to camp with your horses in Ocean City.
The main plus about this campsite is you do not have to cross the highway to get to the beach. "Screamin' Eagle Campground is just a couple of blocks from the beach – a very easy ride right from the campground," says trail rider Robyn Atkins, who came from King County to experience beach horseback riding in Grays Harbor. "6 miles of the beach is vehicle free, so that made it very nice to freely ride, gallop, and not worry about cars!"
They have two wooden box stalls and six 10×10 metal corrals. Atkins notes that they are well taken care of and sturdy. The campground also provides shovels and picks for clean-up, and the hose is right next to the paddock making watering easy.
"The owners of the campsite were super nice, emailed us back about our reservations right away, and were very friendly and casual," she adds. It should be noted that the horse paddocks connect and horses can visit/touch each other through the paddock – something to consider if you have unknown horses in your group or a horse that does not play nice with others.
For humans, they have free shows, picnic tables, restrooms and ice. They also have firewood available. There are additional horse fees on top of the camping fee and reservations are recommended. For more information visit the Screamin' Eagle Campground.
Ocean Acres Horse Hotel Bed & Breakfast
3079 State Route 105 S, Grayland
360-267-5521
Ocean Acres Horse Hotel Bed & Breakfast in Grayland is a perfect place to camp with your horse on the Washington Coast. They have both traditional camping, with power or dry, as well as a bed and breakfast for those looking for more of a "glamping" experience. For your horse, they have barn stalls as well as corrals, or you can highline. There are additional fees for horses in addition to the camping or bed & breakfast rates. For more information visit the Ocean Acres Hotel Bed & Breakfast website.
NanSea Stables
255 State Route 115, Ocean Shores
360.289.0194
NanSea Stables is a horse boarding and training facility in Ocean Shores that also offers overnight boarding in their horse motel. NanSea Stables is perfect for people who prefer to "glamp," that is, stay in one of the amazing hotels in Ocean Shores, rather than at an actual camp site. Your horse will be pampered too, with a knowledgable staff that can handle special needs and requests, large grassy turnouts, and more. Before you hit the beach, you have access to an arena for warm up as well as an obstacle course. For more information visit the NanSea Stables website or Facebook page.
Joe Creek Gravel Pit
West Fork Humptulips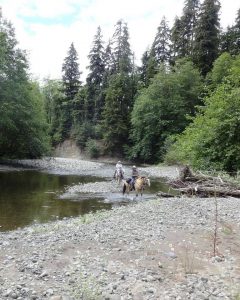 The Grays Harbor Chapter of Back Country Horseman of Washington maintains a primitive horse camping site in Joe Creek Gravel Pit on the West Fork of the Humptulips River, near Trail #806. When they say primitive, they mean it. "There are areas to highline or put up a portable corral but no amenities," says Lori Lennox of the Grays Harbor Chapter of Back Country Horseman. There is no water, so will need to bring your own. But the primitive sites are worth it when you step out onto the two beautiful Humptulips trails that leave from the site.
Members of the Grays Harbor Chapter of Backcountry Horseman also have access to a private campsite near Matlock. "Trails are open to all non-motorized users, but only Grays Harbor members and employees have keys to the gate and camping privileges," says Lennox. If you are an avid rider, a membership is well worth it, not just for access to this camp, but because your membership supports the upkeep of the trails we all enjoy. Follow the Grays Harbor Chapter Back Country Horseman of Washington Facebook page for up to date trail information and volunteer opportunities.