On the eastern edge of Grays Harbor, the Grays Harbor ORV Park has been providing family-friendly exhilaration for years. Offering 155 acres of off-road motorcycle, ATV and UTV riding, access to miles of trails in the Capitol Forest and even camping, this awesome destination needs to be added to every rider's itinerary. Open from March to October, depending on the weather, the complex sees roughly 30,000 people each year from all sides of the state and the Pacific Northwest. With concerts, incredible racing events, camping, practice days and more, if you ride an ORV, this is the place for you.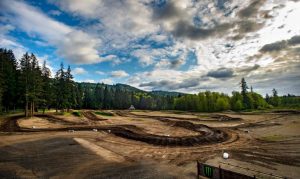 The highlight for many who visit the Grays Harbor ORV Park is the 1.3-mile, 30-foot-wide Outdoor National Track. To say that this track is amazing is an understatement. Built to accommodate a varying degree of ages, bike sizes, and skill levels, this well-maintained track has a ridiculously fun layout, offering sharp, banked corners, ruts and berms. With table tops and double jumps, this track gives riders all the obstacles that make a motocross track ideal.
If this isn't enough, next to this track is an 80-acre directional UTV and ATV track that weaves its way through the forested hillside on the edge of the Capitol Forest. Grays Harbor ORV Park also has a clay-based, 1/8 mile flat track oval that is ideal for motorcycles that are equipped with treaded rear tires.
What makes this a great place to ride is that Brent Davis and Ryan Villopoto, a four-time AMA World Supercross Champion, came together and are making the Grays Harbor ORV Park the park of their dreams. On the grounds, besides the fantastic tracks, you will also find a two-story score tower, a 3,000-square-foot meeting and event room, and a fantastic PA-system keeps everyone in touch with what's going on all around the facilities.
ORV Activities in Grays Harbor for the Whole Family
During their season, there are numerous activities planned, such as open practices, races and even a Summer Camp. While the schedule of events may change, it is kept up-to-date, so you will always know what is going on before your visit. The Summer Camp event is a favorite, as it gives numerous opportunities for riders to get tips and tricks from AMA professionals. The camp works with all skill levels and ages, with hands-on training to ready to help everyone. Thanks to a rider to coach ratio of around 12:1, riders who attend gain knowledge on all aspects of riding, including racing and general maintenance and set up. The camp also has numerous activities planned for both the rider and other non-riders who are on the grounds, making this a perfect summer event for your entire family, even those that don't ride.
For those interested in open practices, Grays Harbor ORV Park is ideal for those making a day trip to Grays Harbor. While the open practice ride schedule varies by the week and month, one thing is guaranteed: a great time riding. The Outdoor National Track has a fee of $40 per day to ride. The UTV/ATV Loop is $25 a day, as is the kids/vintage track.
The Grays Harbor ORV Park is a fantastic place to get your kids involved in riding, thanks to their 3/4-mile kids track. On this short track, you'll find a myriad of obstacles and excellent dirt, ensuring that kids of all ages and abilities will have the best chance to hone their skills. If you ride, but your kids don't, there is also a kid's playground for them to enjoy.
Camping at Grays Harbor ORV Park
After a day of riding, the Grays Harbor ORV Park has plenty of places to camp, letting you extend your adventures around the facilities. Offering hundreds of dry camping spots in the towering timbers of the forest, as well as two shower and restroom facilities, camping here is a great option. The ORV park also has 20 RV spots, all with 50 amp power and water. The fee for camping is just $20 a night for dry camping, or $35 a night for the hookups.
If you ride, you can't miss stopping off at the Grays Harbor ORV Park. Here, you'll find world class riding, amazing tracks and a family-friendly environment all in one spot. With Brent and Ryan at the helm, the riding and the amenities at Grays Harbor ORV are only going to be getting better each year, as they strive to continue to make this the best spot to ride in the Pacific Northwest.
Sponsored