Looking for an enriching activity for your children to help break up those long lazy days of summer? Then look no further, the Child Care Action Council (CCAC) is excited to invite you to the Build Off Early Learning Fun Fair. The Build Off is a free, family-friendly event with fun activities for children as well as useful information for parents about the many helpful programs offered by CCAC and throughout the community. Bring the whole family to the Lacey Community Center on August 21, from 10:00 a.m. to 1:00 p.m. for the second year of this annual event.
Children who attend the fun fair can participate in the Build Off Challenge, a competition where they will attempt to build the tallest structure with Keva planks. Building with blocks is an important skill for children. It strengthens their gross and fine motor skills, encourages problem solving and supports many foundational STEM skills. And it's just plain fun. The challenge will be broken up into two age brackets. The younger bracket will focus simply on height, while the older bracket willattempt to build with the greatest height and width. The winners of the competition will receive a special prize.
"It's an opportunity for kids to have fun and not realize that they are learning," says Allison Woody, office manager for the CCAC.
Besides the Build Off Challenge, there will be other fun games, arts and crafts, and activities provided by sponsors and activity partners. "Last year, Molina Healthcare brought a smoothie bicycle where children peddled to blend their own healthy smoothie," says Melanie Kincaid, development and communications manager for the CCAC. "It was very popular and we are excited to have this activity return to the Build Off this year."
Additionally, South Sound Solar will offer a duck dash with solar powered water to race ducks down a ramp; Hands On Children's Museum will have children explore the movement of air as they build and design their own cone and parachute flyers and then fly them in the wind tunnel; South Sound Reading Foundation will have their book giveaway table; and Thurston Community Media will bring their media production outreach van. There will be fifteen activity stations in total. Plus, "the entire Block Fest will be there," says Kincaid. Block Fest is a CCAC program that includes thousands of blocks of all different types from foam to wood, appropriate for different ages and stages of growth. Kids are encouraged to fill out a passport at different stations. "If they complete their passport and turn it in, they will be entered to win some really fun prizes," she adds.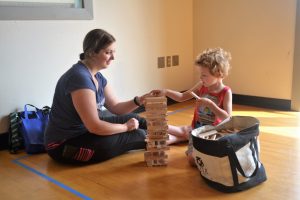 The Build Off Early Learning Fun Fair was so successful last year, not only has the CCAC brought it back for this year in Thurston County, but it has expanded to another event in Grays Harbor County on October 12 at the Shoppes at Riverside.
The CCAC serves Thurston, Mason, Grays Harbor, Jefferson, Clallam and Kitsap counties with a variety of services that help families, especially when it comes to child care and early education needs. They offer a hotline that helps connect families with licensed childcare in their vicinity (800-322-2588), while also providing Margie's Crisis Nursery to help with emergency short term care (360-786-8907 x100). They also have a number of programs, which support early childhood learning and focus on STEM skills, reading and safety.
This event is made possible by the generous support of sponsors. The CCAC would like to thank Molina Healthcare of Washington, their presenting sponsor. "For over five years, Molina Healthcare has been a strong supporter of Thurston County's Early Childhood Coalition and its more than 40 partner organizations," says Jorge Arturo Rivera, community engagement director at Molina Healthcare of Washington. "We are grateful for this opportunity to partner with the Child Care Action Council, which shares our mission of improving the well-being and success of the children in our communities. We know that literacy and education improve quality of life and we are happy to continuously collaborate with organizations that help our local youth grow into healthy, engaged adults."
In addition to Molina Healthcare, other sponsors and activity partners will make this an exciting event. They include Community Sponsors: ThurstonTalk, FORMA Construction, Meridian Campus Family Dental, WESCU. Team Builder Sponsors: BayviewBuilding Materials of Olympia, High Definition Homes,Meconi's Italian Subs, Neil Woody ofMcSwain& Co. PS, Olympia Construction, Pearlita Price of Evergreen Olympic Realty Inc., Rob Rice Homes, Thomas Architecture Studios, and Van Dorm Realty. Activity Partners: BlockFest, Hands on Children's Museum, Kaleidoscope Play & Learn, Meridian Campus Family Dental, Molina Healthcare, Raising A Reader, Safe Kids Thurston County, South Puget Sound Habitat for Humanity, South Sound Reading Foundation, South Sound Solar, Thurston County Media, and Timberland Regional Library.
Ahead of the Build Off Early Learning Fun Fair until August 21, join the hashtag challenge. Parents can build something with their kids and post a picture to social media with the hashtag#4earlylearning and @childcareactioncouncil. For every social media share, Pearlita Price of Coldwell Banker Evergreen Olympic Realty Inc. will donate $5 to the CCAC, with a commitment of $250. Community members and supporters are encouraged to participate in the challenge too to help raise awareness of the event.
So, save the date and join the Child Care Action Council for their second annual Build Off Early Learning Fun Fair on Wednesday August 21 at the Lacey Community Center, 6729 Pacific Avenue SE.
Sponsored