The words "Shakespeare in the Park" evoke images of large crowds watching grand productions in Central Park, New York City, where the concept was born, or perhaps in Seattle or Olympia. Thanks to Karen DeMasters and her newly formed group Aberdeen Shakespearean Theatre (AST), we may look forward to our very own free Shakespeare productions at Sam Bennion Park in Aberdeen and other Grays Harbor parks.

Karen De Masters, a native of Porterville, California, has dedicated her life to theater. She spent 20 years on the road with Covenant Players, a traveling theater troupe, founded by Charles A. Tanner in 1963. The group performed customized plays for churches, schools, prisons, nursing homes, military bases and other organizations. Though most of their plays were short, no more than 2 to 20 minutes, Covenant Players also performed longer plays lasting up to two hours. Tanner wrote over 2,000 plays specifically for the needs of each audience mostly addressing communication problems or social justice issues.
Karen talks about Covenant Players' most unusual audience, the staff of Playboy Magazine: "They were having trust issues. The lower-level staff did not trust the upper level. They ended up enjoying our play so much that they asked us to come back."
After she left the troupe in 2005, Karen formalized her theater education earning a BA in theater and music from Evergreen State College in Olympia and an MA in theater arts from Portland State University. She also holds an MA in communications. During the last five years, Karen worked in a variety of theater jobs in Seattle including acting, directing and writing plays.
Karen has built an impressive resume in theater, which can be accessed on her website. Her site reflects her experience with Tanner's Covenant Players. Beyond her resumes in acting, teaching theater and directing, Karen offers scripts of plays she has written. Topics include faith, social justice and sketch comedy. The site also includes a blog.
Since 2005, Karen has spent time in Aberdeen, on and off.  She moved to the area because her mother, a resident of Aberdeen, needed care. During her commuter years, Karen came to know the Harbor community and its theater people. In 2006, she worked as assistant director with Brad Duffy on the Bishop Center For Performing Arts' Fiddler on the Roof production. Karen is now settled in Aberdeen and eager to bring theater to our community.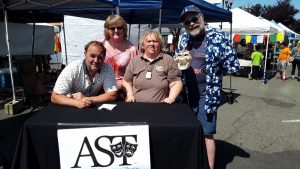 On her blog, Karen writes that "…theater can change lives if we develop professional habits and tell stories…. The theater and movies must entertain first. The actors and directors must be serious about their craft. They must make professional theater and movies."  She aims to apply this philosophy to Aberdeen Shakespearean Theatre.
Karen chose Shakespeare as her playwright of choice and the parks as venues: "I have seen Shakespeare performed in parks in Seattle and I know that smaller communities also have successful performances in parks. Apart from his universal appeal, I believe Shakespeare in Grays Harbor will attract millennials. There is little opportunity for them here."
Karen's Shakespeare experience includes directing The Second Chances of MacBeth by David Gordon at Eclectic Theater, Seattle, December 2014. She also assistant directed The Tempest at Portland State University in 2009.
Karen met other theater enthusiasts including author, actor and owner of Harbor Books in Aberdeen, Greg Zschomler. A five-member board was formed consisting of Karen, Greg, Ann Lewis from Cosmopolis, Jeff Ryser from Elma and Jim Patrick from Olympia. Aberdeen Shakespearean Theater is now in the process of applying for non-profit status. They are looking for adult actors. Mature high school students may also audition.
Shakespeare in the Park will begin as theater stripped to the basics. The park will serve as stage and auditorium. Actors will need to project their voices as there will be no sound system. "If it rains, we will play in the rain," says Karen. She has seen others do it.
The first play, planned by AST to perform in summer 2020, will be Shakespeare's comedy A Midsummer Night's Dream. Karen wants to make Shakespeare accessible rather than otherworldly. The original language will remain intact, but the actors will pronounce it naturally in their own accents. Costumes will remain simple at this point. Catherine Washedai, a Seattle costume maker who has recently moved to the Harbor, will contribute her skills to AST.
The AST Facebook page sums it up nicely: "Accessible theatre for all. In Aberdeen. Summers in the park. The Bard and beyond. Free. That's what AST is about. Anyone can join in the fun."
In the future, the AST board hopes to take the plays to other Gray Harbor parks and beyond. Karen also hopes to expand the repertoire to other playwrights and to include children's theater.
If you would like to participate in A Midsummer Night's Dream or become a member of Aberdeen Shakespearean Theatre, please contact Karen at kdemasters@yahoo.com or visit the Aberdeen Shakespearean Theatre Facebook page.