Matt Brown is all business when he steps on the football. Games, practices, it doesn't matter to the Hoquiam High School senior. He's here to work.
But on this day, a date that has been circled on his calendar all year, even Brown lets his guard down a little bit. The seriousness briefly diminishes and a smile, albeit a slight one, occupies his face when he

starts talking about the day's events.
On this day, the Grizzlies practice in pads for the first time this season and Brown is clearly back in his element.
"We were playing team defense and the first play the offense ran was a QB wedge. That was the first hit of the season," Brown said. "It felt awesome."
Sure, unless you're the poor scout team signal caller asked to go up against Brown, last year's 1A Evergreen League defensive MVP.
"Matt's a passionate kid and he just loves to play football," said Hoquiam head coach Jeremy McMillian. "Every day, even when we're going against air or bags, you have to look out for him. Matt brings up the energy of the entire team with his play. Our kids love it."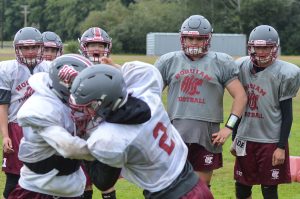 McMillian's Grizzlies are coming off one the program's best seasons ever. The team went 10-1 in 2018, winning the league title and advancing to the state quarterfinals for just the third time over the last 40 years.
"It was great," Brown said, "but I think we could have gone even farther."
Hoquiam entered the 1A state playoffs as the No. 3 seeded team, but fell 45-6 to sixth-seeded Lynden Christian in the second round – a loss which prevented the Grizzlies from securing a trip to the state semifinals for the first time since 1976.
"That loss definitely stuck with me and all the players who were on the field that game," Brown said. "We all want the same thing. We want a championship for Hoquiam. Our goal last year was just to get to state and do the best we could. Last year's seniors really set the bar for us. I think we all took that last game to heart and have been working our butts off so it doesn't happen again."
A four-year starter, Brown collected more than 100 tackles during his junior campaign to pace a stingy Hoquiam defense which gave up two or fewer touchdowns in seven games, highlighted by a 49-0 drubbing of Stevenson in the first round of the state playoffs.
Brown, a 6-foot-3, 270-pound bruiser, will once again man the Grizzlies defense from his middle linebacker position.
"Out of all the positions on defense, middle linebacker is the one I love to play," said Brown, who started his high school career as a defensive end before making the move to linebacker. "I get to go downhill and hit people. The linebackers need to be the heart of the team. We have to be the loudest. We have to hit the hardest. If we don't do it, no one will."
The truth is if you were to draw up what the ideal high school middle linebacker looked like he would probably come close to mirroring Brown's characteristics. He moves quickly, possessing the ability to shed tackles almost at ease and is as physical as they come, as once he gets a ball carrier in his sights it's basically over.
"What really separates Matt from a lot of the other recruits in the 2020 class is he just loves to play football," McMillian said. "The coaching staff does a really good job of identifying the strengths that he has. We will use him all over the field again this year."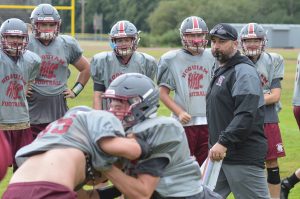 McMillian also plans to take full advantage of Brown on offense and special teams as well. Brown will once again be plugged into a variety of offensive roles.
"We'll put him in the backfield as a utility back. He'll play tight end and slot for us. He'll even throw the ball a little bit. When we run the wildcat, or wild Griz, we will put him back there," said McMillian. "He does so much for us. I told him the other day I don't think he's scored on special teams yet. So, that's kind of become the challenge for him."
If there's one coach who knows how to get the most out of Brown, it's McMillian, who first started coaching the linebacker in pop warner.
Brown grew up in Taholah and started playing football at the age of five. Without a local youth team to join, Brown made the trip to Hoquiam to play for several years, eventually getting coached in sixth grade by McMillian.
"At the sixth grade football banquet, Matt came up to me and said he had got me a gift," McMillian said. "I told him, he didn't have to get me anything, and he said, 'Coach, I'm the gift. I'm moving to Hoquiam.' His family bought a house and moved just down the street from the school. It's really been a privilege to coach him for all these years."