There is nothing like the shine of chrome to race you into autumn in high spirits. The annual Quinault Beach Resort & Casino's Show N Shine at the Shores is happening October 4-6, 2019 and is sure to deliver plenty of chrome, good food and big prizes. It's the perfect weekend getaway, so be sure to check out the resort packages, because you are going to want to stay and play.
Push Rods of Hoquiam has sponsored the Show N Shine at the Shores events since its inception 10 years ago. Founded in 1953, Push Rods of Hoquiam is a non-profit club that gives back to our community through local charities, including Meals on Wheels, Domestic Violence Center, Grays Harbor Hospital, Cancer Walk, Senior Centers and scholarships at Grays Harbor College, and more. Started by a group of high school boys that loved hot rodding, says Tony Halekakis, car show chairman, the group was given a 50 years recognition award in 2010 by the Washington Hot Rod Hall of Fame. This year, on September 24, they will again be recognized with a 60-year award.
Show N Shine at the Shores
Head to the beach on October 4 for the poker run that starts the weekend out with a bang. Those participating will cruise through certain Grays Harbor locations, including restaurants and businesses, picking up their hand along the way. Winning poker hands can earn some amazing prizes!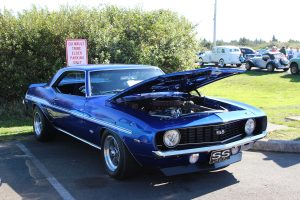 Get ready for the ride of your life with $3,000 in cash and prizes up for grabs during the Show N Shine main show event on Saturday, October 5. Check out hot rods, rat rods, customs, foreign and domestic vintage stock, motorcycles and more. Lance Lambert of the "Vintage Vehicle Show" will once again emcee the event, handing out over 30 trophies including Best 40s, Best 50s, Best Truck, Best Rat Rod, Best Motorcycle, Best Paint, Best Mopar, Club Pick, and many others! Lambert visits America's best car shows, private collections and museums – including the Show N Shine happening right in your backyard. This is your chance to feel like you are a part of his syndicated TV show.
Co-masters of ceremonies will once again be the one and only Johnny Mason, a classically-trained musician-turned-DJ and on-air personality. Known for his "rants," Mason is the perfect person to provide entertainment at the Show N Shine, being a longtime member of Push Rods of Hoquiam himself. He has been co-mastering the Show N Shine since the beginning, and knows how to give attendees a good time.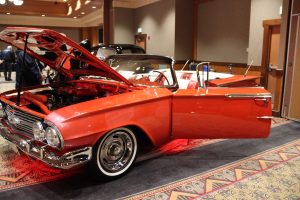 Of course, you can't have a car show without car-related vendors, and there will be plenty of those in the Push Rods Expo, along with displays of cars and motorcycles. When your hungry, check out the Hot Rod Diner with dogs, beer and root beer floats.
Have a Weekend Getaway at Quinault Beach Resort & Casino
Stay close to all the action with a Show N Shine Room Package at the Quinault Beach Resort & Casino. Packages start at $289 for two nights. Or, stay at Quinault Sweet Grass Hotel with Show N Shine two-night packages starting at $199. Both packages can be upgraded to ocean view rooms for just $20. Book now, as space is limited. For more information on this or other amazing upcoming events, visit the Quinault Beach Resort & Casino website.
Sponsored