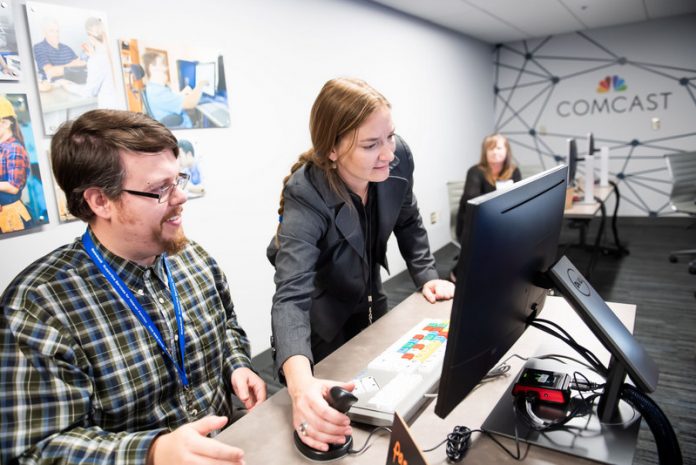 If the answer to the digital divide were just providing internet access, the solution would be relatively simple. But as global telecommunications giant Comcast has discovered, the divide is as much psychological as physical, so breaking down barriers requires a multi-layered strategic approach.
Since 2011, Comcast's Internet Essentials program has been addressing the challenge by providing wrap-around services, including digital literacy training, affordable internet and computer access to more than 8 million low-income Americans, 90 percent of whom were not connected to the internet at home until they signed up through the program. Now, the company has launched its biggest eligibility expansion in company history to include all low-income households in Washington State.
"Every year we try to make the program easier to access and make more people eligible with the goal of connecting every family," says  David L. Cohen, senior executive vice president and chief diversity officer of Comcast NBCUniversal. "This year is the largest and most sweeping change. By extending eligibility to all low-income residents within the Comcast footprint, we've more than doubled eligibility for the program."  In Washington state, Comcast approximates the program has connected 340,000 people, and that this expansion increases the availability of Internet Essentials to tends of thousands of more residents across the state altogether.
To be eligible to apply to the program, low-income applicants simply need to show they are participating in one of more than a dozen different federal assistance programs. These include Medicaid, Supplemental Nutrition Assistance Program (SNAP), and Supplemental Security Income (SSI).  A full list of these programs can be found on the Internet Essentials website. The company accepts applications from households that have a student eligible to participate in the National School Lunch Program, live in public housing or receive HUD Housing Assistance, including Section 8 vouchers, or participate in the Veterans Pension Program, as well as low-income seniors and community college students in select pilot markets.
Based on its comprehensive approach to providing access, Internet Essentials is the nation's largest, most comprehensive and most successful broadband adoption program. The combination of education and affordability is key, according to Cohen. "Research has consistently shown that digital literacy issues are the number one barrier to broadband adoption," he says. "The fact that this program hits all of the major barriers is why it's gaining traction," he explains.
Issues like not knowing how to use a computer or the internet, lack of understanding of the value the internet provides, and fear of how the internet is used often supersede more practical concerns like cost. Comcast has assembled a suite of digital literacy training materials and works with tens of thousands of nonprofit and governmental partners nationwide to deliver them to low-income residents. In addition, the company makes internet service available for $9.95 per month with no installation charge and no modem fee and has either sold or donated more than 100,000 discounted and heavily subsidized computers to families and veterans who need them.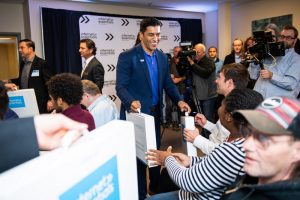 U.S. Paralympic Gold Medalist and Purple Heart Recipient Rico Roman is a spokesperson for the program, traveling with Cohen throughout the country to meet with seniors, families and fellow veterans. Roman finds the role satisfying, understanding firsthand how important it is for veterans to stay in touch. "A huge part of returning to civilian life is being able to stay in touch with your buddies," he says. "The internet can help with everything from connecting with guys who are still serving to applying for VA benefits and jobs."
At an event in Spokane on October 4, Roman helped Comcast unveil a new state-of-the-art interactive digital classroom at Goodwill Industries. The partnership is both new and significant, according to Cohen. "We're piggybacking on existing Goodwill relationships and digital literacy programs to reach more people with better equipment. We've had a longstanding connection with Goodwill in Seattle. Now we want to broaden the conversation and we're hoping this will serve as a national model."
The immediate effect of expanding eligibility will be greater access to digital tools, but the long term goal is part of a larger vision. "If we can't figure out a way to get a quarter to a third of the country that doesn't have access to the internet and its equalizing potential connected, we're going to leave a generation behind, primarily a minority, low-income generation," says Cohen. "I don't think that's the kind of equality of opportunity our founding fathers had in mind."
Closing the digital divide means that potentially, over time, young people and families will be more likely to gain the education and training they need to raise their income levels. "My aspiration is that the people who qualify for Internet Essentials today will not qualify in the future because they'll be making a middle-class living and will be able to afford high-speed internet access on their own," says Cohen. "By increasing the digital equity and capacity of any community, we'll have a more qualified workforce that contributes to a growing economy as more people are qualified to hold down 21st-century jobs."
For more information, or to apply for the program in seven different languages, please visit the Internet Essentials website or call 1-855-846-8376.  Spanish-only speakers can also call 1-855-765-6995.
Sponsored