Montesano High School football has had more than its fair share of dominating defenses over the years.

The Bulldogs brand is hard hitting. It has been for quite some time. The program has won numerous league and even a few state titles on the back of their stingy, aggressive defense.
This year's unit, led by senior linebackers Brent Hollatz and Sam Winter and junior defensive end Trace Ridgway, have their sights set on being one of the better defenses in Montesano history and they're off to a strong start in accomplishing that lofty goal.
"Defense sets the tone around here," Winter said. "We have to set it in practice and then carry it over into games."
The 6-0 Bulldogs have done just that during the first half of the regular season.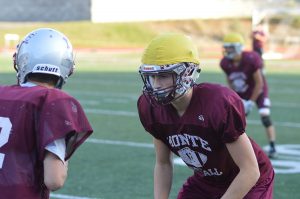 Montesano opened the year by routing Aberdeen, 59-0, in a contest that saw the Bulldogs hold the Bobcats to just 30 total yards of offense in the first half.
They then traveled to 3A Shelton for their second non-league affair and thumped the Highclimbers, 55-0. Two games in and Montesano had yet to yield a point, but that's exactly what the players expected.
"We worked hard at camp this summer," said Brent Hollatz, whose father Brian Hollatz is the team's defensive coordinator. "We came into the season ready to play."
Hard to argue against the fact the Bulldogs weren't more than prepared to play after they annihilated their first two opponents by a combined score of 114-0.
Maybe the team was simply trying to get the bad taste of how last year's season ended out their mouths. Montesano went 7-3 in 2018 and advanced to the Class 1A state playoffs where the Bulldogs saw their season come to an end following a 48-7 loss to Mount Baker.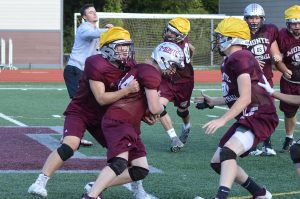 It was certainly an uncharacteristic defeat for a team that prides itself on defense and helped fuel the fire this past off-season for the eight returning starters.
"The score was pretty bad," Winter said about last year's postseason loss. "It didn't end the way we wanted it to. But we knew we were going to be better this year with so many starters back. We just all dedicated ourselves on improving."
Through the first six games, Montesano has given up a combined 38 points with only 1A Evergreen League foe Forks getting within 40 points as the Bulldogs bested the Spartans 41-6 to open league play.
Additional non-league wins have come against Columbia White Salmon (54-14), Port Angeles (70-12) and Woodland, a team that beat Montesano 47-13 in 2018. The Bulldogs returned the favor this year, winning 45-6.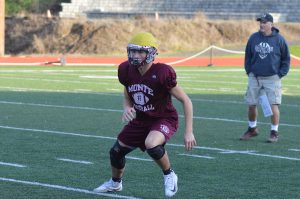 "We played a lot of young guys last year and most of them are returning," said Brian Hollatz, who is in his 17th season. "We were getting hit a lot last year and doing pretty well but this group is smart and pretty athletic, and they like to run around and hit people."
How physical is this year's Bulldogs' team? Look no further than their quarterback, Ridgway, who also plays defensive end, a rarity among signal callers at any level.
"Very few quarterbacks are also playing d-line," Winter said. "He's running the ball on offense 20 times a game and then goes right back to d-line and is knocking guys around every play. You see that and it motivates the entire team."
And as it turns out, a motivated Montesano team is a dangerous one.
"When we play with energy, we're hard to score on," Ridgway said. "Our defense is based on energy. When we're flying around, having fun, communicating with each other, we're a tough team."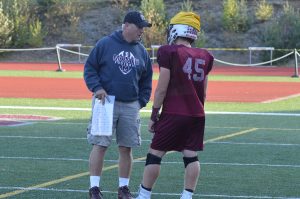 Defense, however, is just one phase of the game for the three standouts as they practically never leave the field with Winter and Brent Hollatz serving as two of Ridgway's top weapons on offensive, playing wide receiver and running back respectively.
All three had a hand in dismantling Woodland on the road. Ridgway tossed four touchdown passes, including one to Winter, while Brent Hollatz added a pair of scores on the ground.
"We have a lot of seniors this year and they're a great group," Brian Hollatz said. "They keep us positive and they communicate really well so they're a fun group to be coaching."
Montesano, which is ranked No. 9 in the AP poll, will play its biggest game to date on October 18 when the Bulldogs host rival Hoquiam. The Grizzlies (5-1) knocked off Montesano last year, 37-25, handing the Bulldogs their first league loss since 2015.
"We want to go out there, have fun and make some big plays," Brent Hollatz said about the team's defensive mindset. "I've been around this program forever. We've been talking about our senior year for so long. Everyone is excited. We're hyped and ready to go."